From the winter 2013 issue of Dalhousie magazine.
When Brian MacKay-Lyons (BEDS'76, BArch'78) walks the streets of Lunenburg, he dreams of building. In his mind's eye, the houses he imagines all reinforce the character of Nova Scotia's most iconic town, a UNESCO World Heritage Site.

Now, don't get all worked up: his architecture firm MacKay-Lyons Sweetapple has no grand designs to transform Lunenburg's streets. He just believes the company would fit in there as easily as he'd slip into his grandfather's old rubber boots.

"UNESCO rules about heritage are very sophisticated. You're not allowed to make fake history," says one half of Nova Scotia's most famous architectural team. "What they do say about building in a historic context is that you have to be subservient and respectful, and we are all over that."

You could say that MacKay-Lyons and his partner, Talbot Sweetapple (BA'92, BEDS'95, MArch'97) have built successful careers on searching for what Sweetapple would call that "clutch point" between old ways and new ideas.

It's not an approach lacking in small ironies. Their architecture attracts global attention despite a practice that deliberately avoids the trappings of so-called "star architecture," preferring a body of work approach to putting out "hit singles." They also think it's possible to respect history and community while staying committed to progressive designs.

Their aesthetic has established their architecture firm as one of Canada's most decorated and recognizable. With over 300 articles and books written about them, over 100 awards and 100 exhibitions around the world, they are darlings of academia, and architects' architects to be sure.

Still, it's ironic that the duo has tended to receive more compliments on the international stage than in Nova Scotia, because one would think their neighbours would best recognize their work ethic as pure, bred-in-the-bone East Coast. But this is changing, after a bumper year in 2012 when the firm won 14 international and national medals, from the American Institute of Architects Honor Award to the Governor General's Medal (the latter architecture's equivalent to a Governor General's Literary Awards). Their slow-and-steady approach is paying off, making them household names in the place they call home.
Becoming the village architect


Thirty years ago, Brian MacKay-Lyons and his wife, Dalhousie professor and alumnus Dr. Marilyn MacKay-Lyons, renovated an 18th-century house on the South Shore of Nova Scotia, in a small hamlet called Kingsburg.
When his houses began to dot the landscape, locals dubbed him the village architect.

The moniker slightly embarrasses MacKay-Lyons, but doesn't slow him down: the firm has several new homes in the Kingsburg area underway now. He sees the metaphor of the village architect – someone who uses local materials, local tradespeople and local culture – as a powerful one.
Working that way is a statement, he says: "A utopian statement. Like willing paradise in a way, and ritually celebrating this place.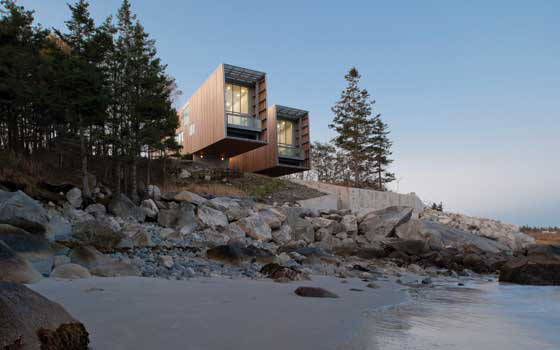 Two Hulls House, cantilevered 32 feet over the sea, nearly sails off a cliff into the Atlantic Ocean. The house recently won several honours: the firm's third Architectural 'Record House' award, their seventh Canadian Architect Award of Excellence, a Merit Award at the North American Wood Design Awards, an A-Z Award from Azure magazine and their 48th Lieutenant Governor's Design Award for Architecture.


"There is nothing I like better than being in my truck down there, and knowing folks and having good relations with local builders," he says.
Over the years, the duo's buildings have spread from this village to around the province, then popping up in Quebec, Ontario and the United States.
At the same time, his Kingsburg farm has evolved into a teaching place, a practice place, a family place and a community place. Creating that nexus is about uniting the product you make directly with the way you live your life.

"There is no distinction between feeding the sheep and designing a house [on the South Shore of Nova Scotia] for the head of design for Porsche. At the same moment. Being there in your rubber boots and doing both things at once is fantastic."
A toolbox for being good neighbours


What is striking about MacKay-Lyons Sweetapple houses in Nova Scotia, from the salt box homes that sit sternly on hilltops, to glass and wood ships that sail off cliffs, or airy shingled barns tucked into coves, is how they constantly reinvent the maritime vernacular.

Their homes weave a unique visual fabric inspired by a specific place. Building with a culture's spirit and materials in mind is part of being a neighbour with good manners, they say, no matter whether they're practising architecture in the United States or Bangladesh. "It's really a toolbox. A way of seeing the world and recognizing the deep economy and local ways of doing things wherever you go," says MacKay-Lyons.

Sweetapple, the project architect for Canada's Chancery and Official Residence in Dhaka, says exporting their "critical regionalist" approach to Bangladesh meant taking a course in the cultural, geographic and climatic reality of the country. To incorporate Bangladeshi culture into the building's design, they needed to research how water, sun, population density and materials interact there. They also considered the Canadians working in the space, and balanced security issues with a desire to present Canada as an open country. "We wanted to be good guests and respect the host culture, and that multicultural attitude is Canadian," says MacKay-Lyons.

Evaluating the success or failure of a project like that could come down to a detail about how you put a brick on a building, says Sweetapple. "The Bangladeshis, they loved the building. It struck the right chord of having a little bit of modernity in there and being traditional at the same time."
The Dalhousie work ethic



Those old-time maritime values of economy, craftsmanship and practicality dwelling at the core of their architectural practice also exist at the heart of Dalhousie's School of Architecture.

The school's studio culture, freelabs (team-centred where students design and build architectural projects from scratch), community building and cooperative education programs are huge strengths, the partners say, because they all develop a good work ethic and architectural practices. Maybe that's why most of their 15 staff are Dalhousie alumni. They look for graduates who, like themselves, take those values to heart.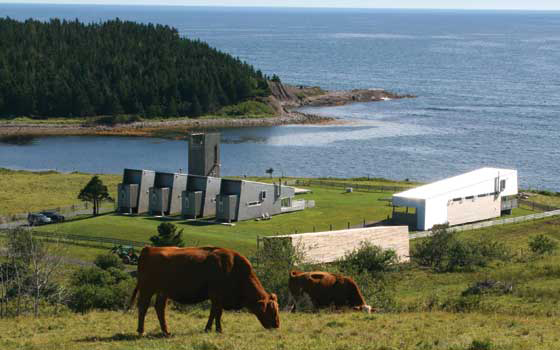 Shobac Campus is the centre of activity for the firm's Ghost School, a private architecture workshop and symposium, in Kingsburg, N.S. These buildings (some available as vacation rentals) won them a second American Institute of Architects Honour Award for Architecture and a rare Ron Thom Lifetime Achievement Award from the North American Wood Design program.

MacKay-Lyons remembers studying under Essy Baniassad, who started the school down its current learning path, and he worked alongside Grant Wanzel and Richard Kroeker, both of whom championed architecture's social agency and established a Dal tradition of starting sustainable building projects with a community focus. MacKay-Lyons also held one of the school's first freelabs in Kingsburg. He called it the Ghost Lab.

Sweetapple attended MacKay-Lyons' first freelab as a student. In some ways, their partnership began there as an old-fashioned apprenticeship. They hit it off, sharing the same approach, the same roots, the same commitment and the same belief that the only secret to becoming a great architect is constant practice.

"You gotta be willing to get good. Brian looked at me one day and said, you gotta work on your sketching, so that's what I did," says Sweetapple.

"Three weeks later he was better than me," laughs MacKay-Lyons.

"It's real simple stuff," Sweetapple continues. "You go back to Brian's upbringing or my upbringing, and you look at your grandfather and how he did his trade. Why does my grandfather make the best boats in town? Well, he's been doing it for 50 years. He's good at it. He understands it."

The benefits of the school work both ways for MacKay-Lyons, tenured professor, and Sweetapple, adjunct professor. Architects benefit from being teacher-practitioners, argues MacKay-Lyons. Teaching forces him to distill anecdotal knowledge from day-to-day practice and turn it into teachable principles. "You go back to your office and you are clearer about what it is you do," he says.

That self-reflection makes him more than a better architect, he says. It reminds him that good architects practice a model of a dignified life. Learning a trade, like architecture or carpentry, means learning a wholesome way to live. It's a participatory, intellectual journey undertaken with colleagues and clients. "It has a life of its own and it produces amazing things," he says. "It's going to be a lifetime of learning. It's going to be fantastic."

"Of course," he adds, grinning, "students usually hate it when you tell them that."