When you open the door to a science lab at Dal, you expect to find hard-at-work grad students, rows of microscopes, stacks of test tubes and other scientific equipment.

Open the door of Simon Gadbois' lab, however, and chances are the first thing you'll encounter is a slobbery greeting from a very affectionate canine.

Your new best friend could be one of Dr. Gadbois' own personal pets: Zyla, a beautiful 13-year-old Border Collie, or Flynn, an adorable English Shepherd he adopted as a stray last May. Or it could be one of the lab's dozen or more volunteer dogs, whose owners drop them off one day a week at the Life Sciences Centre for a different sort of doggie day care.

Dr. Gadbois runs the Canid Behaviour Team at Dalhousie, a group that consists of one PhD student, one master's student, five honours students and about 70 registered student volunteers. Its research focuses on training domesticated dogs to perform tasks that provide significant social benefit, particularly related to their stunning sense of smell.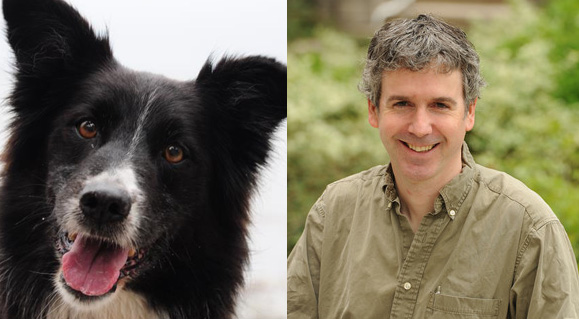 Dr. Gadbois (right) and Zyla.

The team's expertise has been called upon to support a wide variety of community projects, from tracking and locating endangered species such as wood turtles, ribbon snakes and Blanding's turtles in Nova Scotia's national parks, to identifying areas of significant coyote activity in the interest of public safety.

"The dogs are really adding something to what humans can do in the field, especially when you have difficult visual conditions," says Dr. Gadbois, a senior instructor in the Department of Psychology and Neuroscience. "They complete you, in a way, and it becomes a real symbiotic teamwork. No matter how many times I do it, I'm still fascinated to see the dogs work and feel that interaction."
Making "work" into play


Dr. Gadbois' own dogs do the majority of the fieldwork, but the team recruits volunteer pets from the community to help with projects in the lab, including an ongoing methodological study on training methods. For the team's students, this offers a hands-on learning opportunity to integrate principles from both psychology (animal learning theories, psychophysics) and biology (conservation issues, working with other species) — with the perk of getting to hang around with dogs all day.

"I never had a dog growing up," says Catherine Floyd, an Experimental Psychology PhD student. "So this is my first real interaction with dogs on a regular basis, and I absolutely love it."

She's no stranger to animal behaviour: her master's at York University involved working with orangutans at the Toronto Zoo. There, she had to keep her distance — "I like to describe them as three-year-old kids who could break your limbs," she says — but her work with the Canid Behaviour Team is much more up-close and personal, as you might expect.

Each day, she supervises training sessions where two or three volunteer dogs —mostly herding breeds, which respond best to the training — work in 15-20 minute intervals, no more than three or four times a day unless the dog is super keen to continue. The students train the dogs to recognize certain herbs and spices and then identify the same smell when given the choice between several options.

"Once they learn the process with the spices, we can change the scent to whatever it is we're working on," explains Floyd.

Floyd says "work" as if it has quotation marks around it, and for good reason: it's clear from the dogs' enthusiasm that they're having a blast completing the tasks.

"When we ask, 'Do you want to go to work?' they go nuts with excitement," says Floyd. "We select our dogs carefully because they have to enjoy doing this work; if they don't, they're never going to learn. Our challenge is to try and make it really fun for the dog so it becomes like play to them."


Roslin and Marcus, eager to get to work. (Bruce Bottomley photo)

The student volunteers do more than help out with the research: they're also there to keep the dogs company, ensuring that no dog is ever without direct one-on-one supervision. The students also take the dogs on regular bathroom and play breaks, and in the afternoons when the weather's good they can often be seen playing outside the Life Sciences Centre.

"We get to spend our time with dogs — what's not to love?" says Elisabeth Shea, a Psychology undergrad who volunteers weekly in the lab.

"The lab couldn't function without our volunteers," says Dr. Gadbois. "The split between the students is 50/50 Biology and Psychology, and they learn not only to handle dogs, but they get to apply a wide variety of learning principles."
Innovative learning


While the lab is best known for its conservation work, Floyd's project is looking to expand its reach into the health field. For her PhD research, she's planning to work with clinicians from the IWK Health Centre (Drs. Elizabeth Cummings and Elizabeth McLaughlin) to investigate whether dogs can be used to identify hypoglycemic episodes in children with diabetes.

"Nocturnal hypoglycemia is when blood sugar levels drop very low overnight," she explains. "Some parents are having to go in and wake up the kids two to three times a night to check their blood sugar, just in case this happens. It can be very stressful and worrisome." The goal would be to train the dog to either wake up the parents or the child during an episode.

If this seems far-fetched, it's not: there's lots of anecdotal evidence that dogs can sense not only hypoglycemia but other health ailments. Floyd is looking to see if this sort of behaviour can be taught, starting by getting dogs to identify sweat, breath, saliva, and blood samples before hopefully working with real patients in the future.

The other benefit of this project, if successful, is that the child would have a service dog that could be with them at all times. That balance between work and companionship is something that flows through all of the group's teaching and research.

"We work with dogs that are family dogs, that live a normal dog life, a happy one," says Dr. Gadbois. "True, you don't really have much control over their home lives, and you have to accept quirks and sometimes behavioural problems, but those are far outweighed by the benefits."