Dal's hardiest commerce students are likely still recovering after vigorously exercising their business knowledge and school pride last month.

From January 18-20, hundreds of students from across Central and Eastern Canada gathered at Dal to go head to head in Jeux du Commerce (JDC) Central, an annual competition for business schools.

Third-year commerce student Taylor Thompson submitted a successful bid to host the 2013 competition at Dal and, along with Fabrice Vermeer, headed the organizing committee as co-chair.

"I really fell in love with the competition," says Thompson, who previously participated both as a delegate and a team captain. "It brings such a positive energy to the school that hosts it."

"I decided to bid to host this not just to showcase Dalhousie as one of the premier business schools in Canada, but to also introduce our students to the competition," he adds.
Welcoming Canada's business schools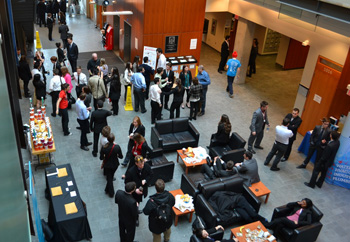 JDC started in Quebec in 1989, later branching out to JDC West in British Columbia and Alberta, and finally to JDC Central, which includes schools from Quebec, Ontario, New Brunswick and Nova Scotia. Dalhousie has participated in JDC Central since the event began in 2010, making Dal's Rowe School of Business the fourth competition host.

JDC Central 2013 kicked off with opening ceremonies at Citadel Hill and a parade through downtown Halifax. An unprecedented crowd of over 500 students represented 13 different schools this year, including first-timers Concordia, McGill and McMaster.

For the entire weekend, the Rowe Building buzzed with chatter in the lobby, while student groups worked diligently behind closed doors and teams watched presentations in the auditoriums.
Making a case for hands-on learning


At JDC, corporate sponsors provide academic teams with cases based on real-life business scenarios. The teams have three hours to prepare a business plan without any outside resources or the use of Internet.

Armed with little more than paper, pens and Microsoft Office, the teams must then present judges with their solutions for cases in accounting, entrepreneurship, business strategy, management of information systems, finance, marketing management, international business and human resources.

"I believe it is important for commerce undergrads to attend JDC Central since it provides them with the opportunity to further their education outside the classroom," says fourth-year commerce student Kathryn McNally.

McNally previously participated as a delegate on the social team and returned this year, along with Patricia Halim, as one of the two Dalhousie team captains.

"I wanted to come back in a leadership position and lead Dal to success," she says.
 
Not all of the JDC activities are academic. The athletic component of the competition this year included soccer and dodge ball, while the social delegates competed in activities such as a mock Amazing Race and a sledding obstacle course.

"These aspects have been added so that schools are evaluated on being well rounded," says Thompson.

In total, across the various teams, more than 48 Dal students took part in the JDC competition.
Making connections


Thompson (pictured below) hopes to become a chartered accountant. He says JDC Central is a great networking event for students to connect and learn from one another.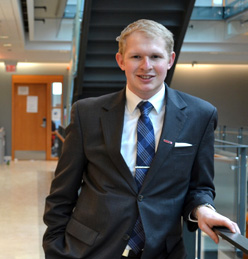 "What I think has led to the event being so successful is how high spirited everyone is," says Thompson. "This competition really tries to bring out the best in everyone."
 
"It was amazing getting to see all the different delegates from different schools have so much fun together despite being in the middle of a competition," he adds.

Besides meeting other students, JDC participants also have the advantage of meeting potential employers by interacting with the event sponsors. McNally says that being a part of JDC Central helped her secure a job for post-graduation.
Making Dal proud


Dan Shaw, lecturer in the Faculty of Management and director of the Bachelor of Commerce (Co-op) program, served as this year's faculty advisor for the Dal team.

"It's a big event," he says. "We don't get many events this size on campus and there is unbelievable enthusiasm."

Shaw says his favourite moment of the competition was seeing the marketing team in action after serving as their coach.

"The level of commitment and passion is very high," he says, adding that faculty were equally impressed with their abilities in the competition itself.

Dalhousie took first prize for accounting and third prize for the social component, with Ryerson claiming first in the category. The participation award went to Carleton University and Wilfrid Laurier held on to their School-of–the-Year title.

Shaw says he is proud of Dal for competing against much bigger schools, and he hopes the Dal MBA program will attract many of the aspiring business leaders that attended the event.

Thompson says that while it took a lot of hard work from the planning committee, hosting JDC Central was incredibly worthwhile.

"Everyone had such a good time here and it reflected so positively on Dalhousie that it's impossible to say that it wasn't all worth it."