Lego. Robots.

If you're trying to excite junior high students about science, math and engineering, those aren't bad words to start with.

More than 30 Lego robots from across the province will face off at the First Lego League robot programming competition this Saturday, February 2 at Acadia University. Two of these robots represent the product of Dal's work with the Imhotep Legacy Academy (ILA).

ILA brings together university students with African Nova Scotian youth in grades 7-9 to provide the youth with hands-on after-school programs that encourage success in science, math and engineering.

Dalhousie has been working with ILA since the program's inception in 1999. The Imhotep Legacy After-School Project (ILASP) is run through the cooperation of Dal's Faculty of Science, Department of Physics and Atmospheric Sciences and Black Student Advising Centre, along with the African Canadian Services Division and the Office of African Nova Scotian Affairs.

This school year, in addition to offering after-school enrichment activities, ILA has been mentoring teams for the First Lego League competition in preparation for the upcoming competition.
Connecting with the next generation


Fourth-year Computer Science major Reynaldo Dames is the Lego League coordinator for ILA. Dames, who is also a Tiger Patrol and building attendant coordinator for Dal Security Services, helped run the first Lego League summer camp at Dalhousie last summer and plans to return for this year's camp.

"It is worth the time that you put into it," says Dames.

Agriculture grad student Ernest Korankye has been working with the ILASP for two-and-a-half years, teaching after-school math and science activities to ninth-graders at Truro Junior High School. This year, he has also been coaching a team of ten Truro Junior High students who will be taking their Lego robot to Acadia on Saturday.

"I hope to be a university professor," says Korankye, who works with the Faculty of Agriculture's Christmas Tree Research Centre, "but [ILA] is something that I would never throw away. I would always go back."

"I felt the agency to help because I am an African myself," adds Korankye. "Why not help your brothers and your sisters who are struggling in school?"
Assembling a support system


Halifax's Oxford School also has a Lego League team, called Legos 'R' Us, made up of four students from grades 7 to 9. Fourth-year Dal engineering student Chevy Phillips serves as the Halifax team mentor.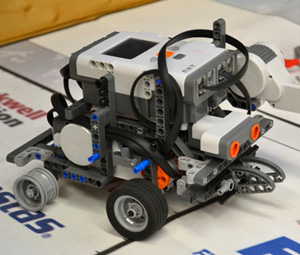 Earlier this week, ninth-grader Ethan Smith showed off some of the moves that the Legos 'R' Us robot (left) can pull off. The compact model can cross a bridge, spin a windmill and maneuver through a miniature Lego world complete with a television, bowling alley and dog.

Smith says he joined the Lego League through ILA because he is interested in robotics and hopes to pursue similar courses in high school.

ILA aims to aid youth in social and academic development in the hope of correcting an under-representation of black professionals in scientific fields.

"[ILA] gives them the motivation to move forward and go to high school and university," explains Korankye. "Maybe they can look up to some of us."

Phillips, who plans to continue offering after-school robotics workshops following the competition, is happy to mentor the youth, and believes the Lego League has taught them teamwork and responsibility.

Dames agrees. "It's the joy of seeing the kids accomplish missions together," he says.
Building perseverance


The competition's theme is "senior solutions," requiring each team's robot to accomplish more than a dozen missions with tasks that a senior citizen living independently might have to complete — such as turning on a television — but done on a miniature scale.

While the teams have full control over their robot design, they will all be competing on a standardized course.

The Legos 'R' Us team has been practicing on a course assembled to match the one used in competition. So far, the team has found picking up and placing the Lego squares representing quilts to be the most difficult task.

"The programs are set, but we are working on placement," says Dames. "One little mistake and the whole thing falls through."

This need for precision, Dames says, is as good a lesson as any for youth who are thinking about a career in the sciences or similar fields.

"They have to keep trying and never give up when something fails," he says.