It's that time of year again: students are in the midst of exams and everyone is preparing for the holidays. But it's also time for the artists within the Dal community to show us their talents at the annual Student, Staff, Faculty and Alumni (SSFA) Exhibition.

This year marks the 59th SSFA show and, as usual, the work on display features a wide range of media, subjects, and formats – everything from traditional watercolour paintings to pieces in more unusual media.

Here are the stories behind just a few of the great contributions you can discover at the exhibit, which runs through December 22 at the Dalhousie Art Gallery. (For operating hours, visit the gallery's website.) An opening reception will be held Thursday, Dec. 13 at 8 p.m.

The miracle of photography


Professor emeritus in the Department of Biochemistry at Dalhousie, Ford Doolittle has been submitting art to the SSFA exhibition for the past 20 years. He's been attending NSCAD University part time almost as long.

Dr. Doolittle's submission to this year's show, a triptych of digital photos titled Sin and Redemption, is testament to his years of hard work — and to his passion for the medium.

"Photography takes me outside of myself," he explains. "Photography is about the world, [whereas] my academic life is about what's inside my head." He adds that spending time on his NSCAD assignments has also helped him solve problems in his "science life."

Dr. Doolittle took the photos in Dublin, Ireland when visiting for a conference. Aside from the location, they're also linked by the colour red: reflections in a bar window; a pair of shoes nestled together outside Dublin's General Post Office; and a religious iconography shop. The title, of course, pulls the three together.

As he doesn't travel all that often, he says it's "better to find interesting subjects in what's close at hand." Whatever his subject, Dr. Doolittle finds photography a means of expressing that it's "miraculous that the world exists at all – that's what photography is for. You can find [the miraculous] anywhere."
Memories, characters and more


The medium of photography is presented another way in 49 to 55, a delicate collage of 20-some photos transferred onto silk organza and hand-stitched together. The photos were taken from Dalhousie University yearbooks between 1949 and 1959 – back when Anneke Henderson's parents were students at Dal.

Prof. Henderson, instructor in the Department of Theatre's Costume Studies program and a Dal alumna herself, says her motivation to create the piece came from a desire "to celebrate [my parents] and their time at Dal. It's 100 per cent sentimental."

Most of the images in 49 to 55 (see image below) are glimpses into her parents' social lives, from varsity teams to the many formal dances they attended (including Prof. Henderson's favourite image: her mother's dance card from a Munro Day Dance).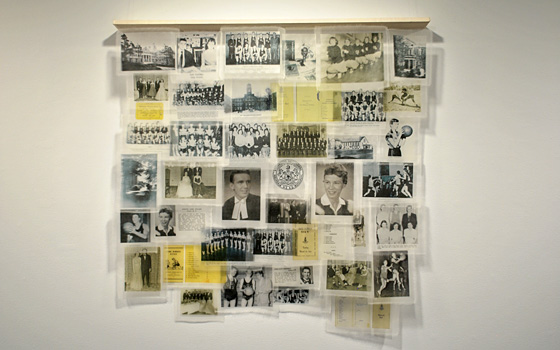 Those discoveries illuminate the community side of university life. "You spend a lot of time with the same people in your own field of study, sharing experiences," she explains, adding that she hopes her own students appreciate the relationships they're building now.

Prof. Henderson isn't alone in representing the Department of Theatre. John Pennoyer, also in Costume Studies, submitted two figurative paintings, Sub-Exposition and Spill Hat (pictured at the top of this story), featuring a central character he dubs "The Hide-Bound Man."

"[The Hide-Bound Man] represents a person bound up with preconceptions and cultural assumptions," Prof. Pennoyer explains. "He's essentially a self-portrait. But everyone makes automatic assumptions."

He first creates his images in Photoshop, then grids them for transfer to canvas. "My mouse dexterity is something fierce!" he says. His skill with a paintbrush is a force to be reckoned with too, thanks to formal training in draftsmanship.

He says Spill Hat is a response to the BP oil spill. The painting's serious content seems in contrast to its visual effect: a carnival of colours and patterns, surrounding a man sporting a bulbous, blue jellyfish. But as Prof. Pennoyer points out, grinning, "just because it's serious doesn't mean it can't be amusing."
Students combining academics and art


There's a similar contrast in another collage titled Understand, with a somewhat serious message conveyed by a colourful image. Created by the students in Ayesha Mushtaq's English for Academic Purposes (EAP) class, the piece was an assignment about "how multiculturalism in Canada should be a two-way phenomenon."

Small flags, including those of the students' home countries, were carefully overlaid inside a map of Canada, creating a mosaic effect. In the corners are words meaning "hello" and "comprehend" in Chinese, Arabic, French and a regional dialect of Burkina Faso.

Prof. Mushtaq says the project was "a covert method of teaching vocabulary, encouraging critical thinking and generating discussion in class," as well as an opportunity for the students to participate in university culture outside the Department of Continuing Education as they prepare to begin regular academic classes at Dal in the winter semester.

Collaborating on the collage were students from China, Saudi Arabia and Burkina Faso: Mohammed Al-rashed, Wenfen Zhu, Jian Han, Jing Zhen, Noha, Nouf, Hankun, Arnold Zound, Mohammed Nasser, Sultan Alanazi, Wael Jefry, and Khaled Al-qahtani.

Also representing the student population is Kelsey Evaniew, a second-year student in the Sculich School of Law. While completing her physiology degree, Evaniew was too busy to draw. But now her interest in human physiology has another outlet.

Hold On, a pencil drawing of a human heart, is very realistic — up to a point. "The heart, arteries and veins are anatomically correct," she explains. "But I took liberties where the veins and arteries start to branch out."

She says drawing helps her maintain her life balance: "Doing art . . . ensures I'm not studying all day and night," she adds.
Father-daughter painting challenge


When Dr. Jock Murray was doing post-graduate studies in the late 1960s, he and his wife went to England with their four small children. They were poor students, he says, but they bought a Westfalia camper van and made trips around the UK on weekends.

"We spent a wonderful year in this camper," recalls Dr. Murray, professor emeritus with Dalhousie Medical School. "It's become an important symbol of our family."

Memories of that year are captured in one of Dr. Murray's three submissions, 4 Kids and a Westfalia, a charming portrait of the blue camper van in question. The piece has an unexpected feature: hanging from the bottom of the frame is the original license plate.

The piece is also the product of a challenge he and his daughter Shannon started last Spring. (Shannon is an English professor at the University of Prince Edward Island and submitted two paintings this year.) "I used to paint when I was young," Dr. J. Murray says. "My daughter was also starting to paint around the time I started again, and we decided to try doing a painting a day for a month."

Both of Shannon's paintings are playful explorations of colour using different techniques. Calm is a small painting of a dingy against bright ochre sand and deep blue water, with smooth, almost invisible brushstrokes. Currents captures a bloom of jellyfish in thick purple and blue impasto paint – it's "the result of seeing what appeared when I put way too much paint on a canvas," she says.

She adds that during their month-long painting challenge, she and her father emailed photos of their work to each other. "He is my kindest critic," she says.