Considering their reputation for eating homework, dogs may not seem like the ideal study buddies.

But for hundreds of Dal students eager for a break from the stresses of exam period, the Dalhousie Student Union's "Puppy Room" was just the friendly, furry reprieve they were looking for.

By the time the doors opened Tuesday afternoon for the first of three Puppy Room sessions this week, more than 100 students were in line to hang out for a few minutes with a Labradoodle, a Sheltie and a Golden Retriever — all volunteering their time through the non-profit Therapeutic Paws of Canada.

"We ran from class," said Megan Sommerville, a commerce student who was first in line with her friends.

"Puppies are pretty much the best thing ever," added fellow student Trisha McWilliams.
Dog days of exams


Despite the event's name, the dogs are only puppies in the "awww, a puppy doggy!" sense: though the DSU looked into having actual puppies, there were too many concerns about how young dogs would be affected by large crowds. That's why all the canines provided by Therapeutic Paws of Canada (TPoC) are at least one year old and specifically prepared for the sort of intense love and affection you'd expect in a "Puppy Room."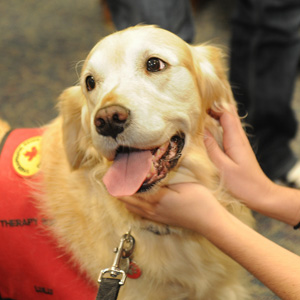 Lulu, a seven-year-old Golden Retriever, spent her afternoon visiting with students, all smiles. She's been volunteering as a therapy dog for four years, and her primary gig is with TPoC's "Paws to Read" program, which brings dogs into local libraries to work with children struggling to read.

"That was what really drew me to the program — not just the visits with seniors, but also the Paws to Read program," said Laura Smith, Lulu's owner. "She's very fond of children, so she really loves it."

See also: Video – Students visit with cute, cuddly canines at the "Puppy Room"

The other dogs at Tuesday's Puppy Room session were Colby, a five-year-old Labradoodle, and Charlie, a two-year-old Sheltie. Wednesday promised a Sheltie and a Papillion, while Thursday would bring a Papillion, a Dalmatian and a loveable, 170-pound St. Bernard named Roc.

They all came through TPoC, which brings animals to hospitals, schools and other places where they can assist people in therapy, be it physical, mental, educational, motivational or social. The organization provides its services free of charge, though they do accept donations.

"We're active in the community every week, and almost every day," explained Don LeBlanc, team leader for TPoC in Halifax. "A lot of our teams, they visit at least two different facilities, and a lot of them are involved in the Paws to Read, which is in eight different libraries . . . we get requests for daycares, going into schools, seniors communities and more."

Hounds of love


The idea for the Puppy Room came from Michael Kean, a third-year Environmental Science student, who had heard of a similar program at McGill.

"A lot of people are really stressed at this time of year, with exams and papers," he explains. "Many are also missing their own dogs at home too. And some just are looking for a break from their studies."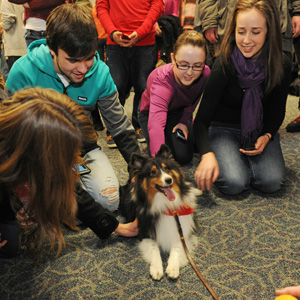 The DSU was on-board right away, with Gavin Jardine, vice-president student life, reaching out to Therapeutic Paws of Canada (TPoC) to make the event possible.

"I was instantly floored by the idea, and so excited," says Jardine, though even he had no idea that the event's announcement would spark a media sensation.

"All we did was share the poster on Facebook; we never actually printed any copies," he says. "I went into a four-hour meeting [last Wednesday] and when I came back, the photo had more than 600 shares and the Huffington Post had an article up about it."

Since then, the Internet has gone crazy for canines. Twitter has been flooded with thousands of Puppy Room tweets, and the news has been covered by outlets such as CBC's The Current, The Toronto Star, NPR (National Public Radio), Yahoo News, The National Post, Cosmopolitan magazine, Jezebel and many, many more — as far away as India.
Puppy love


The fact that the dogs were not "puppies" in the literal sense didn't matter one bit to the smiling students — almost 500 of them on Tuesday alone — who got to spend a few minutes with the dogs.

"Relaxed; full of happiness," said student Rachel Foster, when asked how she felt after her time in the Puppy Room. "I don't have a dog at home, but I really love them."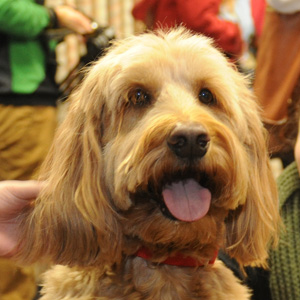 After social media and news outlets went crazy for the canines, the DSU arranged another option to help meet the demand: during the Puppy Room's operating hours, the Tiger Patrol is shuttling students to and from the SPCA in Burnside, where students can walk dogs or cuddle with cats at the facility.

Kean has been impressed with the DSU's championing of his idea: "They were so responsive, and great to work with."

Jardine says it reflects the sort of crowd-sourced idea generation that the union is encouraging with its Soapbox platform, a website where students can submit and vote on ideas for improving campus life. If an idea gets enough positive votes, the DSU pursues whether it's possible and updates the community on its status.

Both Kean and Jardine say they're glad that the Puppy Room has ganerned such attention, and say they hope it sheds some light on the stresses that students go through during exam time.

"It's not a solution to the problem," says Jardine, "but it's a small bit to help."

Want more puppy love?