What causes autumn leaves to fall? How do humans develop fingers? The answers to these questions and many of life's mysteries lie in programmed cell death (PCD), the process by which cells purposefully die.

PCD destroys cells in tree leaves when they are no longer useful and kills cells in fetal hands to separate fingers. Essentially, PCD kills certain cells so the rest of an organism can thrive.
Recently, Dalhousie Biology Professor Arunika Gunawardena and a team of Dalhousie students (Christina Lord, Adrian Dauphinee and Jaime Wertman) became the first scientists to observe the order of cellular events that occur as part of lace plant PCD, and the first to determine the time course for it. Understanding this process — the manner by which the lace plant purposefully creates holes in its leaves — is among the first steps in being able to regulate cell death in plants.
This could have huge implications in advanced cell biology research, agriculture and medicine.
"In agriculture, altering the course of PCD could create plants engineered for longer shelf life and designer florae with 'built-in' leaf patterns," explains Dr. Gunawardena. "In medicine, altering the course of PCD could mean huge strides toward protecting brain cells in those affected by Alzheimer's disease and killing unwanted cancer cells."
A discovery worth the wait

It took PhD student Adrian Dauphinee 72 long hours to observe PCD in the lace plant from start to finish. Armed with a custom-built homemade slide, a Nikon 90i research microscope and a lace plant specimen, Adrian spent several days in the Gunawardena lab. He meticulously adjusted the microscope as needed, leaving it for no longer than an hour at any point.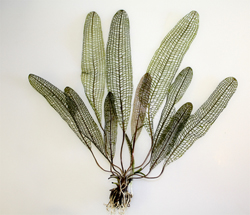 PhD student Christina Lord explains that Dauphinee needed to "babysit" the slide because the microscope didn't maintain its focal plane over a long period of time.

"The initial focus system was not adequate for work this sensitive, resulting in dozens of hours of filming for few publishable results," she says.

Dauphinee elaborates: "The imaging project used a whole leaf that was still growing, which is one of the reasons the microscope had to be monitored continuously . . . Thankfully, I had a good book on cell biology to keep me company."

The 72-hour process revealed a predictable pattern of PCD in lace plants, which you can watch unfold with a video posted to the Gunawardena lab website. The death starts in the cell's centre and moves outward. Interestingly, the outermost layers are spared from death. This discovery inspires new questions about why some cells die while others don't.
Applying findings to health issues


"The next step is to induce death in the areas that don't die and to reduce death in the areas that do," explains Dr. Gunawardena. "This could possibly give us insight into how to reduce cell death in diseases like Alzheimer's while increasing death in cancerous cells."

While she is excited about her research's potential medical applications, Dr. Gunawardena notes that there is much work to be done before confidently relating findings in lace plant cells to animal cells.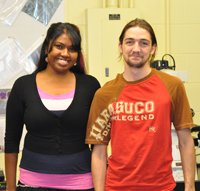 "Even though there are some similarities between animal and plant PCD, we don't have the molecular and biochemical data to prove if PCD is coming from the same origin in plants and animals," she says. "Once we isolate genes that play a role in lace plant PCD, we will incorporate them into a soil worm, C. elegans, to determine whether they play a role in both plants and animals."

Dauphinee is planning his PhD research to build on the recent findings. He hopes to insert foreign genes into the lace plant and observe their effects on the PCD process.
Milestone for Dr. Gunawardena


It's fair to say that PCD research has come a long way since Dr. Gunawardena revived lace plant research in 2002. Before that, the most recent research was a nearly 100-year-old PhD thesis written in French.

Co-author Jaime Wertman explains why many of Dr. Gunawardena's students have found studying lace plant PCD so fascinating.

"Because no one had worked on this plant before Dr. Gunawardena, we have to create new techniques, which is one of the most exciting things about science," she says. "I'm fortunate to have had this experience."
Despite the many accomplishments stemming from this project, Dr. Gunawardena credits her students' teamwork as her biggest source of pride.
"Jaime, Christina and Adrian worked together patiently and positively," she smiles. "They work like a family, and that makes me prouder than anything else."
Read more about the group's article, "The pathway of cell dismantling during programmed cell death in lace plant (Aponogeton madagascariensis) leaves," on Science Daily.