Let's get the disclaimer out of the way first: Dal is not going to be besieged by the walking dead anytime soon.

But you can't blame us for having zombies on the braaaaaaaaain, as the past decade has brought zombie culture stumbling into the mainstream.

The hits stack up like undead corpses: The Walking Dead, one of the most popular comic series and television shows going; movies such as 28 Days Later, Shaun of the Dead, Resident Evil and the remake of Dawn of the Dead, all international mega-hits; ordinary people taking part in urban "zombie walks," dressing in gory makeup and roaming the streets; countless bestselling zombie books, like Max Brooks' The Zombie Survival Guide and World War Z, the latter of which is being made into a feature film starring Brad Pitt.

Ironically, for a bunch of shambled, rotting corpses, zombies have never been more alive in the public eye.

So, caught up in the Halloween spirit, we did what any rational, reasonable publication would do: sat down with the experts on campus to assess if Dal is prepared if zombie fiction were to suddenly transform into zombie fact.
Considering crises


In case you're looking for a simple answer: no, Dalhousie's emergency planning has not formally taken zombies into account. (At least, not yet: Jacob MacIsaac, Dal Security's community safety officer, did say he'd consider bringing it up at the next planning meeting, but we're not exactly holding our breath.)

But that's mostly because Dal's emergency planning is serious business: determining and outlining how campus personnel and resources would be mobilized in a variety of escalating scenarios, from events as routine as major storms, to sudden campus evacuations, to long-term, sustained emergencies and closures.

"The plan establishes critical information on the resources we have, the key players involved, and sets three levels of response with criteria for determining which level a scenario falls into," explains Ray Ilson, Dalhousie's director of Environmental Health and Safety.

"The initial decision-making is shared between the Environmental Health and Safety office, Dal Security, and Facilities Management, but if a situation warrants escalation, the plan goes all the way to the top with the president and vice-presidents. It outlines key players in that chain for financial support, high-level political decisions, communications and more, all with backups identified."

A major revision of the plan is nearing completion, but the parties involved continue to strategize with regular tabletop exercises.

"Every few months, we mobilize what would best be called Dal's emergency response team," explains MacIsaac. "We throw out different scenarios, with fluid, evolving events. We might start by considering a weather event, and then throw in a power loss, and then maybe a person in distress in one of the buildings. The idea is to get everyone thinking, asking questions and ensuring that we're prepared."

In many scenarios, Dal Security will be first on the scene, with a team fully trained in first aid, CPR and defibrillation. But Dal also has a close relationship with local first responders— fire, police, rescue — and, in Halifax, the municipal Emergency Management Office, through which provincial and federal resources would be utilized. Dal's planning is also integrated with HRM's.  

"That's important, because anything that happens here at Dal's Halifax campuses involves at least 15-20,000 people right in the heart of the city," adds MacIsaac. "And even though our Truro campus is more rural, the same principle applies: what happens at Dal affects the community and vice-versa."
Defending Dal from the walking dead


It's fairly safe to say that an emergency response to the dead returning to life and seeking human flesh probably wouldn't be left to Dal alone. And admittedly, given that it's an entirely made-up scenario, involving a threat that only exists in popular fiction, the "what ifs?" posed by a zombie apocalypse are a bit unwieldy to sort through. (Just think about how vastly different things would play out if the zombies were the speedy type versus the slow variety, for example.)

Still, Dal's emergency preparations do offer a few hints on how the university would respond. The university would quickly strike an operations management team, with key decision makers secured, if need be, in an emergency operation centre that Dal has available on Studley campus.

"It has access to computers, Internet, satellite phones, fresh water, food, washrooms – everything that a group would need if they have to stay there, secure, for an extended period of time," explains Ilson.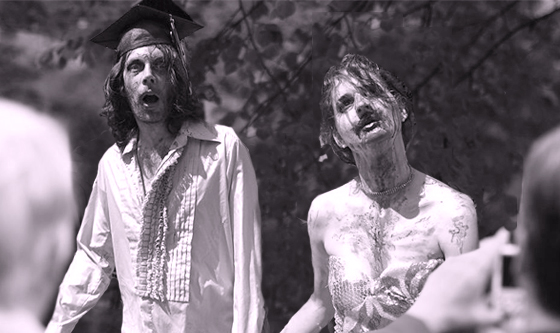 Zombie convocation photography!
Both Ilson and MacIsaac say that the first order of business would be reaching the Dal community with what it needs to know: what is happening, where to go, what to do. Every available resource at Dal's command would be utilized, from the Dal Alert messaging system down to, in the event of a catastrophic systems outage, person-to-person mobilizing and megaphones.

"In a quickly-escalating situation, we don't have time for big security bulletins," says MacIsaac. "It's going to be — pardon the pun —bite-sized pieces of information: which buildings are secure, which places to avoid, what operations are running or curtailed."

The ops team would evaluate which Dal services would continue, and which would have to be curtailed or ceased depending on the state of affairs. For example, while it might seem like cancelling classes would be a no-brainer — again, pardon the pun — there may be good reasons to continue with some instruction, especially if the zombie outbreak seems like it might be a sustained, ongoing phenomenon for months or years.

"But we're a lot more than just a place for classes: we're also a home to thousands of students," notes MacIsaac. Ilson adds that organizations like Dal, with significant buildings and infrastructure, might be asked to take on more residents in a large emergency scenario. The university's plans take into account that it may be expected to take care of its own community for upwards of 72 hours in terms of food, electricity, shelter and other needs as first responders focus on emergency response across Nova Scotia. (Many of Dal's key buildings are on backup generators, for example.)

Not to mention that Dal has four campuses, one of which, the Agricultural Campus in Truro, is geographically removed from the others. This presents options should Dal need to move some of its operations within Halifax, or even between Truro and Halifax, depending on how, and where, the zombie outbreak unfolds.
Being prepared


At this point, we're getting into pretty extreme scenarios, and both MacIsaac and Ilson are careful about diving too far into the model I've presented them, lest we get caught up in questions that are simply too unanswerable. But the bottom line is that even if Dal hasn't thoroughly planned out a zombie defence strategy, the university's plan is flexible enough to respond to the unexpected.

"There are certain events you can practice for and think through that are more likely than others, but the process is about how we approach a scenario more so than the scenario itself," says MacIsaac. "No matter what we're faced with, it's run through the same matrix: what is happening, what resources do we have or need, who needs to be making decisions, and how we communicate with our stakeholders."

So does that mean we're ready for the undead?

"I'm relatively confident that we're prepared for a zombie attack," laughs MacIsaac.