Metal music and the Heart and Stroke Foundation might not be the most obvious pair, but Dal student Matthew Day sees an opportunity in bringing them together.

On July 5 and 6, the Halifax Forum will host the inaugural Spread the Metal Festival, named after the record label founded by Mr. Day less than a year ago.

The all-ages festival will be two days of music featuring 16 bands, with two death metal acts—Montreal's Kataklysm and Tampa, Florida's Morbid Angel—as headliners. One hundred percent of the festival's profits will go to the Heart and Stroke Foundation.

"I wanted a charity that was instantly recognizable," says Mr. Day. "There are plenty of nonprofits that are popular but not everyone is affected by them. Everyone knows Heart and Stroke."

If the festival is successful—his goal is to raise $100,000—Mr. Day plans on choosing a different charity to act as a recipient every year. "I would really like to get into supporting organizations like Doctors Without Borders. Eventually I'd like to either start my own or take an active role in leading one."

A label giving back


"I think it's the role of corporations and companies to give something back," he says, even a fledgling startup like Spread the Metal. The label has seven acts signed at the moment, but those bands are based in provinces and territories across Canada, and one, Fallen Joy. hails from France.

Mr. Day says he receives submissions from all over the globe, including Indonesia—"They have a big metal following there"—Algeria and Brazil. "It's pretty fantastic. Most of the bands on my label, I approached them, but the most recent sign (Edge of Attack) submitted their press kit to me and I loved it. I pretty much sent them an email the next day saying 'Come aboard.'"

Mr. Day, 21, a fourth-year Philosophy and Russian Studies student who made the Dean's List this year, was motivated to start a label due to "having no musical ability whatsoever. I knew I wanted a career that involved being around music, so I figured this would be the best way to be around a genre that I love."

To keep his focus on the music, he uses a hands-off approach when dealing with the bands he signs. "I offer suggestions, but I'm never going to say 'We're going to drop you from the label unless you do this or that.'" Spread the Metal helps its bands distribute their music in digital and physical formats, including vinyl. "Not many people buy CDs anymore, but vinyl's coming back. A couple of our new releases are on vinyl and we're very excited about that."

Rocking the Forum


A pass for either the first or second day of the festival will cost $50, with a two-day pass priced at $75. "The Forum's capacity is 3,000 people, and upwards of 2,000 would be great for what we're trying to do for Heart and Stroke." Renowned metal band Lamb of God played the Forum recently "and they brought in like 2,200, 2,300 people. The fan base exists."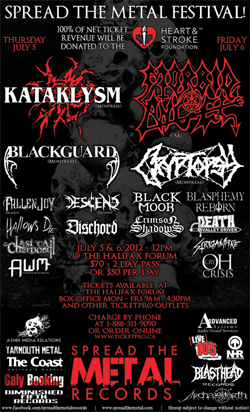 Spread the Metal will also be accepting donations from fans and non-fans interested in supporting the Heart and Stroke Foundation. "The festival will be streamed online, so there will be an option to donate during the webcast, too."

Mr. Day refuses to pick a favourite metal band, likening it to choosing a favourite child. "(French band) Dark Sanctuary, maybe. But that could change next week. It really depends on what I'm listening to at the time. I'll put one album on repeat for weeks on end." While studying Russian in St. Petersburg, he was able to catch a show by legendary thrash metal group Slayer.

"I love metal," he says. "It's universal. It doesn't really matter what you look like or who you're friends with."

Regardless of whether or not the Spread the Metal festival achieves its $100,000 target, Mr. Day has no plans to abandon his goals.

"It's a huge undertaking. If people don't show up, there isn't much I can do. But instead of thinking, 'What if I held this big metal festival?' I thought, 'I'm going to go ahead and try it.' And if it doesn't work, I learn from the mistakes I made this year and try again next year. There are always going to be lots of naysayers and lots of people who are going to try and tell you that something can't be done. Fortunately for me, I don't associate with many of them."
Learn more: spreadthemetal.com
Facebook event: Spread the Metal Festival