They've been used to build food, architectural models, ice sculptures, and even human tissue, but what can 3-D printers do for Dalhousie?

It's a question Michael Groenendyk and Riel Gallant, two students in Dal's Master of Library and Information Studies program, wanted to answer. And thanks to support from Dalhousie Libraries, students and staff at Dal can give 3-D printing a try and answer it themselves.

A MakerBot Replicator 3-D printer is up and running at the Killam Library, which can transform three-dimensional STL files into small, plastic models. It does this through fusion deposition printing, which Mr. Groenendyk describes as using "hot end or cold end extrusion to slowly place quickly-hardening layers of material one on top of the other like a glue gun. The hot end extruders generally use plastic filament."

A typical printed object uses between 25 and 50 cents worth of plastic, so it's an affordable process. Users who want to try out the printer during its pilot project phase will be able to make use of the service for $1 an hour — or about the time it takes to print an object about the size of a one-inch cube.

The next revolution in printing


The students' interest in 3-D printing was sparked by an NPR article on high-tech hacker spaces in public libraries, one of which featured a plastic-model-producing 3-D printer.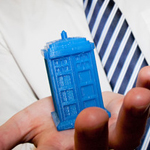 "[We] began to think of 3-D printers as something that could be implemented directly inside a library setting much in the same way photocopiers have been," says Mr. Groenendyk, "but supplemented with a catalogue of digital 3-D objects students could download, manipulate, and print."

"We realized this was going to be something much bigger than an assignment or a thesis paper," adds Mr. Gallant. "We believe that 3-D printing will completely revolutionize library services, perhaps even more dramatically than the Internet has already done."

Seeing an opportunity to facilitate collaboration between students in Dal's Faculty of Engineering and the Faculty of Architecture and Planning, the two began carving out a business proposal and implementation plan, and connected with their professor, Joyline Makani, who is also a subject specialist librarian in management and economics at the Killam Library. They pitched the idea to Dal Libraries, including University Librarian Donna Bourne-Tyson, who responded by contributing the funding necessary for the purchase of the printer and scanner.

An opportunity for self-education


The products will be made available for student use on the main floor of the Killam Library, where designated staff members will act as support mechanisms assisting students in the use and understanding of these new technologies. Dalhousie Libraries will also create an open access repository of 3-D models created by students and faculty. Once this online database is accessible, users will be able to classify and share the immense amount of data generated by digital objects.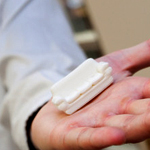 "3-D printing provides opportunities for self-education," says Mr. Groenendyk. "Engineering and architecture students will be able to create and manipulate 3-D designs in programs like AutoCAD and then print extremely cheap prototype versions of their designs, which they can review and rework as they see fit."

"I think we're just currently touching upon what this technology is capable of," says Mr. Gallant. "We are very excited to begin developing its potential."

For more on the printer, including step-by-step instructions on how to turn an idea into a 3-D model, visit the Dalhousie Libraries website.