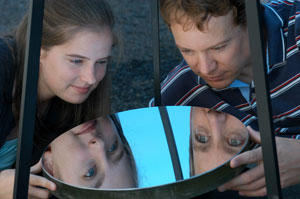 Third year student Theresa Mader and Dr. Tom Duck examine one of the telescopes built by Theresa last summer. Dr. Duck´s team will be an integral part of the Phoenix mission to Mars in 2007.(Abriel photo)
When the spacecraft Phoenix Scout lifts off in 2007 to explore Mars, it will take a little piece of Dalhousie with it. Dr. Tom Duck and other researchers in Dalhousie´s Department of Physics and Atmospheric Science will play an important role in this international mission. The team will place a lidar (or laser radar) on Mars to study the distribution of dust in the Martian atmosphere and look for clouds and moisture on the surface.
The Phoenix Mars Scout is a joint project between the Canadian Space Agency and NASA to investigate the water cycle on Mars. The Canadian contribution to the mission will be an automated weather station, including a small lidar system. The spacecraft will launch in August 2007 and land on the Red Planet in May 2008.
"By studying dust particles in the Martian atmosphere, we will gain insight into the internal dynamics of our own atmosphere," says Dr. Duck. In addition to Dalhousie, the Canadian Science Team includes scientists from York University and the University of Alberta. Tom Duck´s role involves helping to define the science objectives, providing input on the lidar´s design and analyzing data gathered by the lidar.
Dr. Duck is director of the Atmospheric-Optics Laboratory at Dalhousie. His team designs and builds lidar systems which are used for atmospheric research. On a clear summer night, Halifax residents may see this neon-green laser beam shooting up into the sky from the roof of the Dunn building on the Dalhousie campus. The laser beam is used to study pollution that comes to this region from distant sources.
This technology will now be used to study the Martian atmosphere. "Mars and Earth are very similar in some ways," says Dr. Duck. "Like the Earth, Mars has polar ice caps and clouds, volcanoes, canyons and other similar features," he says adding that conditions on Mars are of course very different from our own planet.
An acronym for light direction and ranging, a lidar is a laser remote sensing technique used in both science and industry. Lidars are used to precisely measure distances and properties of far-away objects. They can measure aerosols, clouds and water vapour for studies of climate change processes. Dalhousie´s team is one of five atmospheric lidar research groups in Canada. The lidar which will be used on the Phoenix mission is being designed and built by MDA and Optech.
Dr. Duck is known for bringing his enthusiasm for research into the classroom. His philosophy is to educate students in the theory and practice of science, emphasizing the need for students to get directly involved.
Third-year Science student Theresa Mader is familiar with this "hands on" approach. Last summer, she worked in the lab´s machine shop and built 16 metal telescope mounts.
"This was an impressive accomplishment for a second year student," he says. "Building things is a very real component of the research. Understanding scientific theory is very important, but so is good, practical experience. Theresa did more than build metal stands - she helped to build a state of the art instrument used for atmospheric measurement to examine the environment."
This year, Theresa continues her collaboration with Dr. Duck, working on a data analysis project studying the Arctic atmosphere and coming up with publishable results.