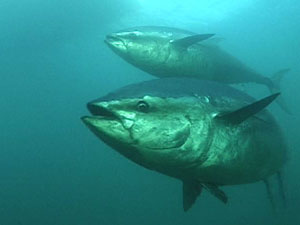 Dalhousie marine biologists Boris Worm and Ransom Myers have published an article in Science demonstrating that ocean biodiversity has been seriously diminished by over fishing. To learn more, click on this video, prepared by Findlay Muir, of the Centre for Learning and Teaching. (Underwater Sequence is copyright 2005 Dr. Chris Harvey Clark, University of British Columbia, all rights reserved; Longline footage is courtesy of Habitat Media Inc.)
How do you get the people around the world to notice that the world´s oceans are in danger?
For Dr. Boris Worm and Dr. Ransom Myers of the Department of Biology, working with media is the key. Recently, these researchers, along with partners in the UK and Germany, published a major paper in Science, titled "Global Patterns of Predator Diversity in the Open Oceans." In the paper, they outline the decline of biodiversity in the open oceans, particularly in large fish such as tuna, marlin, swordfish and sharks, drawing parallels between levels of diversity in these species with diversity of the tiniest ocean dwellers, zooplankton. Using data from long line fishing vessels, they point to overfishing and climate change as the culprits for up to a 50 per cent decline in biodiversity, while acknowledging that several "hotspots" for biodiversity still exist in the world´s oceans, and must be preserved.
"Very few people are aware that the global ocean as a whole has changed. It´s a message that needs to be repeated over and over again for it to be understood," explains Dr. Worm. To help non- scientists understand the impact of biodiversity loss, he uses the analogy of a stock portfolio. "You have 50 or 100 companies in your portfolio to spread the risk, so if one company or one sector goes down, you still make a profit. That´s how ecosystems work. If you reduce that portfolio to a few species, those few may be very productive and have lots of individuals, but it´s like investing only in Coca-Cola and McDonald´s. If the fast food sector goes down, you´re doomed."
Dr. Myers adds, "We work with the media because our ultimate goal is conservation. We have a message we want to get out in terms of the state of the world´s oceans, and that´s the motivation."
To get that message repeated throughout the world, Dr. Worm and Dr. Myers partnered with SeaWeb, a non-profit organization that uses strategic communications techniques to advance ocean conservation, located in Washington D.C. Upon learning of Worm and Myers´ newest paper, SeaWeb began working with them to promote the paper and its message in the media.
Dr. Worm says the key to working with media is preparation, to make it easy for journalists to get the story. "Most of the coverage we received, the reporters never actually talked to us, because the press release was sufficient. In two-and-a-half pages, all the information was there, and we provided interview clips."
To produce this professional "on-air" interview, the researchers approached Findlay Muir, a videographer with the Centre for Teaching and Learning. They also scouted locations for a video shoot, selecting Chebucto Head as the appropriate backdrop. An interviewer with SeaWeb posed questions remotely from Washington, with both researchers responding and elaborating on their work while Muir did the camerawork. As soon the journal´s publication embargo had passed, SeaWeb distributed the interview material by satellite to its media contacts worldwide. The coverage benefited from having a visual aspect - the story was picked up internationally, by over 90 TV stations.
Journalists also had advanced access to an in-depth website containing the news release, the paper, downloads of figures and maps, photos and contact information for the authors, as well as contact information for other sources. The result was coverage in media outlets such as in media outlets such as The Guardian and BBC in the UK, Australia Broadcast News, the CBC, Globe and Mail and National Post, as well as the New York Times, Los Angeles Times, and Washington Post.
The media interest spurred by the papers in Nature and Science has provided valuable learning opportunities for these researchers. "We learned simple things, like understanding the need to respond absolutely immediately, or the story will be gone a day later. That often seems strange to scientists, because a paper that comes out will be used for years," says Dr. Worm. "With a news story, it will be used within hours, or at most, days." Another lesson learned was to build mutual trust with journalists, to become known as a reliable source for information, while trusting reporters to portray their message accurately.
But Dr. Worm also points out that it can be easy to communicate with journalists and build that trust, because scientists and reporters share many common traits. Although journalists may be inclined to look for the big picture, and focus less on details, they are driven by curiosity, are critical thinkers and investigators, and move from one project to the next as new issues emerge, much like scientists. And, says Dr. Worm, like many scientists, journalists "are usually interesting and eccentric people."
Overall, the pair says their experience with the media has been very positive, and they´re pleased that media have reported in a very accurate way on such a complex issue. And, despite the time commitment and sacrifice it has taken to get the story out, Dr. Worm says it´s worthwhile. "I didn´t get a lot of sleep last week, but I think it´s perfectly worth it because we´ve been working on this for years. That extra two weeks to get it out and get people to notice is so worth it."
While they are still waiting to gauge the impact of their most recent paper, Dr. Worm recalls that media interest in another paper, published in Nature in 2002 and citing a 90 per cent decline in the world´s populations of big fish, has made a significant difference not only to their work, but to global interest in the future of these species. "After the Nature story, so much changed," says Dr. Worm. "The United Nations cited our numbers, and we were invited both to the U.S. Senate hearings and to the U.S. Oceans Congress to speak about this issue. Many people wanted to hear about this, and two years later it´s still going on. Of course there was criticism, too, but it´s a healthy dialogue, and without the media attention, not one tenth of that would have happened."
The research was funded by the Sloan Foundation through the Census of Marine Life module Future of Marine Animal Populations, and by the German Research Council, Pew Charitable Trust and the Natural Sciences and Engineering Research Council of Canada.
For more information about this paper, please visit www.fmap.ca.