African Canadians in Science, Technology and Innovation Exhibition
Imhotep's Legacy Academy's (ILA) in partnership with A Black People's History of Canada is hosting the African Canadians in Science, Technology and Innovation Exhibition for FREE, which will be facilitated by Mr. Francis Jeffers.  This exhibition is open to the public and all children are welcome.  We also welcome summer camps to participate in this event (see the email below to book a time).

Date:     27th July 2022 - 28th July 2022 (see the schedule below)
Venue:  Council Chambers, Student Union Building (The SUB), 6136 University Avenue, Halifax, NS  B3H 4R2, Canada.  This room is accessible to all persons (an elevator is available and has flat floor)
The exhibition will showcase the contributions of Black people to STEM* throughout history, starting with the ancient Egyptians and ending with contemporary scientists, inventors and engineers. The exhibit will select personalities from a library of over 300 Black inventors and STEM innovators in history. During the exhibition, Mr. Francis Jeffers, will:
Deliver presentations to visiting groups of children and educators to put the displays in context.
Host Scavenger hunts that students will participate in for a chance to win prizes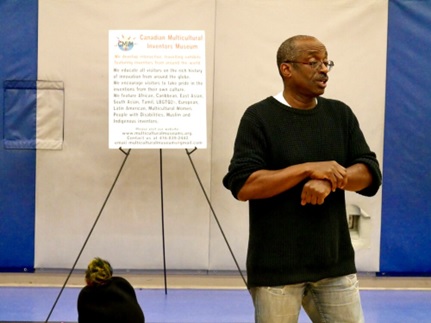 Mr. Jeffers presenting at the Jersey Public School Exhibits
The intention is to inspire Black youth through seeing themselves as part of the history of STEM worldwide and in Canada.  The exhibit will also spark conversations about the teaching of STEM and its connection to Black Canadian history.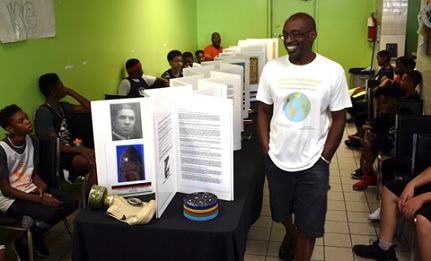 Students listening to Mr. Jeffers' presentation
For answers to any questions, please contact ILA's Project Engineer, Ms. Nikita Wambyakaley by phone (902-809-6558) or by email (pje.imhotep@dal.ca).
*STEM = Science, Technology, Engineering, or Mathematics
Detailed Exhibition Program
WEDNESDAY, JULY 27TH, 2022: 10:00AM to 6:00PM

TIME
PROGRAM DETAILS
10:00am - 11:00am
Opening Ceremony - Welcome from Mr. Francis Jeffers
11:00am - 11:10am
Presentation
11:10am - 12:00pm
Scavenger Hunt
12:00pm - 1:00pm
Lunch Break - Open
1:00pm - 1:10pm
Presentation
1:10pm - 2:00pm
Scavenger Hunt
2:00pm - 2:10pm
Presentation
2:10pm - 3:00pm
Scavenger Hunt
3:00pm - 3:10pm
Presentation
3:10pm - 4:00pm
Scavenger Hunt
4:00pm - 4:10pm
Presentation
4:10pm - 5:00pm
Scavenger Hunt

5:00pm - 5:10pm
Presentation
5:10pm - 6:00pm
Scavenger Hunt
6:00pm onwards
Closed for the day
THURSDAY, JULY 28TH, 2022: 9:00AM to 4:00PM

TIME
PROGRAM DETAILS
9:00am - 10:00am
Open - no presentation
10:00am - 10:10am
Presentation
10:10am - 11:00am
Scavenger Hunt
11:00am - 11:10am
Presentation
11:10am - 12:00pm
Scavenger Hunt
12:00pm - 1:00pm
Lunch Break - Open
1:00pm - 1:10pm
Presentation
1:10pm - 2:00pm
Scavenger Hunt
2:00pm - 2:10pm
Presentation
2:10pm - 3:00pm
Scavenger Hunt
3:00pm - 3:10pm
Presentation
3:10pm - 4:00pm
Scavenger Hunt
4:00pm onwards
Exhibition closed