Future Universal Navigators (FUN) Summer Camp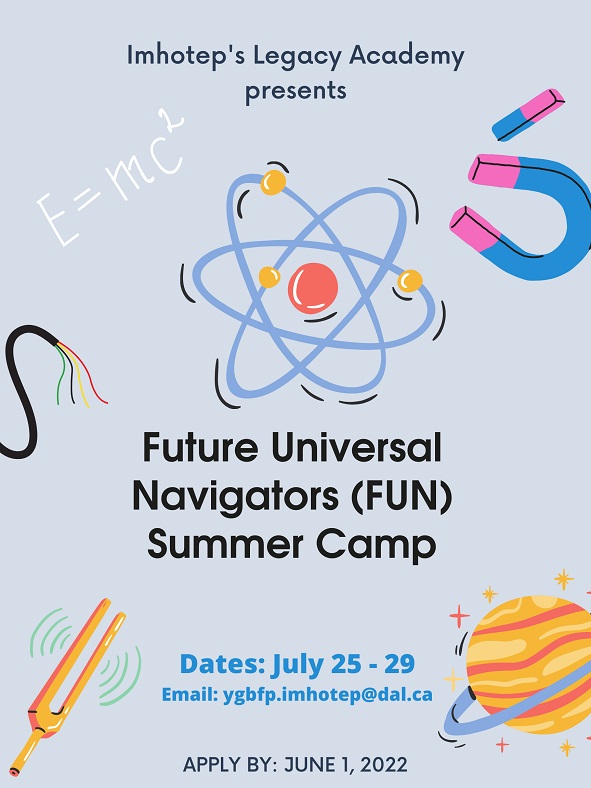 A Young, Gifted, & Black Future Physicists (YGBFP) Initiative
Only 1% of all physicists in Canada identify as Black. As 6.4% of Canadians in the 18-34 year-old category identify as Black, it is apparent that there is much work needed to be done to improve representation in the Physics field. Presently, 13 undergraduates, less than five graduate students, and six Physics professors identify as Black in the most recent CAP survey of over 3000 physicists (CanPhysCount, 1).

ILA's Young, Gifted & Black Future Physicists (YGBFP) Initiative,  a component of the three-year RBC Futures Project involving York University, McMaster University, the University of Alberta, and UBC, aims to increase the representation of African Canadians in the Physics discipline.

This initiative has three phases:

Pre-immersion: Students do physics activities prior to summer camp.
Engagement:   ILA selects 10 students to attend a free, overnight, summer camp at Dalhousie University.

Follow-through: Students receive mentorship. 

During the pre-immersion phase, ILA engages educators and administrators within Nova Scotia's Regional Centres for Education to identify potential student-participants for this initiative.  The summer camp component serves to expose students of African heritage to curriculum-relevant physics activities and introduce them to potential career opportunities in the physics discipline. Thereafter, the follow-through phase provides continuous engagement with youth over the remainder of their secondary school studies, to faciliate their transition to post-secondary education.

The Future Universal Navigators (FUN) Summer Camp will be held on July 25-29, 2022 at Dalhousie University. During the camp, students will engage in hands-on activities to strengthen their physics knowledge and participate in field trips to local businesses and science venues.
The FUN Summer Camp will admit 20 students of African heritage (gr. 7-12) into the camp--for FREE.  (The estimated value per student for their stay on campus, engaging with our partners, and receiving academic support resources is $5,000).  As only 20 exclusive seats are available, ILA encourages students to apply early!

If you have any questions please contact the YGBFP Project Manager, Ms. Haley Matthews, at ygbfp.imhotep@dal.ca or by phone at 1-902-494-2400.

References:
1.  CanPhysCount, The First Canada-Wide Equity, Diversity, and Inclusion in Physics Survey:  https://www.canphyscounts.ca/