Essay Writing Contest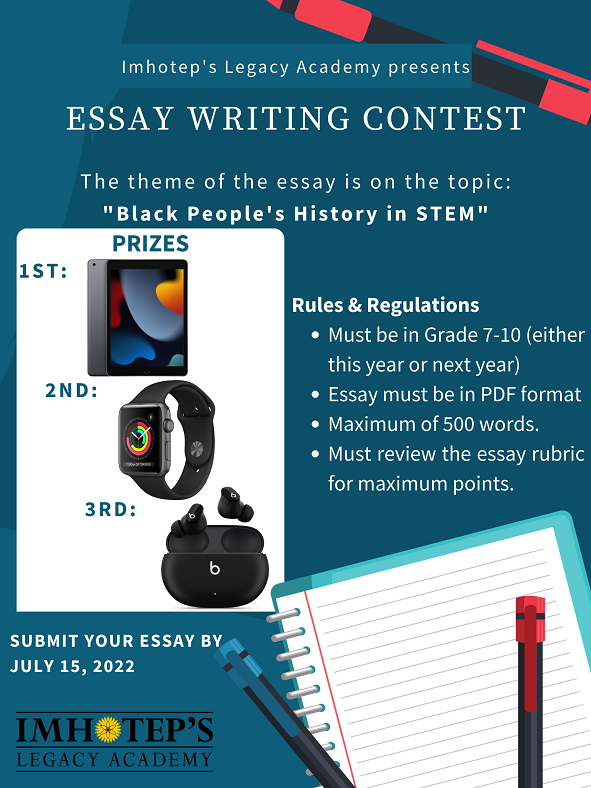 Imhotep's Legacy Academy's (ILA) is hosting an Essay Writing Contest. The theme of the essay is "Black People's History in STEM".  The essay may be on any of the following:
The historical contributions of one Black Canadian to STEM*.
Black Canadian contributions in one area of STEM*.
Each essay is expected to be well-researched and supported by evidence (with references or links).  We invite all students between grades 7-10 (either this year or next year) to submit their original work.
The submission deadline is July 15th, 2022.
An Awards Ceremony will be held at the Marion McCain Building (6135 University Avenue, Halifax, NS, B3H 4R2) on Thursday, July 28th, 2022. In addition, finalists will have 10 minutes each to read their essays to the judging panel, who will choose the winners.  

This event is part of the Black People's History of Canada conference: "Past/Future: African Canadian History, Arts and Culture in STEM Education" which will be held from July 26th - 28th, 2022. Students who enter the essay competition will receive free tickets to the conference.
For answers to any questions, please contact ILA's Project Engineer, Ms. Nikita Wambyakaley by phone (902-809-6558) or by email (pje.imhotep@dal.ca).
*STEM = Science, Technology, Engineering, or Mathematics
Rules & Regulations
Must be in Grade 7-10 (either this year or next year).

Must submit their original work.
Essay must be submitted in PDF format.
Essay maximum length of 500 words, plus images and diagrams if necessary.
All works must be in English.
Review the essay rubric to maximize your points.
Must identify as Black or African Nova Scotian to participate.

Exciting Prizes
The prizes are sponsored by The Black People's History of Canada project:
1st Prize
Apple iPad (10.2 inch, 64 GB, WiFi)

2nd Prize
3rd Prize
Judging
Judges

Dr. Pemberton Cyrus:
(Chair of the Judging Panel – will not be judging)
Dr. J. Pemberton Cyrus, ILA President, is currently Head of the Department of Industrial Engineering at Dalhousie University. He is a Fellow of Engineers Canada, has taught industrial engineering for 30 years, and held various administrative positions at Dalhousie University and the Technical University of Nova Scotia. One of his research interests is optimization of operational processes, including those in academic environments. His expertise includes scheduling, routing, networks, information systems, seaport operations and manufacturing operations. Dr. Cyrus is also President of Logix Consultants Limited, an industrial engineering consulting firm specializing in seaport information systems, manufacturing operations management, and information engineering.
Dr. Tobias Karakach:
Dr. Tobias Karakach is an experienced Research Scientist with a demonstrated history of working in the hospital & health care industry. Skilled in Data Analysis, Research, Mass Spectrometry, Metabolomics, and Bioinformatics applications for single-cell and bulk -omics data. Strong research professional with a Doctor of Philosophy - PhD focused in Bioinformatics from Dalhousie University.

Dr. Chigozie L. Okolie:
Dr. Chigozie L. Okolie is an experienced Research Scientist in Dalhousie University and a Doctor of Pharmacy candidate. He is currently researching on Anti-lung cancer potential of pleurotus tuberregium beta-glucans: In vitro activities against KRAS mutant non-small cell lung cancer cell line.
Dr. Adango Miadonye:
Dr. Adango Miadonye, Professor of Chemistry in the School of Science & Technology at Cape Breton University has received global recognition in the field of petroleum engineering and petroleum chemistry. His impressive publication record includes 50 peer-reviewed articles, numerous book chapters, and a number of presentations at important international conferences. An accomplished and respected student supervisor, Dr. Miadonye is extensively cited and has also formed the basis for a number of industrial collaborations. Dr. Miadonye has been a leader and contributor to his professional academic community holding offices and serving on committees with numerous academic and professional societies.
Evaluation Rubrics
Click the link to view and download: