Funded Sustainability Leadership Internship in Bahamas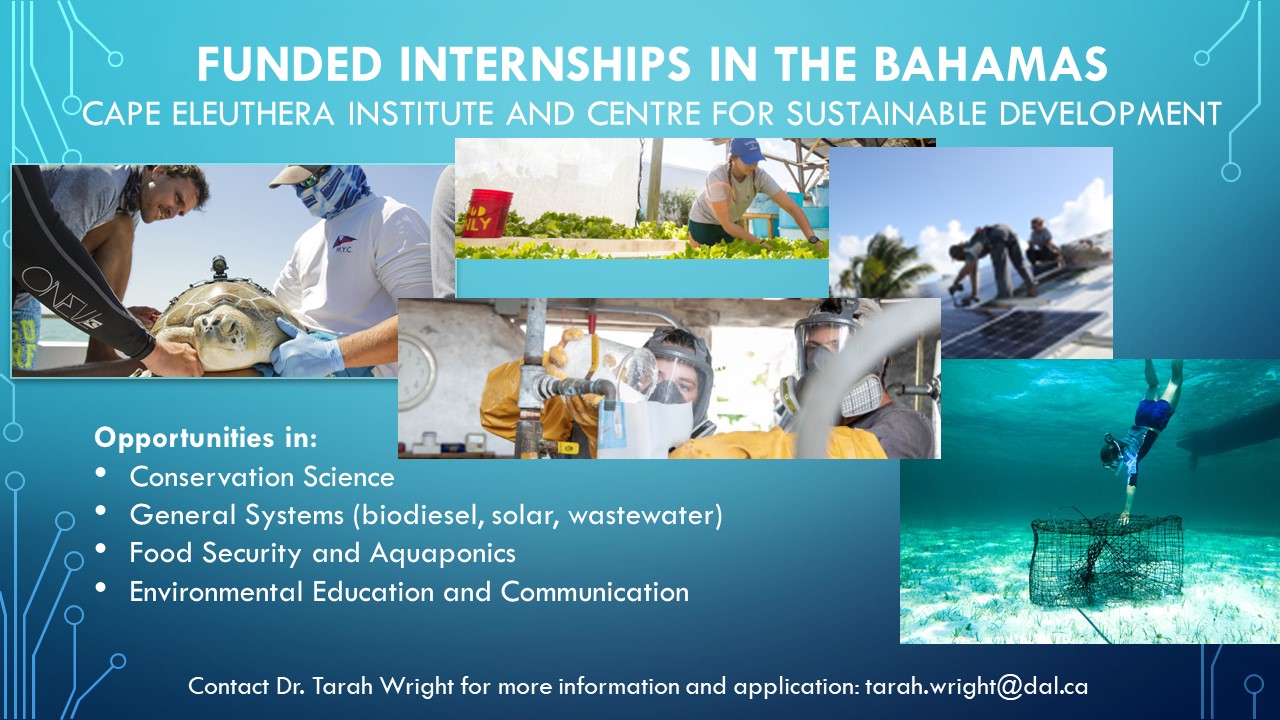 15 week Funded Internship at the Cape Eleuthera Institute in the Bahamas - Fall 2020

STILL ACCEPTING APPLICATIONS: It is still anticipated that we will be able to send undergraduate students to the Bahamas in September, so if you're interested, please apply by April 1, 2020.
The Opportunity
Students interested in conservation science research (turtle ecology, shark ecology, coral restoration, and sustainable fisheries), general systems (biodiesel, solar, wastewater management), food security, aquaponics and/or permaculture) and/or environmental education and communications can spend 15 weeks (fall or winter semesters) as funded Interns at the Cape Eleuthera Institute (www.ceibahamas.org) and the Centre for Sustainable Development (www.csdbahamas.org) in the Bahamas.
Each internship involves supporting the daily operations of the organization, as well as special projects that the intern will be responsible for developing under the supervision of a sustainability teacher. The internship program focuses on the professional development of young people who have a desire to make a change. Through field work and research, interns gain practical skills related to sustainable systems, sustainable living, and/or marine conservation. In addition, interns assist with Island School and Deep Creek Middle School research classes and gain experience in teaching and mentorship. Students can earn between 1 and 5 half-credit classes for this experience (to be determined with the Internship Coordinator).
Who Can Apply?
Applicants must have an interest and academic background in environmental science, marine science, engineering, architecture, sustainability, or related field

Applicants must be 18 years or older, and registered as undergraduate students at Dalhousie University with a minimum of 3rd year standing at the time of the internship placement

Applicants must be able to work independently, as part of a team, and be adaptable to a flexible schedule

Applicants must be comfortable with swimming, working outdoors, and be physically fit
Responsibilities as an Intern
The purpose of this internship program is to strengthen the global community of young leaders, and to increase their knowledge and skills through academic and professional experiences. As such, successful applicants are expected to:
enhance their professional and leadership skills through participation in pre-departure and arrival orientation workshops which focus on cultural competencies

participate in the internship networking events to be held annually in Halifax

enrol in the ENVS 3000 internship class (other courses credit can be arranged in consultation with the ENVS Internship Coordinator)

participate in voluntary community engagements activities either during their internship, or once returning to Dalhousie University

used social media (guidelines provided) regularly to highlight internship learning
Financial Information
Funding will cover room and board (3 meals per day on campus), airport transfers, local transportation (including use of bicycle), internet access, visa expenses, professional development and networking activities.

A travel credit (~$500) will be awarded to Interns upon successful completion of internship to help defray costs of airline travel (please note: there are also opportunities to apply for international travel bursaries, scholarships and loans to fully cover travel expenses to/from Bahamas)

Interns are responsible for their own pocket money, international health insurance, and the coverage of any course fees at Dalhousie University while on Internship.
Dates and Deadlines
| | | |
| --- | --- | --- |
| Session | Program Dates | Application Deadline |
| Fall 2020 | August 28 – December 14 | April 1, 2020 |
| Winter 2021 | January 20 – May 5 | September 15, 2020 |
| Fall 2021 | August 29 - December 12 | April 1, 2021 |
Application and More Information
For more information and application forms, please contact Dr. Tarah Wright (Tarah.Wright@dal.ca).
Note: Applications are encouraged from all qualified students, including Indigenous peoples, racialized peoples and persons with disabilities.