Alan A.
Doucette
Professor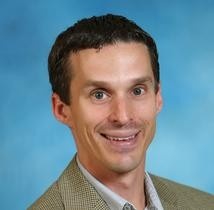 Email:
alan.doucette@dal.ca
Phone:
902-494-3714
Mailing Address:
Department of Chemistry Dalhousie University 6274 Coburg Road P.O. Box 15000 Halifax NS B3H 4R2

Research Topics:
Analytical chemistry
Biological chemistry
Proteomics
Mass spectrometry
Separations

Education
BSc, Dalhousie University
PhD, University of Alberta
PDF, University of Alberta
Research interests
My research is in the area of biological mass spectrometry, with emphasis on the development of innovative technologies for improved characterization of complex protein mixtures. Our technologies lead to improved understanding of disease and enable the drug discovery process.
Selected awards and honours
Canadian Society for Chemistry Fred Beamish Award, 2012
Innovacorp I-3 Technology Start-Up Competition, Zone 2, 2nd place, 2012
Harry Shirreff Prize for Excellence in Research in Chemistry, 2010-2012
Selected publications

S.G. Griffiths, M.T. Cormier, A. Clayton & A.A. Doucette; Differential Proteome Analysis of Breast Cancer Cell Lines by Peptide Affinity Enrichment of the Exosome Fraction, Proteomes, 2017, Oct 8;5(4). pii: E25.
M. Guray, S. Zheng, & A.A. Doucette; Mass spectrometry of intact proteins reveals +98 u chemical artefacts following precipitation in acetone, J. Proteome Res. 2017, 16, 889-97.
C. Kachuk, & A.A Doucette; The benefits (and misfortunes) of SDS in top-down proteomics. J. Proteomics, 2017, Mar 8, p S1874-3919.
C. Kachuk, M. Faulkner, F. Liu, & A.A. Doucette; Automated SDS depletion for mass spectrometry of intact membrane proteins though transmembrane electrophoresis. J. Proteome Res. 2016, 15, p2634-42.
C. Kachuk, K. Stephen, & A.A. Doucette; Comparison of SDS depletion techniques for proteome analysis by mass spectrometry. J. Chromatography A. 2014, 1418, p158-66.
A.A. Doucette, D.B. Vieira, D.J Orton, & M.J. Wall; Resolubilization of precipitated intact membrane proteins with cold formic acid for analysis by mass spectrometry.  J. Proteome Res. 2014, 13, p6001-12
A. Crowell, D. MacLellan & A.A. Doucette; A two-stage spin cartridge for integrated protein precipitation, digestion and SDS removal in a comparative bottom-up proteomics workflow.  J. Proteomics 2015, 118, p140-50.
D.J. Orton, A.A. Doucette, G.N. Maksym & D.L. MacLellan; Proteomic analysis of rat proximal tubule cells following stretch-induced apoptosis in an in vitro model of kidney obstruction. J. Proteomics 2014, 100, p125-35.
A.M.J. Crowell, M.J. Wall & A.A. Doucette; Maximizing recovery of water-soluble proteins through acetone precipitation. Anal. Chim. Acta 2013, 796, p48-54.
A.A. Doucette, J.C. Tran, M.J. Wall, & S. Fitzsimmons; Intact proteome fractionation strategies compatible with mass spectrometry. Expert Rev. Proteomics 2011, 8, 1-14.
D. Botelho, M.J. Wall, D.B. Vieira, S. Fitzsimmons, F. Liu, & A.A. Doucette; Top-Down and Bottom-Up Proteomics of SDS-Containing Solutions Following Mass-Based Separation. J. Proteome Res. 2010, 9, 2863–2870.
J.C. Tran & A.A. Doucette; Multiplexed size separation of intact proteins in solution phase for mass spectrometry. Anal. Chem. 2009, 81, 6201 - 6209.
J.C. Tran & A.A. Doucette; Gel-eluted liquid fraction entrapment electrophoresis: An electrophoretic method for broad molecular weight range proteome separation. Anal. Chem. 2008, 80, 1568-1573.