Dr.

Raluca

Bejan

,

PhD
Assistant Professor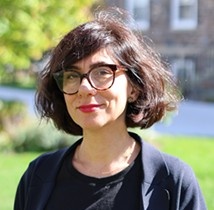 Email:
Raluca.Bejan@dal.ca
Phone:
902-494-2094
Mailing Address:
Room 3233, Mona Campbell Building

Research Topics:
comparative social policy (i.e., Canadian, British and EU)
ideology
South-East European and Balkan studies
post-communist, post-socialist and post-Soviet studies
community organizing and social movements
philosophy of social justice
labour and collective organizing
migration, mobilities and citizenship
globalization and transnationalism
refugees' studies/forced migration
critical theory
whiteness and critical race studies
Education:
BA (Hon.), Lucian Blaga University, Sibiu, Romania
SSW, George Brown College, Toronto
MSW, University of Toronto
PhD, University of Toronto
Raluca Bejan started her position as Assistant Professor at Dalhousie University in January 2020. Between July 2018 - December 2019 she was Assistant Professor of Critical Social Policy at St. Thomas University, in Fredericton, Canada. Raluca Bejan was a former Visiting Academic at the Centre on Migration, Policy and Society (COMPAS), University of Oxford, UK, in 2016 and 2018.
In 2018 Raluca co-directed a documentary film on the Greek Refugees crisis, titled Trace. It was filmed on the islands of Lesvos, Chios, Samos, and in Athens, Greece. Trace won Best Feature Documentary at the Santorini Film Festival in 2019. 
Relevant research contributions 
Refereed contributions (selected)
Non-refereed contributions
Community Reports (selected)
Bejan, R., Allain, K., Glynn, T., & Soto Flores, P. (2023, March 1). Unfree labour: Covid-19 and migrant workers in the seafood industry in New Brunswick. TFW Maritimes. Halifax.
https://tfwmaritimes.ca/pdf/Unfree_Labour-TFWMARITIMES-NB-2023.pdf


Bejan, R., Allain, K., Glynn, T., Wheatley, A., & Soto Flores, P. (2021). Safe at work, unsafe at home: COVID-19 and temporary foreign workers in Prince Edward Island. TFW Maritimes. Halifax.
https://tfwmaritimes.ca/pdf/Report-Safe_at_Work_Unsafe_at_Home-TFWMARITIMES-PEI-2021.pdf


Bejan, R. & Sidhu, N. (2010). Policy without Practice: Barriers to Enrollment for Non-Status Immigrant Students in Toronto's Catholic Schools. Toronto: Social Planning Toronto. 
https://www.socialplanningtoronto.org/

Magazine articles (selected)
Op-eds (selected)
Creative outputs
Exhibits (selected)
Bejan, R. & Cocan, I. (2022, July). TRACE: Tracing the Space of the Refugee Crisis. [Multi-media exhibit]. ARTHUB, Bucharest, Romania. 
https://www.arthubbucharest.ro/category/evenimente/


Bejan, R., Cocan, I., & Lan, N. (2022, May). TRACE. [Photography exhibit]. CONTACT Photography Festival, Toronto.
https://scotiabankcontactphoto.com/2022/open-call/raluca-bejan-ioan-cocan-trace-tracing-the-space-of-the-refugee-crisis


Bejan, R., Cocan, I., & Lan, N. (2020, Jan.–Feb.). Tracing the space of the refugee crisis. [Multimedia exhibit]. Beaverbrook Art Gallery and the UNB Art Centre, Fredericton. 
https://www.unb.ca/cel/enrichment/art-centre/past-exhibitions/2020-jan-17.html
Book Reviews (selected)
Bejan, R. (2021). Review of Social Mendelism: Genetics and the politics of race in Germany, 1900-1948, by A. Teicher. Journal of the History of Medicine and Allied Sciences, 77(1), 121–123. 
https://doi.org/10.1093/jhmas/jrab049


Bejan, R. (2017). Review of Strangers no more: Immigration and the challenges of integration in North America and Western Europe, by R. Alba and N. Foner. Social Service Review, 91(1), 159–168. 
https://www.journals.uchicago.edu/doi/10.1086/691339


Bejan, R. (2016). Review of Us and them? The dangerous politics of immigration control, by B. Anderson. Transnational Social Review: A Social Work Journal, 6(1–2), 222–225.
https://www.tandfonline.com/doi/full/10.1080/21931674.2016.1180878
Media/Radio Coverage (selected):
Ibrahim, H. (2023, March 2). Unclear whether N.B. employers will face consequences over alleged abuse of foreign workers. CBC New Brunswick.
https://www.cbc.ca/news/canada/new-brunswick/new-brunswick-temporary-foreign-worker-abuse-investigation-1.6765856


CBC Information Morning Saint John with Julia Wright (2023, March 2). Living conditions for temporary foreign workers
https://www.cbc.ca/listen/live-radio/1-28/clip/15969602


CBC Information Morning Fredericton with Jeanne Armstrong (2023, March 2).
https://www.cbc.ca/listen/live-radio/1-25-information-morning-fredericton/clip/15969589-migrant-workers


CBC National News-TV (2023, March 1). Temporary foreign workers in seafood plants faced long hours, minimal pay: report.
https://www.youtube.com/watch?v=d_eQbktJ220


CBC News Nova Scotia-TV (2023, March 1). A new report out of a university in Nova Scotia is painting a bleak picture of the lives of temporary foreign workers who come to Canada. https://tfwmaritimes.ca/media.html


CBC New Brunswick News-TV (2023, March 1). Principle Investigator Raluca Bejan talks with Harry Forestell for the CBC New Brunswick News.
https://tfwmaritimes.ca/media.html


The Canadian Press (2023, March 1). 'Unfree labour': N.B. seafood foreign workers faced awful conditions, study says. Cross-posted: Global News. The Toronto Star. National Post. Yahoo Finance. St. Catherine Standard. Alaska Highway News. Guelph Today. The Record. The Winnipeg Free Press. The Chronicle Journal of the Northwest. Huddle Today.
https://www.thestar.com/news/canada/2023/03/01/new-brunswick-seafood-foreign-workers-faced-awful-conditions-during-covid-19-study.html


CTV News TV. (2023, March 1). 'Unfree labour': N.B. seafood foreign workers faced awful conditions, study says.
https://atlantic.ctvnews.ca/unfree-labour-n-b-seafood-foreign-workers-faced-awful-conditions-study-says-1.6294021


Ibrahim, H. (2023, March 1). Foreign workers at N.B. seafood plants face threats, cramped quarters and racism, study finds. CBC New Brunswick.
https://www.cbc.ca/news/canada/new-brunswick/tfws-foreign-worker-housing-working-safety-1.6761918


Jones, L. (2023, March 1). Conditions for migrant workers in New Brunswick seafood industry abusive, dangerous: report. The Globe and Mail.
https://www.theglobeandmail.com/canada/article-migrant-workers-new-brunswick-seafood-conditions/


CBC Maritime Noon with Bob Murphy (2023, March 1). A researcher at Dalhousie University tells us about her new report into working conditions in NB for temporary foreign workers. 
https://www.cbc.ca/listen/live-radio/1-38/clip/15969688


CBC Information Morning Saint John with Julia Wright (2023, March 1). Migrant worker face tough conditions in NB.
https://www.cbc.ca/listen/live-radio/1-28/clip/15969358


CBC Information Morning Moncton (2023, March 1). Lobster industry denies abuse of temporary foreign workers, despite calls for better protections.
https://www.cbc.ca/player/play/2177914947771


DAL News. (2023, March 1). Migrant workers describe grim conditions in New Brunswick's seafood industry.
https://www.dal.ca/news/2023/03/01/migrant-workers-new-brunswick-conditions.html


Telegraph Journal. (2023, March 1). Feds review 'disturbing' report of alleged NB worker abuse.
https://tj.news/telegraph-journal/102071666


Thévenin, C. (2023, March 1). Des travailleurs étrangers temporaires forcés de vivre dans des conditions difficiles. Acadie Nouvelle.
https://www.acadienouvelle.com/actualites/2023/03/01/les-conditions-de-vie-des-travailleurs-etrangers-temporaires-inquietent/


Radio-Canada TV (2023, March 1). Mieux protéger les travailleurs étrangers.
https://ici.radio-canada.ca/rdi/24-60/site/episodes/691222/24-60-entrevue-avec-aditya-rao-me-krishna-gagne


Gaudreau, N. (2023, March, 1). Abus, harcèlement, logements surpeuplés: Des travailleurs étrangers exploités au NB. Radio-Canada.
https://ici.radio-canada.ca/rci/fr/nouvelle/1959740/exploitation-travailleurs-etrangers-temporaires-usine-homard-rapport-nb


CBC Radio Maritime Connection (2022, Nov.13). How do you think we can protect the rights of temporary foreign workers... and help them become Canadians if that's what they want. Halifax.
https://www.cbc.ca/listen/live-radio/1-99-maritime-connection/clip/15948377-how-think-protect-rights-temporary-foreign-workers...-help


CBC Radio InfoMorning (2022, Mar. 31). The problem with the temporary protection for the Ukrainian refugees. Halifax.


Global News Radio 770 CHQR. (2021, October 7). How Canada compares to welfare states. Calgary. 
Global News Radio 770 CHQR. 


Dal News. (2021, June 3). Temporary foreign workers in P.E.I. faced inadequate housing and overcrowding despite pandemic: Study. 
https://www.dal.ca/news/2021/06/03/temporary-foreign-workers-in-p-e-i--faced-inadequate-housing-and.html


Koch, D. (2021, June 3). 17 people to a bedroom: Report describes living conditions for migrant workers. The Telegraph(Moncton). 
https://tj.news/story/101578446


The Guardian PEI. (2021, June 1). "The bosses think that we are their slaves": P.E.I. report documents crowded housing, "unscrupulous" labour practices for migrant workers. 
https://www.saltwire.com/atlantic-canada/news/the-bosses-think-that-we-are-their-slaves-pei-report-documents-crowded-housing-unscrupulous-labour-practices-for-migrant-workers-100594961/


CBC Radio One P.E.I. (2021, June 1). Interview with Mitch Cormier on temporary foreign workers in P.E.I. Island Morning.


CBC News. (2021, June 1). Report details poor living conditions, "unscrupulous" practices for P.E.I. migrant workers. 
https://www.cbc.ca/news/canada/prince-edward-island/pei-migrant-worker-report-unsafe-at-home-1.6047995


Koch, D. (2021, Apr. 5). Province "irresponsible" not to give migrants vaccine priority. The Telegraph (Moncton, NB). 
https://tj.news/story/101526585


Koch, D. (2021, Feb. 6). Prioritize safety of migrant workers, say advocates. The Telegraph (Moncton, NB). 
https://tj.news/story/101477847


CBC PEI. (2020, Nov. 6). Interview – Temporary foreign workers in the Canadian Maritimes. CBC Compass PEI. Television. 
https://tfwmaritimes.ca/media.html


CBC New Brunswick. (2020, Nov. 5). Temporary foreign workers in the Canadian Maritimes. Television. 
https://tfwmaritimes.ca/media.html


Global News. (2020, Oct. 27). Dalhousie University to document impact of COVID-19 on temporary foreign workers. 
https://globalnews.ca/news/7424564/coronavirus-dalhousie-university-temporary-foreign-workers/


CBC Radio One Nova Scotia. (2020, Oct. 8). Temporary foreign workers in the Canadian Maritimes. CBC Information Morning. 
https://tfwmaritimes.ca/media.html


SSHRC News. (2020, June 5). New Dal prof's award-winning doc depicts different side of refugee crisis.
https://www.sshrc-crsh.gc.ca/society-societe/stories-histoires/story-histoire-eng.aspx?story_id=294 


Gordon Koch, D. (2020, May 30). COVID-19 worker ban reversed way too late. The Telegraph (Moncton, NB). 
https://tj.news/times-and-transcript/101275191