Health Needs of People Pillar
Research and scholarship focused on better understanding the broad range of factors that shape people's health needs in order to provide evidence that can improve the delivery of health care and contribute to optimal quality of life and well-being.  This research considers the changing nature of needs between and among populations within complex contexts that are impacted by social, political, cultural, economic, geographical and technological factors.
Pillar Lead: Dr. Marilyn Macdonald
marilyn.macdonald@dal.ca
Telephone 902-494 2433
Pillar News
RN and PhD student Jennifer Searle's article "Queer Phenomenology, the Disruption of Heteronormativity, and Structurally Responsive Care" was published in Advances in Nursing Science Blog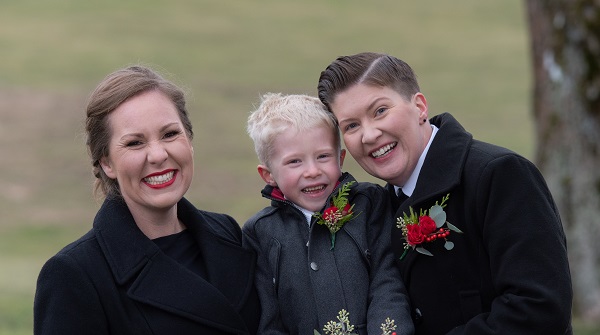 Jennifer with wife, Krista, and step-son, Oscar (Photo supplied)
There are more diverse recruits than ever in nursing, but health inequities continue to persist among diverse patient populations. Research is emerging that supports anecdotal evidence of the barriers that influence the retention of diverse nurses in academic and clinical settings, but diverse nursing students continue to face challenges that their counterparts from dominant cultures do not experience. Diverse nurses thus offer a perspective on inclusion and equity that could inform practice and promote better health outcomes among diverse patient populations.
Jennifer Searle's featured article with Advances in Nursing Science (ANS) aims to illuminate the experiences of diverse nurses in relation to practice issues that are underrepresented in health research. As a white, gender-normative lesbian, Jennifer has insight into the fear of disclosure in relation to dominant understandings of human existence as a result of her invisible minority status. She believes narrow understandings of socially constructed differences reinforce the gap in health services between those which would meet the needs of diverse patient populations and those which are delivered by healthcare professionals who often lack in practical understandings of how to engage in equitable health practices.
Jennifer's article seeks to reveal the implications of situating diverse experiences at the centre of thought within nursing to bring about broader understandings of political activism that would address issues of social justice. As such, queer phenomenology is used in this publication to analyze an experience Jennifer had when she accessed health services as an invisible lesbian patient. She situates her experience as a patient within her understanding of nursing practice to bring about a nuanced appreciation of negation in relation to good intentions that may have harmful impacts. While harm is a persistent threat for Jennifer as revealed by this publication, her resilience is strengthened as such, and in relation to the joy that she creates with her wife, Krista, and step-son, Oscar.