Dorothy Allan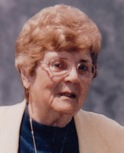 Diploma, Nursing Service
Administration (1961)

"I saw this experience (Diploma from Dalhousie) as giving me a new outlook on what nursing was and the importance of effective administration in improving the working lives of nurses".
A pioneer in nursing education
Director of Nursing, Yarmouth Regional Hospital and Director of Nursing Education, Yarmouth School of Nursing (previously Yarmouth Training School for Nurses) and a pioneer in public school-based health education in Nova Scotia.
Early days of her career
Dorothy Allan served as a school nurse for five different schools in the Yarmouth area with the Department of Public Health, promoting health practices, such as hand washing, home visits and providing a private office in each school for student assessment/counselling/teaching.
She also assisted with immunization clinics and tuberculosis screening and follow-up. Dorothy Allan was one of the few nurses in the Yarmouth area to have obtained any university nursing education and this was very significant to nursing practice for the southwest region of the province.
From classroom to work site
Putting her Dalhousie education into practice, Allan established the first Policy and Procedure Manuals at the hospital; established the role of "head nurse", instituted formalized time scheduling, enrollment in professional development courses outside the hospital, and improved working conditions for staff nurses.
Awards
She was awarded an Honorary Lifetime Membership in the Registered Nurses Association of Nova Scotia (RNANS) in 1978 and is a recipient of a College of Registered Nurses of Nova Scotia Centennial Award in 2009 for her contributions.