Judith McFetridge‑Durdle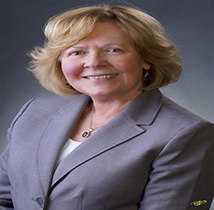 BN (1974) MN (1987)
Leader in Nursing Administration
Judith McFetridge-Durdle, Ph.D., R.N. was appointed Dean of the Florida State University College of Nursing in December 2013. Prior to accepting this position, she served as Dean and Professor at the Memorial University of Newfoundland School of Nursing (2009-2013). She has over 23 years of experience in nursing education at the undergraduate and graduate level at Dalhousie University, Duke University, the University of Florida, and the University of North Florida. Her passion is the care of patients with cardiovascular disease and in particular the role of advanced practice nursing in improving cardiovascular outcomes.
Valued contributions to nursing
Dr. McFetridge-Durdle has made professional contributions to the nursing profession on regional, national, and international levels as a researcher, mentor and peer reviewer. She served as Mentor (2003-2009) and Associate Director (2007-2009) of FUTURE, the Canadian Institutes of Health Research (CIHR) training program for cardiovascular nurse scientists.
As a national and international cardiovascular researcher, she has received approximately $6 million dollars in funding from the National Institutes of Health, the CIHR, and Health Canada. The focus of Dr. McFetridge-Durdle's program of research is the role of psychological stress in cardiovascular disease, especially in women.
Research collaboration
Most recently, she collaborated with nurse scientists at Jilin University in ChangChun, China to develop and test interventions to reduce the impact of stress on the vascular system. The results of Dr. McFetridge-Durdle's research are published across disciplines in journals of nursing, medicine and physiology and she has presented 92 papers around the world on topics related to heart disease.
Advocate for Interprofessional Education
In addition to university administration and her program of research, Dr. McFetridge-Durdle is a passionate advocate for inter-professional education. As co-lead of the Health Canada-funded project Seamless Care (2005-2008), she led a team of interdisciplinary researchers, educators and clinicians to test an inter-professional education intervention in health professional students to improve self-management in patients transitioning from acute care to the community.
Memberships
She is a founding member of INTERED (International Association for Inter-professional Education and Collaborative Practice) and served on the National Expert Committee on Inter-professional Education for Collaborative Patient-Centered Practice (2006-2007) and the Canadian Inter-professional Health Collaborative Steering Committee (2006-2007).