News
»
Go to news main
Catching up with C3LR
Posted by
Dawn Morrison
on November 28, 2019 in
News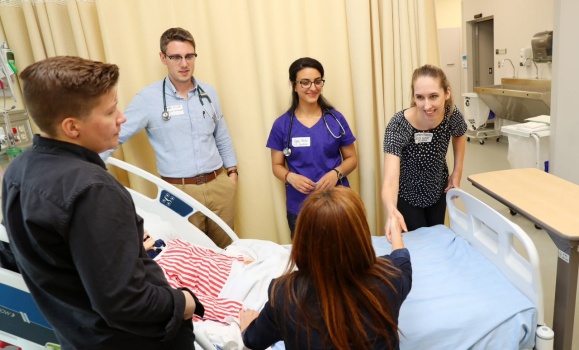 Dal Health and other students in the health fields put classroom learning into practice by working with 'real' patients through the Centre for Collaborative Clinical Learning and Research (C3LR). Located in the CHEB, the Centre facilitates simulated education for more than 20 health-related programs across the Faculties of Health, Medicine and Dentistry.
The Centre supports the development of critical diagnostic and patient care skills through simulation-based learning and assessment methods. Health care students and practicing professionals use the C3LR to practice conducting interviews and physical assessments, develop procedural skills, and enhance patient-centred communication skills.
C3LR Director Tanya Dutton says the Centre has an enormous impact, both in educating health professionals and improving the health of our communities. She says the scope of the C3LR goes beyond Dalhousie. "We provide the simulation training for the Sexual Assault Nurse Examiner (SANE) program for NSHA, for example," she says.
Purpose-built for interprofessional learning, the C3LR includes 24 clinic rooms, six training rooms, three patient care labs and a simulated apartment. There are over 500 simulated patients who work part time at the C3LR.
The impact of simulated learning
Who are simulated patients? Some are actors, some are members of the health professions or students looking for part-time paid work. The simulated patient plays an integral role in educating emerging clinicians, giving students valuable opportunities for hands on learning.
The end result enables realistic, simulation-based learning for students and clinicians.
"Simulated learning has a tremendous impact on student learning and the health of our community," Tanya says. "Simulation is essential in ensuring students have hands-on, practical experience in a safe environment."
Find out more: Visit the C3LR website.

Questions? Email C3LR@dal.ca.