Innovative Teaching, Learning and Service: The Dalhousie Social Work Community Clinic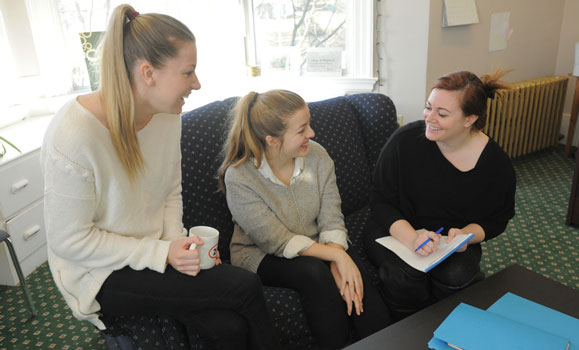 When clients come to the Dalhousie Social Work Clinic, they are often in crisis. They may be without shelter, food or money. They might be dealing with untreated physical or mental health issues. It might be all of these things, and more. Whatever the issues, whether straightforward or complex, the Community Clinic is there to help.
Social advocates
Located in Veith House in the North End, the Community Clinic is staffed by two Dalhousie social work graduates and managed by Social Work field coordinator Cyndi Hall and faculty member Dr. Jeff Karabanow. It provides needed services in the community through inter-professional student practice education. Students advocate on clients' behalf to help them solve justice, employment, health, housing, transportation and other challenges.
Sarah Oulton (MSW '16, BSW '12) is a Master's level social worker and one of the Clinic Coordinators. She says the Clinic benefits social work and other health professional students in a number of ways. "The students get experience across a wide range of social work areas. They engage in advocacy, they get to build their interviewing, counselling and community social work skills. They see a wide range of issues, from mental health and substance use to diversity issues, to housing, food security and more," she says.
"It's neat to have a number of students from different health professions around the table," she says. "They get a shared perspective, the chance to see how other health professionals operate, and to really know what it's like to work collaboratively in an interdisciplinary way."
Support through a social justice lens
Dr. Karabanow and Ms. Hall say because the Clinic operates through a social justice lens, the students also get to connect theory and practice in a meaningful way.
"Often, these clients are in deep poverty and have experienced a lot of oppression. We operate from a place of non-judgement and harm reduction, understanding the impact of trauma on people's lives. We work with strengths the clients already have, partnering with people to improve their situation," says Dr. Karabanow.
"Clients already have a lot of knowledge about themselves and we have knowledge to add, so we work together to sort out issues," says Ms. Hall, who adds that the Clinic works to fill existing social service gaps within the community. "We have wonderful programs in place that meet specific needs, but sometimes there isn't long term support for the most marginalized people," she says.
It all adds up to a unique learning experience for students across a wide range of disciplines, and a one-stop-shop for support for those who need it.  "We give students a safe and secure environment where they can practice their skills independently but with support. They are then well-prepared to go out to the community, in government or hospitals to practice social work," says Dr. Karabanow.
"This is an example of a university initiative that is both deeply embedded in the community, and a very meaningful way for students to apply their learning."