Carrie MacInnis, Faculty of Health Professions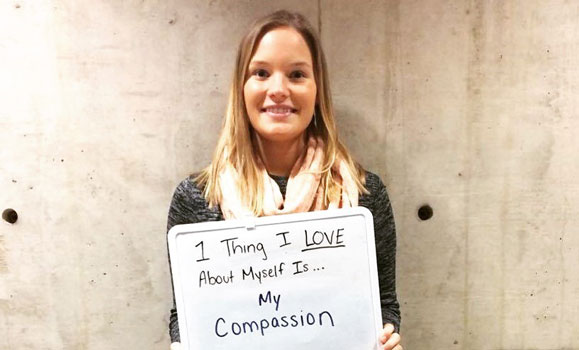 This article is part of a series on graduates of Spring Convocation 2017. For more on Convocation, visit its website.
Bachelor of Social Work grad, Carrie MacInnis, knew from a young age that she wanted to work in the criminal justice system.
"I wanted to be an RCMP officer," she says. This desire lead to a criminology degree from St. Mary's University. It was during this degree that Carrie realized the breadth of roles in the justice system and the impact she could have in a different capacity. This discovery led her to Dal's social work program.
Looking back at her time at Dal, Carrie credits the social work curriculum with fundamentally changing her view of the world.
"The program changed me in a lot of ways," she says. "In my first semester, I became more aware of the world, of inequality and how systems work. This lead to a lot of self-questioning – about my life, my values and how the privileges and advantages I have oppress others."
This newfound knowledge sparked an interest in mental health, addictions and suicide awareness. "I've learned how mental health and addictions play into the justice system. I'd like to work within the system to help bring awareness to the oppressive treatment of marginalized individuals and work to promote greater equality."
Open to the possibilities
Carrie had the opportunity to apply the social justice theories she learned in the classroom during her second year practicum. From September to April this year, she worked with the Coverdale Courtwork Society and Stepping Stone Association. In these roles, she got hands-on court experience supporting women and transgender individuals navigating the court process – including prison outreach to clients in the Central Nova Scotia Correctional Facility. At Stepping Stone, she helped facilitate programming for women, men, and transgendered persons currently and formerly involved in the sex trade.
"I had amazing mentors at both placements," she says. "I learned a lot from them and from the clients I had the opportunity to interact with."
Her placement at Stepping Stone lead to an ongoing role – Carrie is currently the Transition Program Coordinator, developing and facilitating essential skills programs and portfolio development for transitioning clients.
"The field of Social Work is very broad and there are many different paths one could take," she says, reflecting on her time at Dal. "I would say my path sort of chose me. If you leave your mind open to the possibilities, your path and your passion will meet and you'll find yourself where you are meant to be."