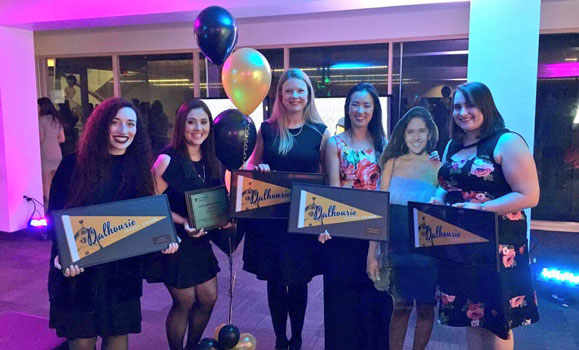 The Dalhousie Student Impact Awards are given annually to recognize outstanding individuals and their contributions to our community. We're proud to share the names and acheivements of the exceptional students from the Faculty of Health Professions who took home awards this year:
Off-campus Leadership Award
Awarded to an outstanding off-campus student leader who has demonstrated significant leadership, committment, and service aimed at improving their community.
Martha Paynter
School of Nursing
Chaired Halifax Branch of Women's Legal Education and Action Fund (LEAF)
Volunteer doula through Chebucto Family Health Centre/IWK Health Centre
Founder of Women's Wellness Within (WWW) - an organization providing health services to incarcerated women

Organized school-wide letter writing campaign calling for action on refugee safety and health
VP Community Affairs for Dalhousie University Nursing Society
Director of newly incorporated Atlantic Milk Bank Coalition
Tigers Live Well @ Dal Award
Awarded to a Dalhousie varsity student-athlete who demonstrates significant contribution to the community, has increased awareness at Dalhousie of a given charity or cause and demonstrates positive leadership and inspires others to get involved.
Scarlett Smith
School of Nursing
Captain of Dalhousie Women's Soccer Team

Active community volunteer

Campus leader of the Student Athlete Mental Health Initiative

Academic All-Canadian
Winner of the Atlantic University Sport Community Service Award
Student Wellness Live Well @ Dal Award
Awarded to the student who best demonstrates leadership in promoting and contributing to a healthy campus, and is a role model for health and wellness both in practice, and by impacting others.
Stefanie Machado
School of Health and Human Performance
Co-founder and Co-President of the Health Promotion Society

Representative for Health Promotion at DalLead Conference

Facilitated 6th Global Forum on Health Promotion
Most Impactful Community-Based Society
Awarded to a student society ratified with the DSU that is active in the Dalhousie community and beyond, providing services and addressing issues in the community.

Dalhousie BEAM: Because Everyone's Ability Matters
Started in the College of Pharmacy
Links an interprofessional volunteer opportunity for students studying health with children with special needs and their families.
Student volunteers work and play with children who have a range of physical and cognitive disabilities.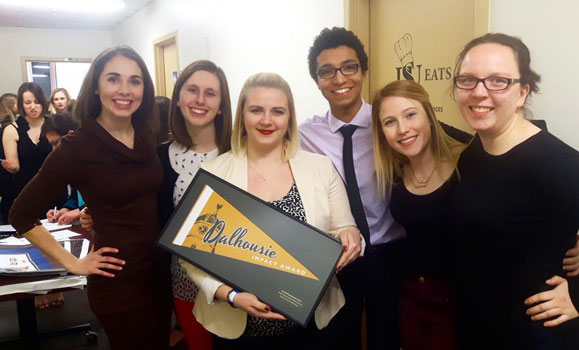 Most Impactful Departmental Society
Awarded to a student society ratified with the DSU that ihas demonstrated consistency in planning and delivery of programming or events, high student participation and attendance of their membership.
Dalhousie Occupational Therapy Student Society
95% engagement rate of student participation in events.
Contributes weekly volunteers to Adsum House meal preparation and delivery
Plans, leads and hosts a one-day event for youth with disabilities, involving dozens of student volunteers.
Raised over $5,000 for Mobile Outreach Street Health through For the Health of It.
Winners of gOT Spirit -  a video contest for OT students across Canada.
Certificate of Distinction

Awarded to students who demonstrate above average contributions to campus life over the coursse of a university career. Recipients have been active members of Dalhousie Student societies, residence life, community engagement and other co-curricular involvement.
Valancy Cole
College of Pharmacy
Social Director and Vice-President Charity of Dalhousie Student Pharmacy Society, whre she raised more than $8,000 for Cerebral Palsy Association of NS.
Founder and President of Because Everyone's Ability Matters (BEAM).
Worked at a rehabilitation centre for children with special needs in Phnom Penh, Cambodia.
Volunteers at Swim Ability and Ronald MacDonald House.
Gold D

Awarded to students to recognize an elite level of involvement and achievement in campus life over the course of their University career. These students have also shown outstanding extracurricular contributions in the community.
Rachel Manett
School of Health and Human Performance
Advocate for gender-inclusive spaces and inclusion of people with mental health challenges, on and off campus.

Respect Representative for Dal's Human Rights and Equity Services.

President of DalOUT society.
Program Coordinator for Our Jam - an initiative that creates a music program for people living with mental health challenges.
President of Student Association for Health and Human Performance.
Faculty Leadership Awards

Awarded to a student in good academic standing in each Faculty that exemplfies the highest level of passion for their discipline, take initiative in creating new opportunities and encourage their peers to engage in Faculty events. Winners positively impact other students in their Faculty and the reputation of their Faculty outside the classroom.
Bridget Irwin
School of Health and Human Performance

Health Promotion Program Coordinator for Student Association of Health and Human Performance.
Co-Founder of Health Promotion Society.
Organized society trip to the 6th Global Forum on Health Promotion.
Presenting at Canadian Public Health Association and Crossroads Conferences.
Lilli Ju Award
Awarded to a student who has exhibited the most significant lifetime achievement of outstanding contribution to University life.
Maike van Niekerk
School of Nursing
Dalhousie's 90th Rhodes Scholar, and first nursing student in North America to be awarded Rhodes Scholarship.
Leadership in a number of nursing and health student societies.
Recipient of Aramark Leadership Award, W. Andrew MacKay Alumni Scholarship, and Schulich Leadership Scholarship.

Volunteer for community organizations advocating for vulnerable populations.
Founded the charity Katrin's Karepackage to help patients with costs associated with cancer treatment.
Independently raised $55,000 by biking across Newfoundland and running 7 marathons in 7 days.
Named one of Canada's Top 20 under 20, the Newfoundland and Labrador Red Cross young Humanitarian of the Year, and awarded the Governor General's Meritorious Service Medal.
Level Chan Award
Awarded to a student who has made the most outstanding contribution to student advocacy and academic justice.
Leah Carrier
School of Nursing
Maintains a 4.4 cumulative GPA with advocating for student and minority health-seeking groups.
Organizer of first Indigenous Students' Nursing Day at Dalhousie.
Vice-President Student Support for Dalhousie University Nursing Society.
Board member of Canadian Students Nursing Association, where she co-directed the 2016 Atlantic Regional Conference.
Co-President of Nursing Research Interest Group.