About Industrial Engineering
---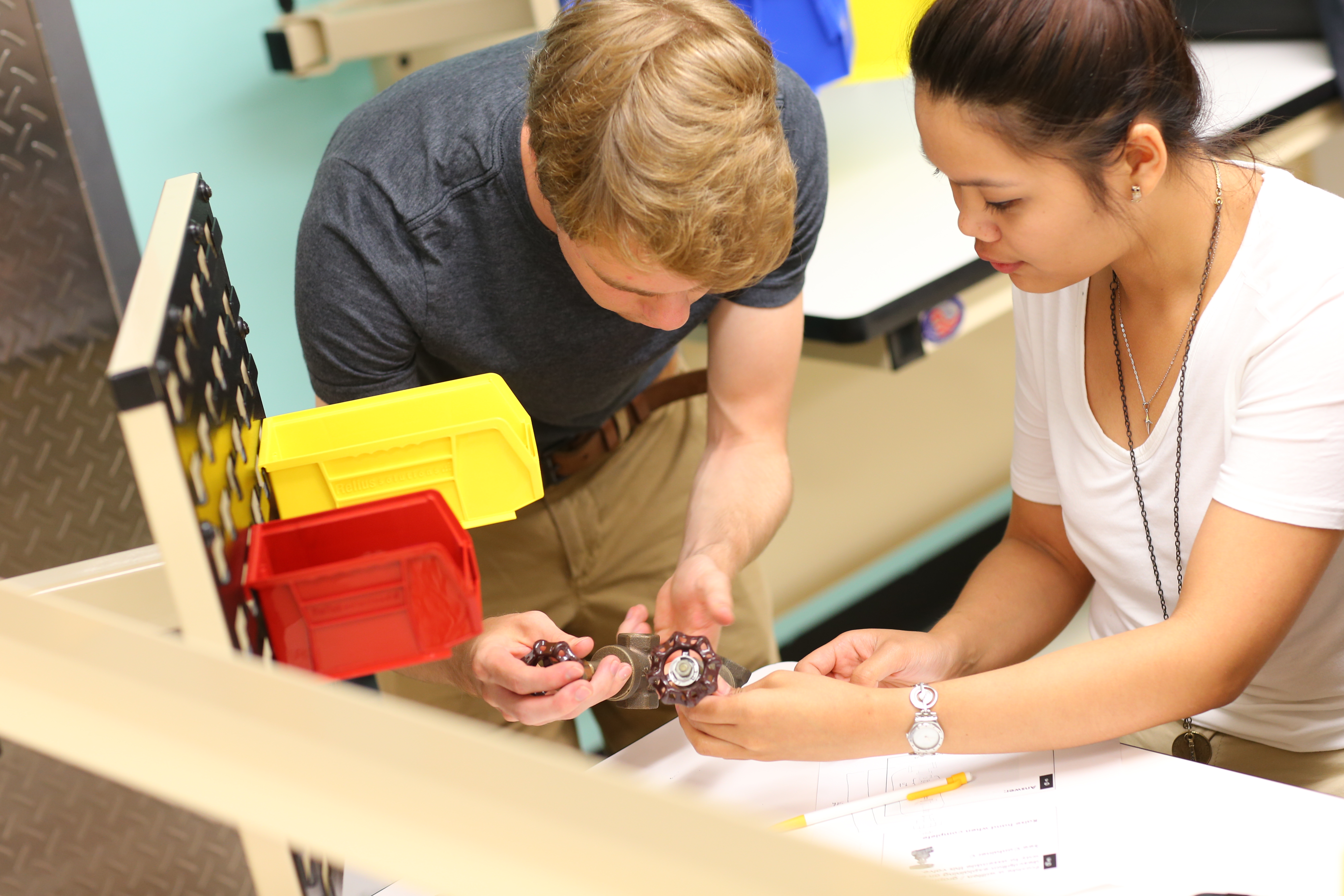 Industrial Engineering is at the heart or society's essential systems. From hospitals to airlines, from manufacturers to telecom companies; Industrial engineers design solutions to improve the performance of complex systems of people, technology and information.
Our Research
---
Dalhousie's Department of Industrial Engineering is home to faculty members who engage students both in the classroom and in the lab with real world problems and opportunities to work on leading edge research.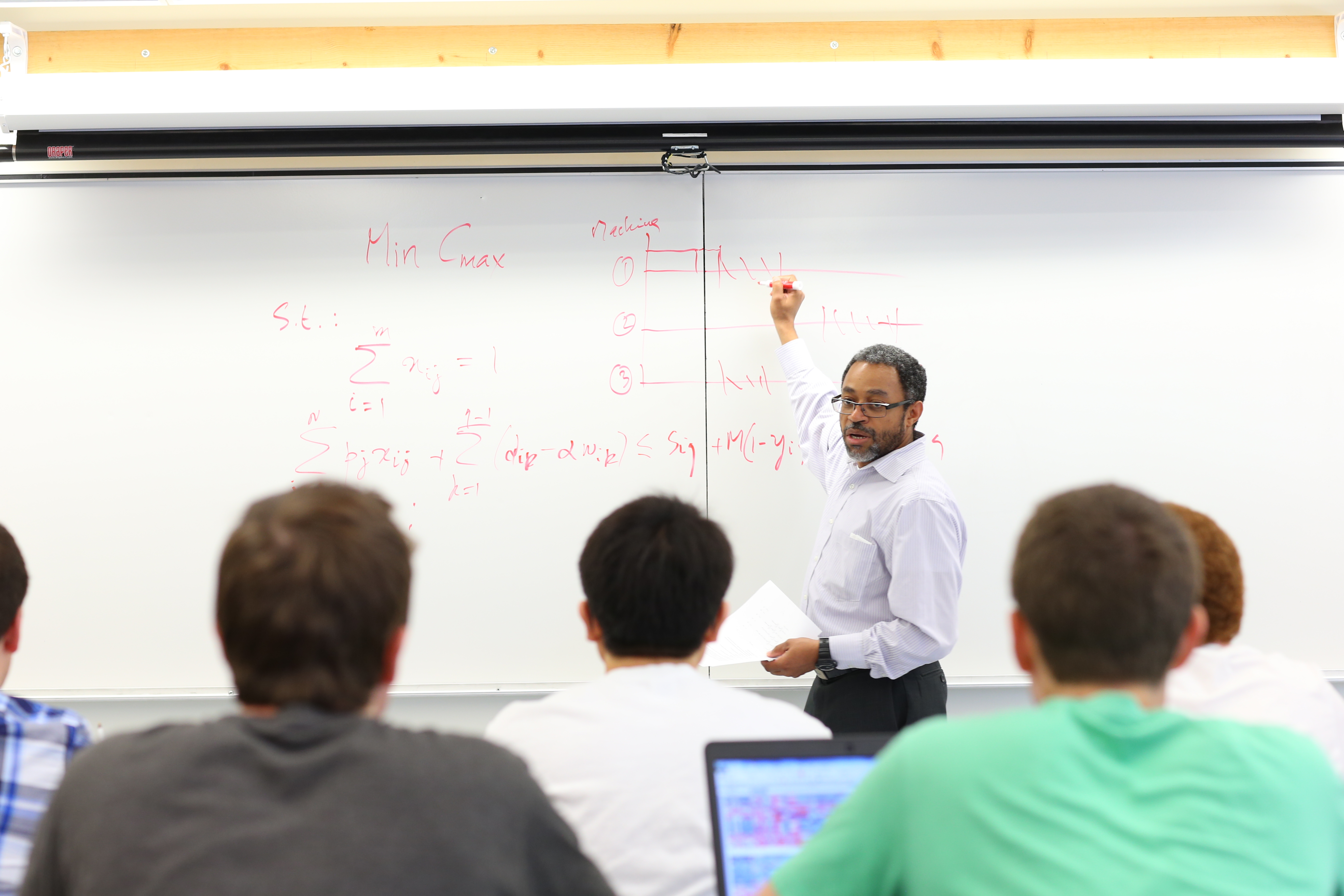 Our Research Groups
---
The Department supports a rich research environment organized into three main clusters:
Industrial Engineering News and Stories
---
Industrial Engineering Department is hiring
The Industrial Engineering Department is looking for an Instructor. 
We are entering an exciting time for the department, with growth in our enrollment, and need someone to teach multiple courses.
Consider applying.
https://dal.peopleadmin.ca/postings/12512
We encourage applications from diverse populations.
MEOPAR Annual Conference Poster Competition Winner
At MEOPAR's Annual Network Meeting in November 2022, MARS Masters student Pranitha Vattoni won the Best Poster Award. You can view the poster here. Congratulations to her and her supervisors, Dr. Ron Pelot and Dr. Floris Goerlandt.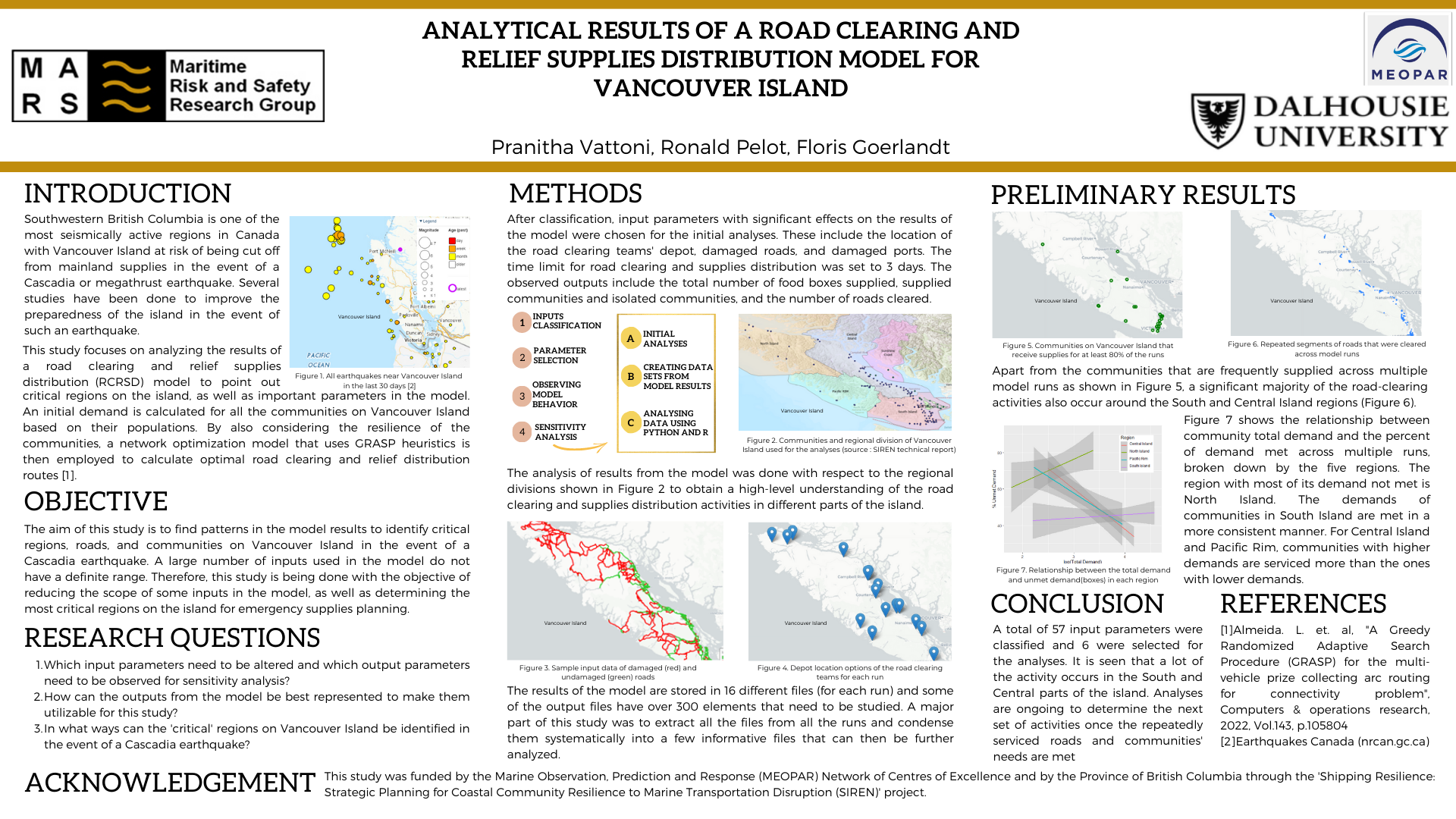 2022 Study & Stay Entrepreneurship Hackathon: 2nd Place Winner
Congrats to Dalhousie Industrial Engineering MEng students:  Mufaddal Lokhandwala, Sachin Saurav, Divyansh Jain, and Kumar Abhijeet Ranja on 2nd place in the hackathon. 
The industry hackathon is a part of the Study & Stay Entrepreneurship program (SSE). SSE is a partnership between all the post-secondary institutions and Edu-Nova. The Panel Discussion focused on the opportunities and challenges in the industries in Nova Scotia, followed by a Q&A session for students to ask questions. 
Great work Team Optimizer!
2022 Ocean of Data Challenge Award Winner
We are please to announce that Tanmoy Das, Ph.D. candidate in the Maritime Risk and Safety Research (MARS) group, has secured 2nd position in the Data Challenge. 
From May 2-20, the Halifax Port Authority, PSA Halifax, the Centre for Ocean Ventures and Entrepreneurship (COVE), and DeepSense, hosted a free Ocean of Data Challenge. This was an opportunity for post-secondary students to create a prototype of some kind that could range from a technology solution, a visualization, an infographic, or an overall plan to address how being a One Port City makes Halifax a more efficient and sustainable port. 
Tanmoy's project "Data Analytics: Visualizing Truck Delays in Halifax Port" looked at the problem, is truck delay independent on day or time of day? Using data analytics, it is visualized that delays are independent of months of year or days of week. However, there is a strong correlations between different parts of the day & the delay. The late-afternoon delays are higher than morning or evening ones.
Kudos to Tanmoy Das and their supervisor, Dr. Floris Goerlandt. Check out Tanmoy's Linkedin blog for additional information on the winning project.
2022 IISE Outstanding Senior Design Project Competition Winner
The IE group of Connor Newman, Catie Shaw, Justin Wright, and Matthew Laforest, were very honored to represent Dalhousie University and Canada in the Outstanding Senior Design Project Competition at the IISE Conference in Seattle. It was a great opportunity to attend a conference with likeminded people from different countries. While at the conference, the project impressed judges and other attendees. An aspect of the project that differentiated the group from other students was their implementation plan and scenario planning. These project components ensured a smooth transition of the solution to the client and that the solution would be sustainable. Congratulations to all team members!
2022 President's Graduate Student Teaching Award
Luana Almeida is a Ph.D. candidate in the Maritime Risk and Safety Research (MARS) group and graduate repsentative in the Department of Industrial Engineering. We are pleased to annouce she is 1 of 4 recipients of the 2022 President's Graduate/Undergraduate Student Teaching Award. Please check out the article here. Congrats Luana!
Capstone Project Brings Joy to Local Music Studio
Please check out the DAL News article, to read more about this great senior year Capstone Project which solved real world problem for a local industry partner. Congrats to recent graduates, Jeffery Walton, Kirk Drabble, Arman Atbaei, and Peter Droban!
2022 Top-Co-op-Student-of-the-Year 
We are pleased to announce that Emma Leeshanok, a 5th year Industrial Engineering student, has won the award for Top-Co-op-Student-of-the-Year in 2022 for the Faculty of Engineering.  This award recognizes a senior undergraduate student who demonstrated outstanding commitment and achievement in their work integrated learning journey. 
Participant's Choice Poster Competition Winners
At MEOPAR's Annual Scientific Meeting 2022, MARS Masters students Lauryne Rodrigues and Talah Al Sharkawi won 1st and 2nd place respectively in the Participant's Choice Poster Competition. Kudos to them and their supervisor, Dr. Floris Goerlandt.