News
»
Go to news main
Get ready to volunteer!
Posted by
Cheryl Bell
on August 21, 2023 in
News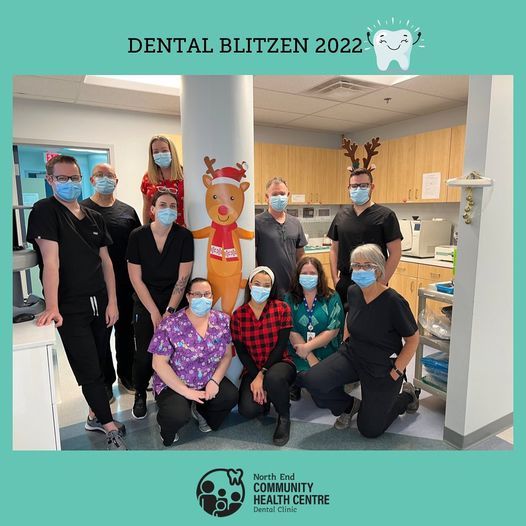 For two weeks in December 2022, the North End Community Centre (NECHC) Dental Clinic was abuzz with the 2nd annual Dental Blitzen as 23 volunteers – many of them Dal Dentistry alumni –  provided $36,295.00 worth of dental treatment (exams, fillings, extractions, dentures) to 85 patients at no charge to the patients. It was the best of Christmas presents for the patients and the volunteers enjoyed their time in the clinic, too.
If you liked the idea of volunteering at the Dental Blitzen but it didn't fit into your schedule before, all is not lost. You still have opportunities to volunteer, either in December for the Dental Blitzen itself or at other times during the year.
Clinic manager Francine Leach says, "Our goal is to do the Blitzen every December and have volunteer days scattered throughout the year."
A great opportunity to give back
Dr. Eric Kriss (DDS'20) enjoyed his rotations at the NECHC Dental Clinic as a student and recently became involved with the Dental Blitzen through his classmate, Dr. Jordan Bonang (DDS'20).
"I think it's a great opportunity to give back during the holidays and to keep the clinic operational on days when students would normally be providing treatment," he says. "It's also an important opportunity to practise empathy for people who have had extremely difficult circumstances and may be in situations where oral health hasn't been a priority."
Dr. Ahmad Alashi (DDS'20) says that he became a dentist to help people and the NECHC Dental Clinic gives him an opportunity to do just that. He says that he plans to volunteer for the foreseeable future. "Patients are always grateful for us being there and appreciate our time."
Financial support from the Faculty of Dentistry, 3M, Oral Science, PDT, Chain Lake Dental Centre, Lakeside Dental Centre, and Ms Jackie Snooks helped to make the Dental Blitzen possible.
Anyone who is interested in making a donation or volunteering at the NECHC Dental Clinic can email dental@nechc.com.