News
»
Go to news main
The Raddalls: A 65‑year family affair
Posted by
Cheryl Bell
on October 11, 2022 in
News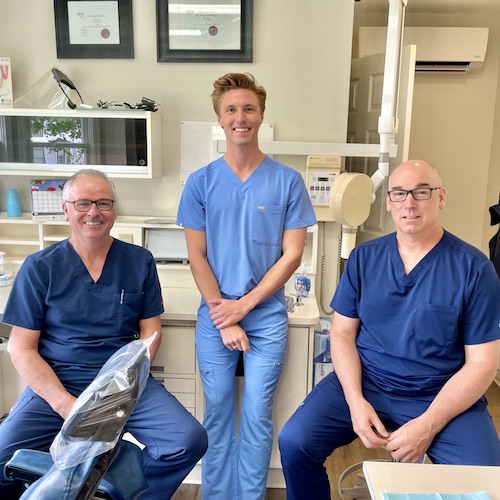 Gavin Raddall joined the family practice in Liverpool after graduating on May 31, 2022. L to r: Tom II, Gavin, Blair. Photo: contributed
When Thomas H. Raddall II (DDS'61) arrived at Dalhousie University in the autumn of 1957, there was no way he could have known that he was starting a family connection with the Faculty of Dentistry that would last the next 65 years.
His two sons, Tom III and Blair, also became dentists, as did Tom III's two sons, Tom IV and Gavin. Gavin graduated on May 31, 2022, three days before his grandfather died on June 3, 2022 at the age of 87. It's a connection that has left its mark on the Raddall family, the Faculty of Dentistry, and the community of Liverpool, NS, where the Raddall dental practice still thrives.
Choosing dentistry
Thomas H. Raddall II was the son of Thomas H. Raddall the well-known Nova Scotian author who, even though he was unable to finish school or go to university himself, passed on to his children his great belief in the value of a university education.
Tom II was the first in his family to go to university. He started in engineering at Acadia, but then switched to sciences and he and his roommate Harold Brogan (DDS'61) applied to dental school at the same time. After graduating as a dentist, Tom II returned to his hometown of Liverpool to set up a new practice.
Tom III (DDS'87) says that he never felt "pushed" to go into dentistry. Through his father's work, he saw first-hand what the job involved and the impact it had on the community. In his third year of dentistry school, he made the decision to return to Liverpool to practise alongside his father.
"My father worked as a stand-up dentist with spit bowls and no auxiliary staff,"Tom III says. "I wanted to do dentistry sitting down, with TVs in the ceiling. My father knew it was time to update and extend his practice when I said I would join him."
The decision was not so clear-cut for Blair (DDS'93) four years later. "I saw what my father and brother were doing, but I didn't want to be a follower. I wanted to blaze a trail," he says.
During his life sciences degree at Acadia, he contemplated other health professions. But with his teen-age enthusiasm as a keen model-maker and an eye for fine detail, he knew that studying dentistry made sense for him. "Once I got over wanting to be a trail blazer, I applied to dentistry," he says.
When he graduated in 1993, his father was partially retired, and Blair saw it as a "golden opportunity" to return to Liverpool to join an established practice and take over some of his father's patients.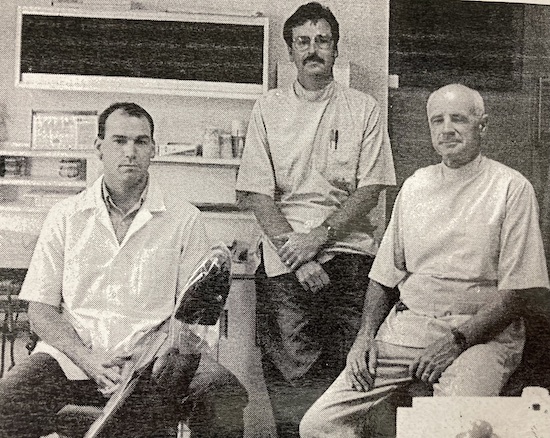 Photo from the Liverpool Advance, July 7, 1993, to announce that Blair Raddall was joining the practice. L to r: Blair, Tom III, Tom II. Photo: Mark Roberts
The next generation
Like his father before him, Tom III didn't try to push his children into dentistry. "I tried to lead by example, and I think my sons could see that I enjoyed what I did for a living," he says.
Tom IV (DDS'19) says he was drawn to health care as a kid. He liked the interaction with people and the ability to help patients in a hands-on way. He also saw his family members as integral and respected members of their community. It was an "easy decision" to want to emulate them, he says.
An early exposure to the profession occurred when he was able to hold the suction one Saturday in 2003 as his father treated an NHL hockey player who accidentally had some teeth knocked out at a stag party in Liverpool. "I realized dentistry could be pretty cool when you get to deal with hockey superstars," he says.
Tom IV's path took a different direction, however. As an undergrad at Acadia University, Tom IV spent his summers working in group homes with mentally and physically challenged adults and adolescents. He enjoyed the "small victories" of being able to encourage them to go for a walk, eat food, or brush their teeth.
During his dental studies he enjoyed the fun of treating children and the interdisciplinary aspects of working in the operating room with physicians and anaesthetists. He realized that he enjoyed complex cases, including treating patients with medical and behavioural challenges.

Tom IV graduated from Dalhousie on May 28, 2019. L to r: Tom II, Tom IV, Tom III. Photo: contributed
A one-year paediatric residency at the IWK and a two-year Pediatric Dentistry Residency Program at the Boston's Children's Hospital/Harvard School of Dental Medicine followed his DDS degree. Although it was the right decision for him personally, his training has taken him to Moncton, rather than Liverpool, where he will be the only paediatric dental specialist for all of New Brunswick.
Gavin (DDS'22) entertained the idea of studying medicine, but the hands-on patient interaction aspect of dentistry won out. During his undergraduate studies in medical sciences at Dal, he completed his thesis research in regenerative endodontics at the Faculty of Dentistry, which strengthened his interest in the field.
Even though he had other dental school options, he chose Dal because his family had "good experiences there" and it has strong clinical programs. He started working in the family practice in July, carrying on the over 60-year tradition of Raddall dentists in Liverpool.
Challenges and highlights
Each generation of the Raddall family faced challenges and highlights in dental school. Tom II studied dentistry in the Forrest Building as part of a class of 13 students. Tom III and Blair enjoyed a clinic that was renovated in the 1980s, while Tom IV and Gavin benefitted from the latest renovation in 2018. In both their professional and student clinics, they all experienced the challenges and uncertainty presented by COVID-19.
Over the years, they have seen the general dental health of the population improve, thanks to better oral health education and care, less smoking, and a higher level of overall health. Patients keep their teeth longer, so there is less denture work. At the same time, access to care has become more challenging for some segments of the Raddalls' rural community.
Tom III points to other challenges that have emerged for the profession, such as the cost of education. "I've always felt that dentists should represent society and I fear we're getting to a point where that is increasingly difficult," he says.
Blair talks about the impact of COVID-19: the nearly three-month shutdown of dental clinics, PPE and sterilization requirements, difficulties in access to care for seniors and marginalized populations, and the extra time and attention needed to allay people's fears at their appointments.
Patients are more informed, adds Gavin. They are researching their treatment options on the internet and the information they find may not be appropriate for their situation. "For example, a lot of people think they want implants," he says, "but it is often preferable to save natural teeth."
All the Raddall dentists value their Dal education and what it has given them, not just in labs and classrooms, but in outreach clinics, rotations, and through volunteer student groups that put them into contact with disadvantaged youth and children and adults with physical and mental disabilities.
Following Tom II's maxim "if you don't like what you see, get involved", they have participated in organized dentistry and student societies, and served on boards and committees in Liverpool.
"The Raddall family has enriched student life in our Faculty, worked to improve professional dentistry in our province and country, and they remain involved and committed citizens in their community of Liverpool," says Dr. Ben Davis, dean of the Faculty of Dentistry. "We are proud they chose to start their dental careers here at Dal and continue to support us as engaged alumni."