News
»
Go to news main
Celebrating the classes of 2020 and 2021
Posted by
Cheryl Bell
on July 21, 2022 in
News

Dr. Lee Erickson celebrates the graduation of the classes of 2020 and 2021.

The Level 1 waiting area in the Dentistry Building gently hummed with the sound of graduates from the classes of 2020 and 2021 reconnecting with each other and faculty and staff at a post-convocation celebration on July 6.
Between 15 and 20 alumni from the two classes attended the convocation ceremony and the reception afterwards, bringing their children, parents, and other family members with them.
Dr. Ravneet Othee (DDS'21) was accompanied by her father, who had travelled all the way from India. Dr. Amber White (DDS'20) made the journey from Bermuda with her family. Several others, including Eunice Liu (DDH'21), Dr. Paige Conrad (DDS'21), Dr. Cassandra Lee (DDS'21), Dr. Naveena Raj Kumar, and Dr. Jin Ren Ng, travelled to the event from within the Maritimes.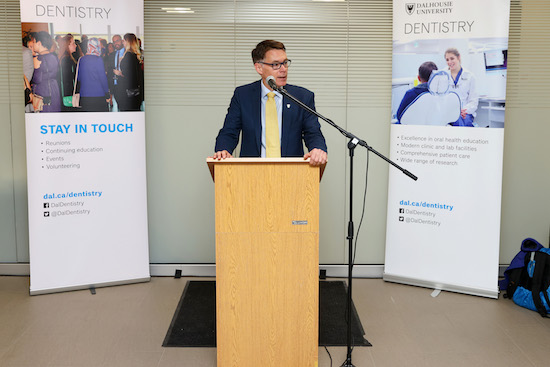 Dr. Ben Davis, dean of the Faculty of Dentistry, welcomed everyone to the event.
"Every convocation is special and represents the culmination of years of hard work and perseverance," he said.
This long-awaited convocation "represented all that and more", he said, with these two classes needing to add online learning, regularly changing public health requirements, and higher than usual levels of PPE and infection control measures to an already challenging program.
"To say that I am proud of you and what you accomplished during two years of COVID is an understatement. Your academic experience was like no other," he added.
Stay connected
Chair of the Dentistry Alumni Committee, Dr. Lee Erickson, also spoke to the grads and their guests.
"We are so jazzed to have you with us today," he said. "If the events of recent years have taught us anything, it is the importance of staying connected even when we cannot physically be together.
He encouraged alumni to stay in touch with each other and with the Faculty. "We're here for you in all sorts of ways," he said.
Dr. Erickson proposed a toast to the grads of 2020 and 2021 for their "perseverance and dedication to your education during these difficult years" and wished them the very best of luck in their future endeavours.
"It was wonderful to finally be able to celebrate," said Ravneet.