News
»
Go to news main
Grad profile: Gabriel Ogando DDH'21
Posted by
Cheryl Bell
on March 30, 2022 in
News

Photos by Danny Abriel
Gabriel Ogando (DDH'21) was born and raised in the Dominican Republic where he studied dentistry and periodontics. Despite the obvious attractions of living on a Caribbean island, Gabe opted to come to Canada for what he saw as a better opportunity, even though it meant starting his life over as a dental hygienist.

"When people in Halifax think about the Dominican," says Gabe, "they think about all-inclusive resorts and beaches. But I'm from Santo Domingo, which is the capital city of the Dominican Republic."

Gabe says he was always interested in biology, the mouth's impact on the rest of the body, and the work of professionals who care for the mouth. His curiosity led him to study dentistry and then go into private practice.

In 2010, he started working for the Ministry of Health of the Dominican Republic as part of a mobile outreach clinic that travelled to remote towns and villages. These communities did not have easy access to oral health care services and there was little to no knowledge about the impact of poor oral health on overall health.

Gabe loved the work, although the need for care was overwhelming in some communities. But his experience helped him to see his next step. In 2013, he returned to academia to begin a two-year master's degree in periodontics at the Pontificia Universidad Católica Madre y Maestra in Santo Domingo. "I was motivated by all the periodontal disease I was seeing in the vulnerable populations who visited the mobile clinic," he says.

Gabe's study of periodontics fueled an interest in clinical research and he became involved in numerous projects and research studies. Hired as a part-time instructor at the university after graduation, he continued to participate in research and is the co-author of three published papers, including an epidemiologic study on the gingival phenotype of patients in the Dominican Republic.

"The opportunity to be involved in research in the Dominican Republic is limited because of lack of funding," Gabe explains.  But the opportunity to see new technologies at conferences in the United States and Europe strengthened his resolve to be "part of this environment".

A change was needed
After two years of working three jobs – private practice, part-time teaching, and public service with the mobile clinic – Gabe took stock of his life and decided a major change was needed.

"My country is fascinating and beautiful, but I needed to move. I was thinking about my future as a human being and needing some balance in my life," he explains. "I was doing all of these jobs because of my passion, but salaries are not high in the Dominican, even for professionals."

Gabe's Toronto-based brother convinced him to move to Canada in 2018, saying that there were many opportunities for oral health professionals, including dental hygiene, which does not exist as a profession in the Dominican Republic.

"When I learned about the dental hygiene program, my first thought was that this was something I could do because I had done a lot of this work through the mobile clinic," says Gabe.

He enrolled in a health sciences program at Fanshawe College in Ontario, to study for the prerequisites he needed. Then he applied to different colleges and universities in Ontario to study dental hygiene, with the aim of staying near his brother.

After being waitlisted for some of his applications and not receiving replies from others, he widened the net to universities in other provinces.

"Dalhousie was the only university to respond to my application and to accept me," says Gabe. "As an immigrant, you really have to start all over again to get your credentials back. I was so excited to feel that things were finally happening for me."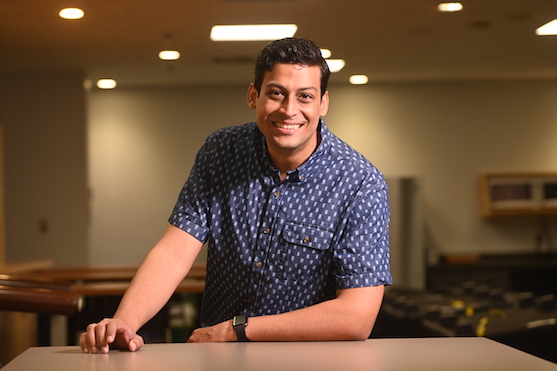 New concepts and skills
Despite his prior oral health education, Gabe found there were new concepts and skills to learn at Dal, such as clinical guidelines and standards of practice in Canada. There were also skills to re-learn, including ergonomics. Gabe admits he had fallen into bad habits in the mobile clinic. "I was really impressed that my instructors cared so much about our body posture during clinical care," says Gabe.

The pandemic added to the challenge of arriving in an unfamiliar city and starting a new program, most of which was online in the first year. Faculty members were welcoming, but classmates were initially shy and possibly intimidated by Gabe's prior oral health experience. "I didn't want to be seen as the know-it-all guy," he says. "I was there to be a student like everybody else."

As challenging as it was to start a new life in a new country, Gabe made friends and came to love Nova Scotia life, particularly hiking. He hopes his experiences will be valuable to other newcomers.

"I'm a visible minority, I'm male, and I came here as a mature student," he explains. "Maybe my background and experience can be an inspiration for future students and show them they can be dental hygienists."

Gabe is now working for two dental practices in HRM. Although he is thinking about studying for a Master of Education and potentially teaching in the future, for the moment he is happy that his new life in Nova Scotia is up and running.