News
»
Go to news main
Impact Award winner 2021: Rebecca Marr
Posted by
Cheryl Bell
on May 14, 2021 in
News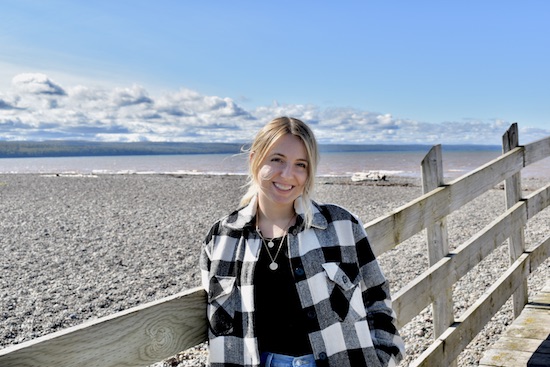 Rebecca Marr (DDS'22) is this year's deserving recipient of the 2021 Faculty of Dentistry Dalhousie University Student Impact Award.
Home for Rebecca is Kingston, New Brunswick, which is near Saint John. She studied for her undergrad degree at Dalhousie before starting the dentistry program in 2018.
This year's Impact Award was not Rebecca's first time in the spotlight. She stepped onto the stage at the 2018 Impact Awards to receive a Residence Life Award. That same evening, she watched as Lindsay James (DDS'19) was presented with the Impact Award for the Faculty of Dentistry.
"I remember thinking how wonderful it must be to have your own Faculty acknowledge your contributions," says Rebecca. "To receive the same award this year was a full circle moment for me."
The best four years
Early in her first year, a faculty member told Rebecca and her class that studying dentistry would be the best years of their lives and also the most difficult. "I decided that I wanted them to be the best four years of our lives," says Rebecca.
She looked at all the events and activities that took place in the Faculty, from Live@5 to Winter Ball and the Dalhousie Dentistry Students Society (DDSS) and decided what she would be involved in. She accepted the role as a social representative for the dentistry class of 2022, served as vice president and then president of the DDSS, and took on the challenge of managing Live@5.
She has also been a loyal volunteer with the Because Everyone's Ability Matters (B.E.A.M.) program, 'For the Health of It', and the Dalhousie Dentistry Admissions Committee. This past Christmas, she arranged for a holiday meal to be provided to the 75+ students and their families who could not go home for Christmas. Rebecca herself has not been home to New Brunswick since November 2020.
She says that she likes to be involved in things. "I've always found that I'm better when I'm busier. It gives me a structure, which helps me to get things done."
A summer of working in the Dal Dentistry clinic lies ahead, followed by the final year of dentistry school. After that, maybe private practice or further studies. One thing is for certain, she wants to get back to New Brunswick to see her family.
You can watch the Faculty Leadership Impact Awards video here.