News
»
Go to news main
The dawn of digital dentistry
Posted by
Cheryl Bell
on March 9, 2020 in
News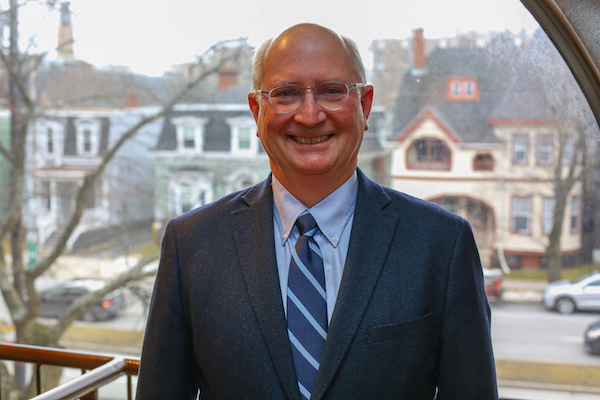 It is impossible for Dr. Bob Loney to contain his excitement about digital dentistry and what it will mean for teaching, learning, and patient care in the Faculty of Dentistry.

"This is a game changer," he says. "Digital dentistry will fundamentally change the way we all practise dentistry. It's huge."

The revolution in dentistry began in 1985 when the first rudimentary commercial digital systems became available, eliminating the need for physical impressions, which many patients find uncomfortable. Since then, the field has expanded rapidly.

What the technology can do
Hand-held wands with embedded cameras can now scan the mouth from many different angles, making analogue impressions a thing of the past. These hand-held scanners make it possible to create accurate 3D models and fabricate restorations. Cone beam computed tomography (CBCT), an imaging technology, can be combined with 3D printing to produce templates to improve the accuracy of implant placement. Crowns and restorations can be produced using CAD/CAM mills instead of traditional casting and porcelain technologies.

Digital technology will ultimately mean the end of gypsum, cast storage, and articulators. Techniques and procedures that students have been taught for many years will soon be obsolete. Equipment will get smaller and treatments and processes will become faster and more efficient. Digital dentistry is also environmentally friendly, requiring fewer disposable materials than traditional techniques.

Software associated with digital dentistry can help students learn more effectively. "When students come into the lab to practise on their own without faculty supervision," says Dr. Loney, "they sometimes just get better at making their previous mistakes. The computer software will give them instant and objective visual feedback on their work, so they can see where they are going wrong and correct their mistakes."

The time is now
Dr. Loney and his group have been watching the developments in digital dentistry unfold and carefully planning their next steps. They have tested equipment for the past six years and believe the "time is right" to invest in the equipment.

"Prices have gone down and the equipment has matured," says Dr. Loney. "We also have all the supports in place – a modern clinic, a new simulations lab, and a CBCT scanner – to make the best use of new digital equipment and prepare students for the future.

Dr. Loney points out that many professional practices have already started to invest in digital equipment. "The National Dental Education Board (NDEB) will also be holding fully digital exams in the near future. Our students will need the skills for analyzing virtual 3D models to be prepared for those exams."

The future is digital
The potential impact of digital dentistry on student learning, patient care, and teaching is enormous. The Faculty has plans to fully integrate digital dentistry into the curriculum as soon as possible. Additionally, clinically applicable research projects are already underway in the Faculty. Dr. Loney and his colleagues plan to share their knowledge through continuing education programs and presentations for alumni and dentists throughout Atlantic Canada.  

"We know from our alumni that they are watching us and waiting for us to help them find a system that works well. Thanks to our research and planning, I believe we have the potential to be a leader and centre of excellence for digital dentistry in North America."

For Dr. Loney, the future is definitely digital. "Once you've worked this way, the genie is out of the bottle. You don't ever want to go back."

Your help is needed
The Faculty of Dentistry aims to raise approximately $600,000 to purchase a milling unit and 14 scanners with software, which will be used in the simulation lab and clinics.

More information on our campaign and donation form.