News
»
Go to news main
The living legacy of the Prosthodontic Olympics
Posted by
Cheryl Bell
on March 8, 2019 in
News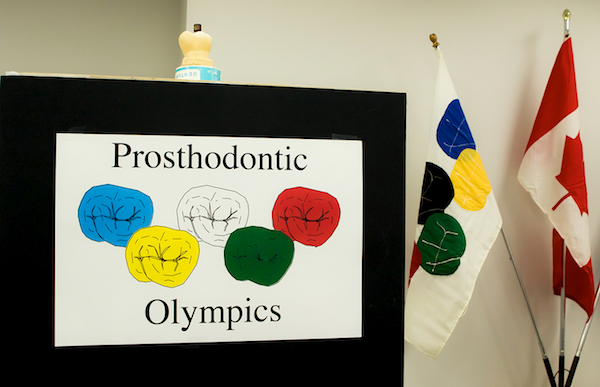 It was a big year for the Prosthodontic Olympics.
Bushra Ali handily beat – by an astounding five seconds – a world record that has been in place since 2006 in the notoriously difficult crown preparation event.

Even though Bushra had the speed, she lost a vital quality point and Paige Conrad was the declared the winner for this event.

Dr. Reena Kapadia (DDS'08) is sorry to see her record broken but delighted that another female student holds the title. "All good things must come to an end and I'm happy that the torch has been passed on."

Dr. Kapadia recalls being nominated to participate in the crown prep event in 2006. "I was up against all male students," she says. But an instructor took her under her wing and helped her to practise for the event. Beating the guys was definitely a "motivating factor".

Even though her world record has been beaten, Dr. Kapadia has fond memories of the Prosthodontic Olympics and appreciates the legacy they have left her with. "Without the challenge of the Olympics, I probably wouldn't have practised so much. Now I'm good at it and I enjoy doing it."

Practice makes faster
A world record from 2000 is still safely in place. Dr. Janet Smith's (DDS'02) 1:13 record for alginate impressions was not threatened by this year's winner, Jared Crane. Dr. Smith gives a lot of the credit to her partner, Norjehan Yahaya, who was willing to have the impressions made on her, and the two of them practiced together.

When asked about her secret, Dr. Smith says that careful measurements, great attention to water temperature, practice, and good communication were crucial. These are tips she passes on new assistants who join her at her private practice.

Like Dr. Kapadia, she sees the Prosthodontic Olympics as a great bonding and learning experience. "This event was a line in the sand for us," she says. "For the first time, more was expected of us in terms of speed. We were being prepared for private practice."

Dr. Craig Smith (DDS '00), who practises in St. John's, competed in the alginate impression event in 1998. His enduring memory is of having two trays in his mouth at the same time. "That definitely stuck with me," he says. "I think they changed the rules after that."

Team work and hard work
Dr. Rammi Hassan (DDS'11) speaks fondly of the lead-up to the Prosthodontic Olympics he participated in. "It was really enjoyable practising. We bonded with classmates and had fun deciding on costumes and helping each other," he says. He also learned the value of "preparation, team work, and hard work".

Like Dr. Janet Smith, he understood that the event had a very real job to do. "There is no doubt that these Olympics were supposed to prepare us for the real world, where we would not have weeks to work on a provisional restoration or make a custom tray, but minutes."

Dr. Bob Loney, the orchestrator of all this fun and trauma which has taken place at Dal for 23 years, still gets excited by the Prosthodontic Olympics.

"It works," he says. "Students get faster and better. For some, it's a real confidence-booster. They outperform where they think they 'fit'. The most exciting thing for me is that it's not always the ones with 'golden hands' who take home the prizes. Practice and preparation can make all the difference."

Will Dr. Janet's 2000 record for alginate impressions hold strong for another year? Tune into the 24th Prosthodontic Olympics in 2020.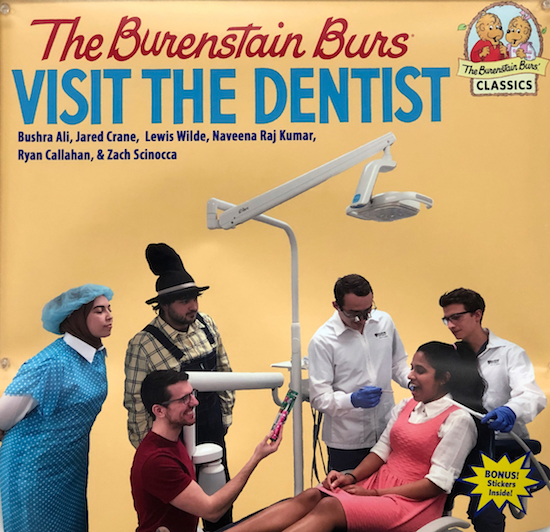 Gold medal winners:
Rubber dam: Jared Hamblin (1:59, 16/19)
Boxing impression: Dalal Alhendi (:40, 18/19)
Crown preparation: Paige Conrad (5:52, 18/19)
Alginate impressions: Jared Crane (2:28, 18/19)
Provisional restoration: Ryan Callahan (12:06, 16/19)

Winning team:
The Burenstain Burs, 72 points, 40 quality points
Zach Scinocca, Lewis Wilde, Bushra Ali, Jared Crane, Naveena Raj Kumar, Ryan Callahan
Costume prize:
Frozen
Hyun Kim, Zahraa Cherri, Micheline Jamael, Christiana Dagher, Layal Rabadi