News
»
Go to news main
Joyce MacDonald ‑ 2018 Gladys Littler Award winner
Posted by
Cheryl Bell
on July 12, 2018 in
News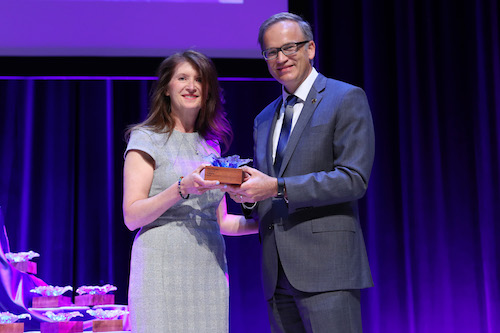 Congratulations to Joyce MacDonald of the School of Dental Hygiene. She is this year's Gladys Littler Award winner. The award was presented at the Legacy Awards ceremony on June 20.

Gladys Littler joined the Faculty of Dentistry in 1911 and retired in 1958 after 47 years of service to the Faculty's first six deans. As the only staff member at the time, Ms Littler basically ran the Faculty. Not only did she work for the dean of dentistry, she was known to provide secretarial assistance to the Faculties of Medicine and Law and, on special occasions, to the office of the president of Dalhousie. She was also responsible for taking and developing all of the X-rays in the dental clinic. It was a diverse role.
It is fitting that Joyce MacDonald, whose official title of administrative assistant to the School of Dental Hygiene does not begin to describe the multitude of roles she performs, is this year's winner of the Gladys Littler Award for outstanding service to the Faculty of Dentistry.
Joyce first came to Dal as a student, graduating in 1995 with a BSc in biology. Her multi-faceted career at Dal started while she was a student. As a research assistant, she took care of amphibians, worked in the histology lab, and did clerical work for several science departments, including anatomy and neurobiology, microbiology and immunology, and economics and statistics. She managed the research grants in the immunology department and served as executive assistant to the registrar of the Canadian College of Microbiologists.
In 2000, she successfully applied to the School of Dental Hygiene, where she soon discovered that her diverse skillset was in high demand. Now, as the only staff member, a typical day for Joyce involves acting as a resource person for faculty members, staff, and students, helping to coordinate administrative and financial functions in the School and troubleshooting computer problems. She even invigilates exams when needed.  
Joyce takes everything in her stride, with a smile on her face, and says that she loves coming to work. As Cara Tax, director of the School of Dental Hygiene says, "Joyce is so generous of her time, knowledge, and understanding of how this school works. She always goes above and beyond to help others succeed and she is a real team player. As the new director of the dental hygiene school, I often don't know what I don't know, but I know that Joyce will know."