News
»
Go to news main
Special Visitor Hops By Dentistry Building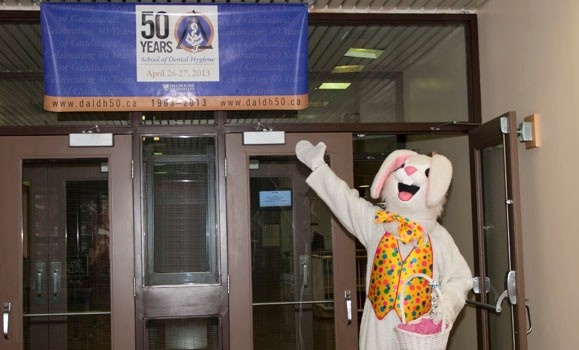 On Thursday, March 28, Dalhousie University's Faculty of Dentistry had an interesting visitor stop by to spread some cheer – none other than the Easter Bunny!

Hopping around the Faculty, he visited classes and departments, bearing warm wishes for a long holiday weekend, and of course with chocolate eggs to share! It was also a great opportunity for him to remind everyone of the April 15 registration deadline for DH50  – the School of Dental Hygiene's upcoming 50-year celebration on April 26-27.

"We are really pleased to have had such a high profile guest stop by in advance of the DH50 celebrations," said Alumni Officer Jon Bruhm (who was conspicuously absent for the duration of the visit). "I'm sorry that I missed him – or her – because normally, we're only ever visited by the Tooth Fairy!"

Faculty, staff, students and friends were all smiles as the cheerful guest passed through the Dentistry Building. Be sure to check out the video from the visit!