News
»
Go to news main
2013 Student Table Clinics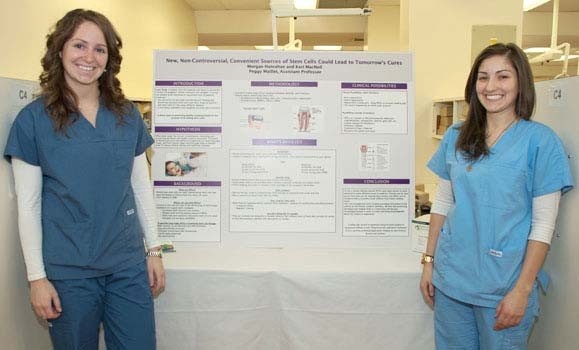 On Friday, February 8th, buzzes of excitement were coming from the second floor Clinic of the Dalhousie University Dentistry Building. It was the roar of energetic students sharing their research assignments at the annual Student Table Clinic Night.
Table clinics are a tabletop demonstration combined with a brief oral presentation in which students present on a topic that they have extensively researched. The students are paired with a faculty advisor and are given the opportunity to choose a topic of their interest. The topic must be in areas that are being developed through research, are new, or are controversial. The topic also must be of Continuing Education interest to clinicians.
As part of the course curriculum, students are required to present their research topics on Student Table Clinic Night. The event welcomes dental care providers as well as members of the university community. There are also dental care providers who volunteer their time and act as judges for the projects, helping to determine the winners at the end of the evening.
"Table Clinics is a great event to showcase all the hard work and efforts the students have put in," says Prof. Peggy Maillet, event coordinator and Assistant Professor in the School of Dental Hygiene. "It is wonderful to see the students demonstrating such passion for their topics, and to be able to learn a few new things myself!"
This year the big winners were third-year dentistry student Kate Broderson ("Implant Abutment Selection: Which Abutment to Choose?), and second-year dental hygiene students Morgan Hanrahan and Keri MacNeil ("New, Non-Controversial, Convenient Sources of Stem Cells could lead to Tomorrow's Cures").
See all the 2013 Table Clinic Winners
Dentistry
1st place – Kate Broderson " Implant Abutment Selection: Which Abutment to Choose?" M. Vallee – advisor
2nd place – Monique Merino "Dental Management of the Dental Patient" C. Lee – advisor
3rd place – Ben Lamarche "Assessment of the Burden of Dental Disease in a Network of Canadian Emergency Departments" C. Lee – advisor
4th place – Tricia O'Brien " Agenesis of Maxillary Lateral Incisors: Indications for Orthodontic Space Closure and Space Opening S. Roth – advisor
East Coast Dental Award for Best Table Clinic having Implants as a topic: Kate Broderson " Implant Abutment Selection: Which Abutment to Choose?" M. Vallee – advisor
DDSS Award for Creativity: Nicole Emery " The Management and Implications of Alzheimer's Disease in Oral Health" M. McNally – advisor
DDSS Award for Research: Lauren MacGregor " Dalhousie Faculty of Dentistry Undergraduate Implant Program Outcomes Assessment" C. Robertson – advisor
Cape Breton Island Dental Society Award for Table Clinic with Best Clinical Application: Alex Zed "Comparison of lateral condensation and vertical condensation techniques for obturation of root canals" A. Merino – advisor
Dental Hygiene;
Ist place : Morgan Hanrahan & Keri Mac Neil " New, Non-Controversial, Convenient Sources of Stem Cells Could lead to Tomorrow's Cures" P. Maillet – advisor
2nd place : Jordan Cameron & Sarah Hayden " Lichen Planus: Valuable Information for Dental Professions" T. MacCallum- advisor
3rd place: Laura Thorne & Tia Gerwatoski: "A "Green" Treatment for Periodontal Disease" C. Tax – advisor
4th place: Nicole MacCormack & Lisa MacDonald: " Oil Pulling : Does a Tablespoon a Day Keep the Streptococcus Mutans away" K. Haslam – advisor