»
Go to news main
Dalhousie University: Outstanding opportunities for aspiring computer scientists
Posted by
Study International
on September 15, 2023 in
Students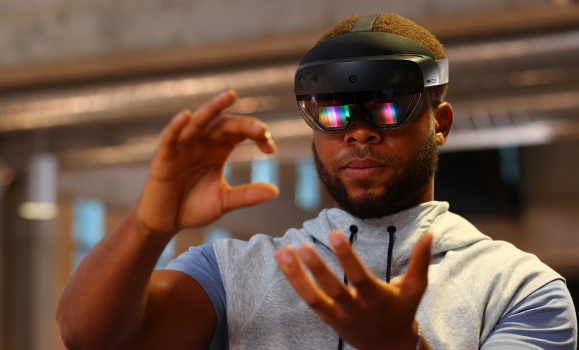 As a teenager growing up in Lahore, Pakistan, Sami Bashir had always been fascinated by the film "Moneyball." "There was something magical about watching people incorporate technology to remove biases in decision-making, and create opportunities for people that, otherwise, may have been overlooked by traditional scouting systems," he shares.
The film made a profound impact on his career aspirations. As a Communications and Media Studies graduate, he'd worked on a research project that focused on the impact of data analytics in soccer. This, combined with his favourite series, sparked a realisation in him. "At that point, I was confident that I wanted to be in that intersection between people and technology," he says.
"Dalhousie University is one of the top schools in the country and offered a programme that allowed me to gain more hands-on knowledge about the impact of data in decision-making within the context of business environments," he says. "Coming here was the logical next step in my professional journey."
As one of the top 15 universities in Canada (Times Higher Education), the institution has a strong reputation for offering groundbreaking and immersive programmes for ambitious students. Its Faculty of Computer Science — one of 13 academic faculties — brings together award-winning professors, outstanding facilities and invaluable experiential learning experiences, creating the ideal learning environment.
The faculty has an array of excellent graduate programmes, such as the Master of Applied Computer Science and Master of Digital Innovation (MDI). Bashir chose the latter – where he could explore various disciplines under the guidance of experts.
"One notable course involved creating a prototype for a digital transformation project where students worked with an industry partner in the Office of the Auditor General of Canada to come up with innovative solutions to some challenges they were facing," he shares. "I found this to be a fantastic way to simulate the experience of working in a technological environment, even before our co-ops."
The Faculty of Computer Science provides an ideal learning environment for ambitious international students. Source: Dalhousie University
A prominent feature of the faculty is the opportunity to participate in a Computer Science Co‑op, a work placement where students can apply their knowledge to the real world. This lets students develop specialised skill sets and tests them in a professional setting. They do so in Halifax, the second fastest-growing city in Canada for tech diversity and wage growth.
Two words Bashir would use to describe his co-op experience? Challenging and rewarding. "I was thrilled at the opportunity to apply the knowledge I gained to solve complex business problems and create value for Scotia Investments and the nine companies under their banner," he shares. "Working on multiple projects, often at the same time, helped develop my project management skills and become familiar with the pressures that come in roles that require it."
What was most memorable, however, was the chance to lead the company's website development project. "Initially, I just wanted to be involved and provide support for the project, but my passion and collaborative spirit were evident from the start," he says. "My responsibilities only grew from there, involving interactions with co-op students, directors, and even the CEO! Very soon, I was leading meetings with both internal and external stakeholders, and I was very proud to be able to take this project from start to completion on time and within budget."
Undergraduate students are not exempt from this experience, either — both the Bachelor of Computer Science and Bachelor of Applied Computer Science similarly adopt co-op practices. For Indian-born student Shreya Sharma, this was a significant factor that led her to choose Dalhousie University.
"I am currently completing my co-op at the Atlantic Canada Opportunities Agency (ACOA) as a Student Application Developer," she says. "Throughout my work term, I have learned to navigate different technologies such as PowerShell Scripting, SharePoint Online, PowerApps, and Power Automate, as well as soft skills such as professional communication and documentation."
Computer science students at Dalhousie University apply what learn in the classroom in real-world scenarios. Source: Dalhousie University
Sharma was fortunate to have received two scholarships — the Women in Technology and Dalhousie Entrance Scholarships. They lifted a huge burden off her shoulders. "I have seen some of my friends who are very capable and hardworking, but are unable to do well in academics because they have to juggle a few jobs to pay their tuition," she explains. "I am thankful that I got these scholarships and am able to focus on my academics."
With more free time, she could participate in the many exciting extracurricular activities on campus. "I attend events and activities hosted by Shiftkey Labs, the Women in Technology Society (WiTS), and other societies on campus whenever I have a chance," the undergraduate student says. "I was even able to become a tutor with Bisset Student Success Centre, and a Junior Head TA for the Discrete Math course."
Outside of classes, Sharma enjoys her time in Halifax. "I think Halifax is an ideal place to live, work and study because of the welcoming and close-knit community," she shares.
"In Halifax, if you want to do anything, you will find people and resources to support you. Through your network, you can find someone who might be able to help you. People here are lovely — even if they don't know you personally, they will try to help you as much as possible to reach your goals."