News
»
Go to news main
Pythian Games 2018!
Posted by
Classics Department
on February 12, 2018 in
Events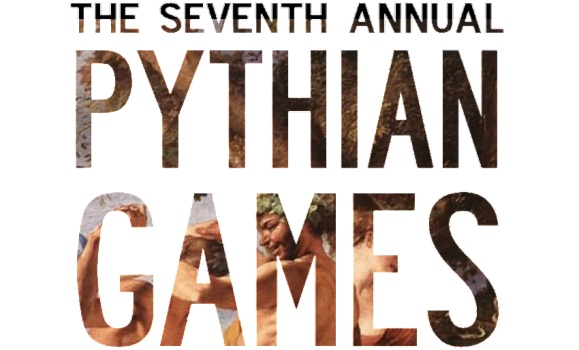 The Dalhousie Department of Classics Presents
The Pythian Games
Students will take the stage with any and every form of literary and artistic performance conceivable, in any language -- and you're invited!
What are the Pythian Games?
Sacred to Apollo (the Greek god of music, art, and plague), the ancient Pythian Games featured competitions in declamation, reading aloud, poetry, and rhetoric. The revived modern Pythian Games likewise feature a celebration of students' talents in literary and artistic performance.
Where and when?
Friday, March 16 2018, from 5:30 pm to 7:30 pm in the Ondaatje Theatre, immediately to the right from the main foyer of the Marion McCain Arts & Social Sciences Building. A reception will follow.
Can I enter?
Yes! You can indeed, and you should! Anything that that brings literature or music to life in performance is welcome. In past years, we've seen everything from full-dress reenactments of Plato's Symposium, Welsh poetry, original Latin verse, violent gladiatorial combat, highly condensed ancient tragedies, Arabic poetry, original sonnet cycles in English, and much more. The languages of performances in recent years have included English, French, Greek, Latin, German, Russian, Arabic, Welsh, Old Norse, Middle English, Middle High German, and Old Elvish. To allow the audience to follow along, performances in languages other than English will be accompanied by surtitles (like subtitles but above the performer rather than below) to allow the audience to follow along.
What's this I hear about prizes?
As formerly, no fewer than five rich prizes will be awarded:
the Howard Murray Prize ($250)
the Chair's Prize ($150)
the Alumni Prize ($100)
the Res Publica Prize (for best performance in a living language) ($75)
the Dr. Patrick Atherton Memorial Prize (for best performance in Latin) ($75)
When awarding the prizes, the distinguished and impartial judges will take into account factors such as the performer's stage presence, ability with a foreign or dead language, originality, and courage.
I want to compete! What should I do before the Games begin?
First: Plan what you will do. If you are competing as an individual, your performance should be 5-7 minutes long; if you have assembled a group, then the time limit is 10 minutes.
Second: Email the acting Curators (organizers and coaches), Sophie Jacome and Lauren Vanderdeen at dalrespublica@gmail.com by March 1st 2018 to let them know that you wish to compete. Be prepared to describe your intended performance in some detail, so that they can give you helpful pointers, especially if this is your first time performing. If you are using a literary text in a language other than English, send them your text, so that they can prepare surtitles for your performance. (If surtitles are being used, a full rehearsal with the Curators will be necessary so as to reduce the chances of technical disasters on the day of the Games.)
I have a further question!
Please feel free to contact the acting Curators (contact details in the paragraph above).