Upcoming Events to Welcome Two New Members of the Dalhousie Classics Faculty
News
»
Go to news main
Upcoming Events to Welcome Two New Members of the Dalhousie Classics Faculty
Posted by Classics Department on January 19, 2023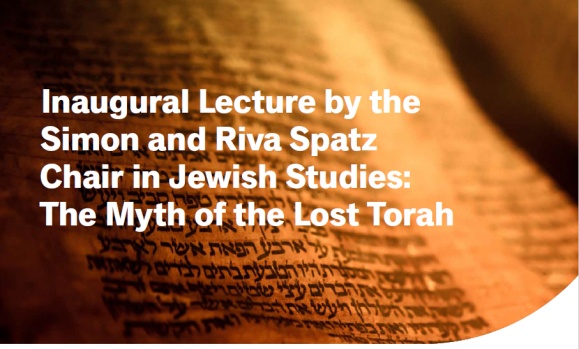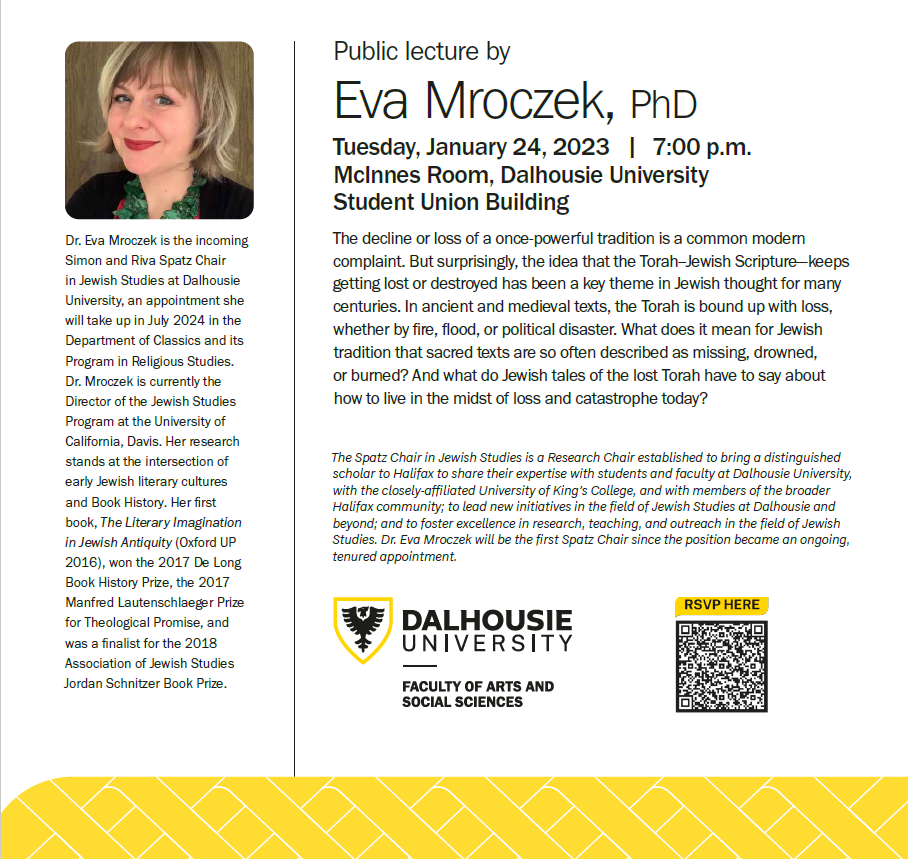 An announcement from Dr. Eli Diamond, Chair of the Dalhousie Classics Department:
It gives me great pleasure to announce that two new professors will be joining the Dalhousie Classics faculty in July of 2024: we have hired Dr. Eva Mroczek and Dr. Seth Sanders, two world-renowned experts in Jewish and Eastern Mediterranean Antiquity currently teaching in California at UC Davis. Although they won't be taking up their appointments at Dalhousie until over a year from now, they will be coming to Halifax for the first time to give some talks during the week of January 23-26, 2023. We sincerely hope you will be able to join us for one or both of their talks. Dr. Mroczek will be delivering her Inaugural Lecture as the Simon and Riva Spatz Chair in Jewish Studies on January 24th at 7pm – details and registration can be found at this link. Dr. Sanders will be speaking in in the Dal Classics Departmental Lecture Series on Thursday, January 26 at 5:30pm, and you can attend this talk either in person or via this Zoom link.
Without compromising our existing focus on the literature, history, religion and philosophy of ancient Greece and Rome as well as their development in medieval philosophy and theology, these appointments will allow us to expand our curriculum to include the history, literature, and religion of the Ancient Near East and Ancient Israel to a much greater extent than ever before. Just as we offer both Greek and Latin at the Introductory, Intermediate and Advanced levels, we will now be introducing a Classical Hebrew stream into our curriculum at all three levels, whereas before these appointments we have only been able to offer first-year Hebrew sporadically.

Dr. Eva Mroczek is the incoming Simon and Riva Spatz Chair in Jewish Studies at Dalhousie University, an appointment within Religious Studies and Classics. Dr. Mroczek's research stands at the intersection of early Jewish literary cultures and Book History. Her first book, The Literary Imagination in Jewish Antiquity (Oxford UP 2016), illustrates how early Jewish writers imagined their own sacred writing before the Bible existed as a concept. The book was a finalist for the 2018 AJS Jordan Schnitzer Book Prize, the winner of the 2017 De Long Book History Prize awarded by the Society for the History of Authorship, Reading, and Publishing (SHARP), and the winner of the 2017 Manfred Lautenschlaeger Prize for Theological Promise. She is currently working on two new projects: Out of the Cave: The Possibility of a New Biblical Past, an intellectual history of manuscript discovery stories; and a guide to imaginary books in ancient and medieval Jewish lore. Dr. Mroczek served for several years as the Director of the Jewish Studies program at UC Davis. As Spatz Chair of Jewish Studies at Dalhousie, she will be working to introduce Jewish Studies as a Minor and eventually as a Program at Dalhousie.

Dr. Seth Sanders will be taking up the McLeod Chair in Classics at Dalhousie. He is a renowned expert on the Ancient Near East and the Hebrew Bible. Working at the intersection of philology and intellectual history, his work examines the development of the Semitic languages, the origins and purposes of alphabetic writing, and its role in the creation of ancient literatures. His first book, The Invention of Hebrew (winner of the Frank Moore Cross award), used epigraphic evidence to understand how biblical texts worked as political communication. His more recent book, From Adapa to Enoch: Scribal Culture and Religious Vision in Judea and Babylonia is the first major comparative study of ancient Babylonian, Aramaic and Hebrew scholarship, explaining how early Jewish literary culture diverged from its Israelite legacy. Current projects include a study of the relationship between ancient Jewish music, mystical prayer, and religious experience and an open-access, open-source Digital Humanities approach to teaching and analyzing biblical composition in Hebrew and English – you can find some of this work here.
The new expertise in ancient languages these two scholars bring to Dal Classics is exhilarating to contemplate. In her research Dr. Eva Mroczek works with sources in Hebrew (biblical, rabbinic, and medieval), Aramaic (imperial and rabbinic), Greek, Latin, Syriac, and Old Church Slavonic, and is keen to teach undergraduate and graduate students in various dialects of Hebrew and Aramaic at Dalhousie. Dr. Seth Sanders works with sources in several Babylonian dialects (Old Akkadian, Old Babylonian, Standard Babylonian, Neo-Babylonian, and Assyrian), Sumerian, Ugaritic, Luwian, Aramaic (both Ancient and Rabbinic), Phoenician and related Epigraphic North-West Semitic Varieties (Moabite, Samalian etc.), Hebrew (Ancient, Mishnaic, Rabbinic), Sabaic (Epigraphic South Arabian) and Safaitic (Epigraphic North Arabian). He is keen to offer classes or smaller workshops on Babylonian, Ugaritic, Aramaic, Phoenician, Sabaic, and Hebrew. Combined with the existing Hebrew expertise of our much beloved long-standing Hebrew instructor Dr. Christopher Grundke, Dal Classics will quickly become a leading centre for the study of the Hebrew Bible and Ancient Judaism.
When one thinks about how on top of Greek, Latin, Hebrew, and this vast array of Western Semitic languages, Dal Classics has already become a place to study Sanskrit (with Dr. Christopher Austin) and Arabic (with Dr. Rodica Firanescu and Dr. Sasha Treiger), it has hard not to get excited about all the possibilities for studying global antiquity in our Department.

Recently, when browsing through some old Dalhousie Calendars from the late 1960s, I stumbled upon the following description of the raison d'être and scope of the Department:

"On the basis of a sound knowledge of the classical languages, the Department introduces students to the history, literature and philosophy of classical antiquity. The history of the ancient Near East (including Biblical history) is also taught. Students interested therein may sometimes offer an Oriental language (what we would now call a Semitic language) with Greek, in place of Latin."

Quite fittingly, Dal Classics is thus expanding towards an exciting new future recovering a thread from its ancient past. We cannot wait to welcome Drs. Mroczek and Sanders and look forward to learning from them about the wonders of Jewish Antiquity and the Ancient Near East.