About OSC3
About Organic Science Cluster III (OSC3)
Organic Science Cluster III Announcement
OSC3 was officially announced at Wild Flight Farm in Mara, British Columbia on August 24th, 2018. The announcement was hosted by former OFC president and organic farmer Herman Bruns, and his wife Louise, on their farm. There were about 50 people in attendance from the BC organic community. The following speakers expressed their excitement about the launch of a new Organic Science Cluster:
Lawrence MacAulay, Minister of Agriculture and Agri-Food Canada
Jim Robbins, President of the Organic Federation of Canada
Dr. Andrew Hammermeister, Director of the Organic Agriculture Centre of Canada, Dalhousie University
Garth Patterson, Executive Director of the Western Grains Research Foundation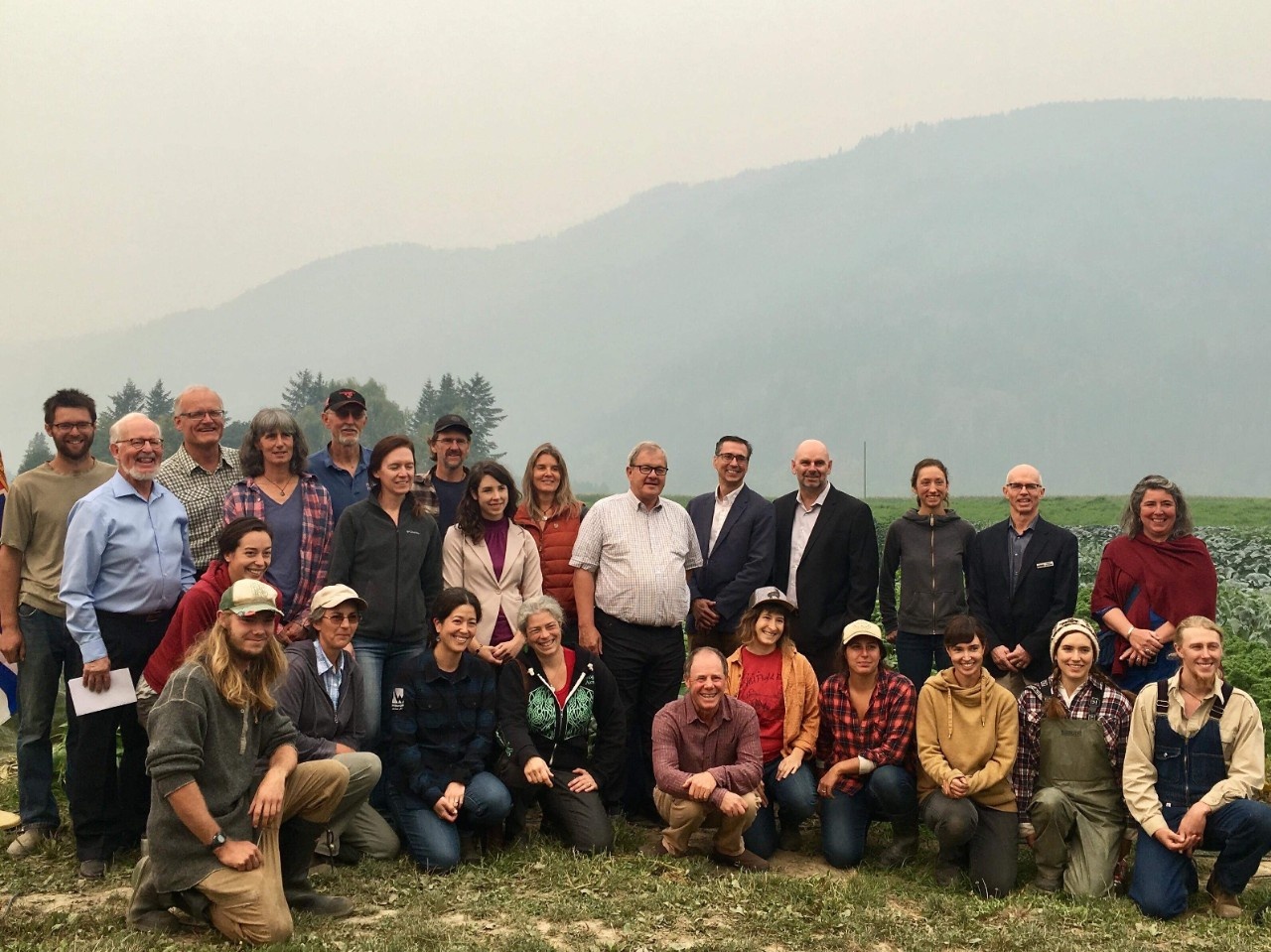 How were the OSC3 research activities selected?
Letter of Intent Process
Letters of Intent (LOI) for OSC3 research activities were accepted and reviewed in the spring of 2017.
A Letter of Intent (LOI) Review Committee was established to evaluate submitted LOIs against a standardized set of criteria, focused on the strategic priorities established in the Canadian Organic Research Needs and Priorities Assessment Process. This committee was responsible for representing the organic sector in evaluating LOIs for industry merit and potential impact. The LOI Review Committee consisted of 20 leading organic sector professionals and stakeholders from across Canada.  
The LOI Review Process represented a significant investment of time by organic stakeholders, with members of the LOI Review Committee spending up to 15 hours/person on conference calls to scrutinize and discuss the submitted LOIs and make constructive decisions. LOIs that were deemed priorities were then invited for full proposal submission.
Proposals and Peer Review
Full proposals were submitted by Principal Investigators (PIs) to the OSC3 Management Team in June 2017. Each proposal was reviewed thoroughly by two or three expert peer reviewers. The OSC3 Management Team contacted more than 350 scientists to make sure each proposal was fully and fairly reviewed!
The Peer Review Process followed the guidelines laid out by AAFC for the third Cluster program. The peer reviewers evaluated proposals for their scientific merit and methodological integrity to ensure that the science of organic agriculture in Canada is credible and impactful.
Science Advisory Body

The Science Advisory Body (SAB) was established as per the guidelines provided by AAFC. The SAB has a mandate to:
Validate the integrity of the peer review process to ensure a fair, transparent and thorough evaluation of individual research activities/projects by independent peer reviewers; and
Provide the Organic Federation of Canada with expert advice on the Cluster's science programming.
The SAB met to review the outcomes of the Peer Review, and put forward recommendations for each submitted proposal. Researchers were asked to revise and re-submit their proposals based on these recommendations. Proposals requiring revision were once again reviewed by the SAB upon resubmission.
OSC3's SAB plays a continuing role in the Cluster. Each year, they review the ongoing performance of each research activity.