News
»
Go to news main
Faculty of Agriculture well represented on first Canadian Agricultural Youth Council
Posted by
stephanie rogers
on July 29, 2020 in
News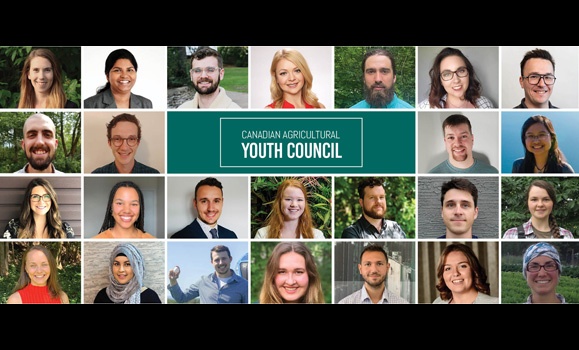 Two former and one current student from the Faculty of Agriculture have been named to the first Canadian Agricultural Youth Council from more than 800 applicants across the country.
"Including the voices of young people is essential as we build an even better Canada, now and for the future," said The Honourable Bardish Chagger, Minister of Diversity and Inclusion and Youth.  "Members of the first ever Canadian Agricultural Youth Council will be able to share their ideas on how to bridge the generational gap and keep the Canadian agriculture and agri-food industry strong for years to come."
The Canadian Agricultural Youth Council is a group of young Canadians providing advice, enabling on-going dialogue on food-related challenges and opportunities, sharing information and best practices, and advising on the strengths and weaknesses of policies and programs affecting the agriculture and agri-food sectors.
Along with the Prime Minister's Youth Council, the Canadian Agricultural Youth Council is one more way in which the Government of Canada will hear directly from young people about issues that matter to them.
"We are all very proud that three members of the new Canadian Agricultural Youth Council are alumni or students of Dalhousie University's Faculty of Agriculture, said Dean and Campus Principal Dr. David Gray.   
"Agriculture is our future, its that simple and its crucial that our young people are actively involved in shaping the future of this industry across Canada. Our graduates are well-prepared to take active roles as leaders as part of this group."
Lauren Peters is an International Food Business degree graduate and is currently the Community Education Manager at the Faculty of Agriculture. Lauren was not directly exposed to the agricultural industry growing up but instead became involved after exploring he passion for food
"While I did not grow up on a farm, I have always been interested in the manner in which food is produced," explained Lauren.  "Living beside a dairy farm and working on an egg farm for over five years, I developed a passion for learning about agriculture. Following this passion, I was a member of the local 4-H club for nearly 10 years before attending university. 
In her current role, Lauren leads the Faculty's efforts to raise the profile of agriculture in schools, youth groups and communities in the region.  "There are opportunities for all Canadians to get involved and be inspired by the work being done in the sector, no matter their background," she added
Fourth year Animal Science student Ila Matheson grew up on a sheep farm and has been involved in agriculture her whole life and hopes to be a voice for primary producers in Canada.
"As a farmer, I am at the foundation of the agricultural industry, with particular interests towards livestock," explained Ila.  "I wish to represent the challenges at this level of the industry because farmers make up such a small percentage of our general population. I am delighted to be involved with this council because it is important to be at the table for things that directly affect one's livelihood."
Jerry Bos from New Brunswick has a Bachelor of Science with a major in Agricultural Business from the Faculty of Agriculture and believes the future of the planet is dependent on agriculture.
"Our entire modern existence is based on the fact that a small segment of the population is capable of feeding the entirety of humanity," he said.
Jerry believes to overcome the challenges of the future we will need leadership that has the wisdom and willingness to act to create a brighter and better future. 
"I have a unique perspective in that I combine both the traditional background commonly associated with agriculture (multi-generational, European ancestry) as well as a non-typical background having restarted a farm that had gone dormant. I have also made the transition into the dairy industry rather than inheriting or succeeding a predecessor. This offers insight and perspective on how to bridge the past, present and future of agriculture."