News
»
Go to news main
Succession Planting
Posted by
stephanie rogers
on July 28, 2020 in
News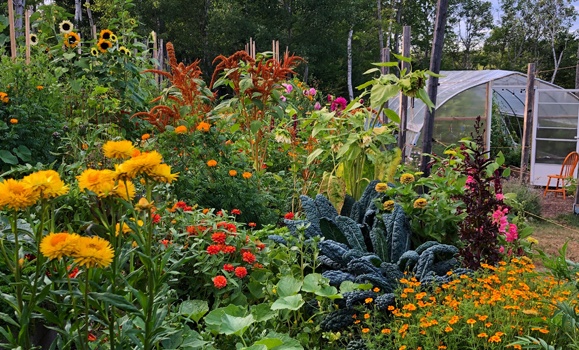 By Niki Jabbour (Class of '96)
Most vegetable gardeners plant their seeds and seedlings in late spring and wait for the harvest to roll in. However, not all vegetables take the same amount of time to go from seed to harvest and as early crops are finished, you're left with empty spaces in garden beds. Maximize the production of your food garden by succession planting in early to mid-summer.

Succession planting is just following one crop with another. When my spring spinach has finished producing, I pull up the plants, amend the soil with a thin layer of compost, and replant.
The best way to stay organized is to make a garden map in late winter when you order your seeds. I like to sketch out all my garden beds and jot down what I wish to grow in each one over the course of the year. For example, one of my raised beds may be used to grow spring lettuce followed by summer cherry tomatoes followed by fall spinach.
I also use my grow lights to produce 'plug in' plants throughout summer. As one crop is finished, I can tuck in fresh broccoli, squash, or cucumbers seedlings.
No space for a garden bed? You can still practice succession planting in pots and planters. In spring, seed a fresh pot of arugula, spinach, or lettuce every two to three weeks for months of homegrown salads. In summer, plant cucumber seedlings in big pots in early June and again in mid-July.
Now that summer has arrived and the early vegetables have finished, here are six of my favourite crops to succession plant for late summer and autumn harvests:
Six vegetables and herbs to plant in mid-summer:
-   Bush beans are one of the easiest vegetables to grow and new seed can be sown every few weeks from late spring through mid-summer. Most varieties take about 50 to 55 days to go from seed to harvest so you can enjoy a bumper crop of beans in less than two months. Those growing in pots should try a variety like Mascotte which is compact and high-yielding.
-   Cucumbers seeds and seedlings are normally planted in late spring once the risk of frost has passed. The harvest begins two months later, with the vines continuing to pump out fruits for about a month. That means by August, the cucumber harvest has slowed or stopped. A second planting in July means you can enjoy fresh picked cucumbers until frost.
-   Summer squash has a well-deserved reputation for abundance with each planting yielding a heavy crop of tender squash. As with cucumbers, you can extend the summer squash harvest when you succession plant. I tuck a few seeds or seedlings in empty garden spaces in July to provide a September harvest. Also, don't be shy about growing some of the unique shaped types of summer squash like Sunburst, a pattypan variety, or Eight Ball which has round fruits. I also love growing Lebanese-type varieties like Magda and Lolita.
-   Basil is the most important culinary herb in my garden and I grow many types with a range of flavours. Genovese basil is the classic basil used for pesto, but I also enjoy lemon basil in tea and Thai Basil in stir-fries and curries. Basil plants start to produce flowerheads by mid-summer which reduces the flavourful essential oils in the leaves. To ensure we always have plenty of basil, I succession plant a second crop in mid-July. I use my grow lights to start the seeds inside in early June and within six weeks they're ready to be moved to my garden beds or containers.
-   Broccoli, cabbage, cauliflower - these related vegetables are cool season crops and grow best when planted in early spring for an early summer harvest or mid-summer for a fall crop. For that late crop, I sow the seeds indoors in early June, moving the young plants to the garden in mid-July. By September we're harvesting a bounty of broccoli, cabbage and cauliflower for autumn meals.
-Carrots take about 70 to 85 days to go from seed to harvest. My first crop of the year is sown in late April and we begin to dig those roots in mid-summer. Yet once carrots reach peak quality, try to harvest them within a few weeks. If left in the garden too long, they become woody and bitter. That's why I sow a second planting in mid to late July. This is my late crop which is ready in October, but if mulched with straw, can be dug all winter long.