News
»
Go to news main
From Canadian Forces to first time farmer
Posted by
Stephanie Rogers
on April 18, 2019 in
News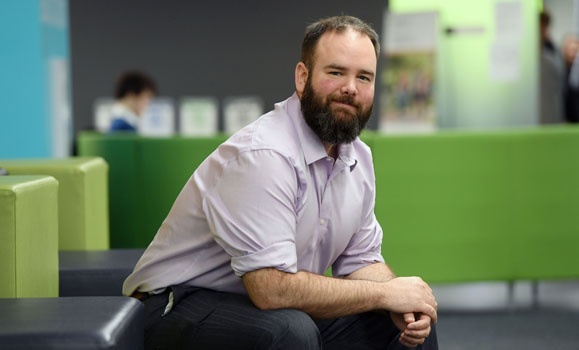 After 21 years of serving in the Canadian Forces, Yannick Laplante (Class of '20) decided to take on a challenge he has always dreamed of- operating his own farm.
Growing up in a suburb of Montreal, QC, Yannick has very little experience with farming. Despite his inexperience, Yannick, who it set to graduate in 2020 with a diploma in plant science, is looking to begin operation of his own organic farm.
"I have never gardened in my spare time," Yannick laughs. "Let's just say that I like to learn new skills and challenge myself!"
Yannick is striving towards starting a market garden in his Acadian village of Pomquet, outside of Antigonish, NS. He aims to produce organic vegetables and sell his produce around the Antigonish area. 
"I want to start a farm in Pomquet to help my community access local, organic food," explained Yannick.
Farming was something that Yannick was always interested in. His retirement from the Canadian Forces encouraged him to pursue his interest at Dalhousie University Faculty of Agriculture. The plant science diploma program was exactly what he was looking for- it fit his needs in terms of subject coverage and length. The two year program was ideal for him.
"After serving for almost 21 years, I wanted to tackle a new challenge and learn about agriculture and eventually operate my own farm," Yannick explains.
It wasn't only academics that helped Yannick to refine his farm business idea and plan. Yannick was introduced to Cultiv8 when visiting campus before he began his studies. The entrepreneurial program with resources available to students immediately caught his attention.
"I immediately saw that participating in this club could give me the entrepreneurial tools that I needed to start my farm business successfully. I wasn't wrong!" Yannick smiles.
Cultiv8 is a space on Dalhousie's Agricultural Campus where students can creatively discover and test ideas, with or without a business goal in mind. Cultiv8 offers students exposure to innovation through a variety of avenues. They have access to inspirational tours to local agriculture and value-added agribusinesses, customized workshops and programs, and collaborative boot camp experiences with students from across Nova Scotia.
"Cultiv8 is great to teach us a logical approach to 'business thinking' that can be used in any type of school or work project," Yannick says.
Yannick participated in Cultiv8's Discover program which provides students with opportunities to explore the entrepreneurial mindset, creative problem solving and innovation. Through Discover, students learn about the basics of Human Centred Design, an approach to find creative solutions to a problem while keeping the human aspect in mind at all times. Discover essentially teaches students a step-by-step process to approach a problem and develop a product or service to resolve it. It consists of seven modular units followed by a culmination Design Challenge. The modules focus on skills which will, through Human Centered Design, familiarize students with competencies deemed necessary to better understand, ideate and communicate.
After identifying problems and solutions in the Discover program, Yannick then participated in Validate. Through the Validate program offered by Cultiv8, Yannick used the tools he learned of through Discover to apply them to the concept of his future farm.
"Going through the process again solidifies my knowledge and ensures that I start my business on the right foot," Yannick explains. "During Validate, we also added on more business strategies that further solidified my business plan."
Yannick attributes the success of his farm start up to the resources and tools available to him through Cultiv8. He was ecstatic to learn of a $100,000 donation to Cultiv8's Discover program from Rabobank, a premier global food and agribusiness bank servicing the food, agribusiness and beverage industry, providing sector expertise, strategic counsel and tailored financial solutions to clients across the entire food value chain.
"Having more money for Cultib8 means that there could be more opportunities for students to network with other students and be exposed to many different ways of thinking, an essential aspect of business," Yannick says.
Students like Yannick will benefit greatly from the generous donation of Rabobank. While Yannick aims to begin his business venture in the next couple of years, he is grateful for all the Culiv8 offered him and hopes to be able to help future students with learnings from his own experience.
"I would like to help out other students starting their own farms or business by sharing my experience with Human Centred Design and other challenges that I will face," Yannick explains. "As for students considering participating in Cultiv8, do it- you won't regret it!"