News
»
Go to news main
Barley Party a family affair for one Dal AC family
Posted by
Stephanie Rogers
on April 8, 2019 in
News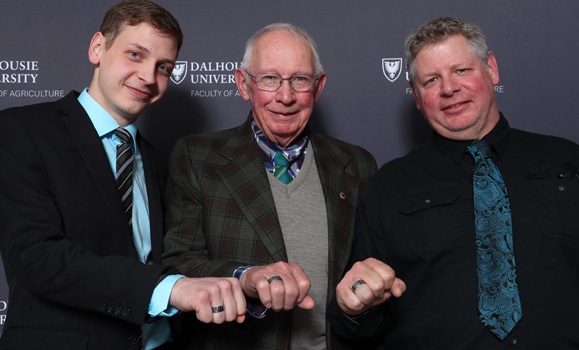 By Emma Geldart
The increasingly popular and highly anticipated Barley Party at Dalhousie's Agricultural Campus can easily be described as one of the most exciting events for graduating students of the Faculty of Agriculture. But the excitement goes far beyond the graduating students. In recent years, past alumni have expressed interest in receiving the prestigious Barley Ring, often times alongside their graduating children or even grandchildren.
A sense of pride
This year, three generations of the Bowlby family proudly received their Barley Rings at the Barley Party on April 5. David Senior (Class of '57), David (Class of '87) and Devon (Class of '19) each received their rings. For David Sr., the presentation was a complete surprise coordinated by his son David and grandson, Devon.
"I knew my dad would be very proud to be there, first and foremost for my son Devon as he has been Devon's number one fan his entire life!" David explains. "My dad got an original AC ring after he graduated in 1957 and he's mentioned the Barley Ring a couple of times after he and I attended an alumni event or two."
David and Devon concocted a plan to get David Sr.'s ring size and get him to the Barley Party. David told his mother the details about the party and she took his wedding ring to have it sized, letting on it required some much needed repairs.
"He's been wearing his wedding ring for almost 60 years now," David smiles.
After getting the ring size from his mother, David placed the order for his father's ring. It was easy to get him to the Barley Party as David Sr. is proud of his grandson and was thrilled to be invited to watch Devon receive his ring.
"This is just such a surprise," said the nearly speechless David Sr. following the event.
"It feels good to get my Barley Ring, although it makes me even happier knowing how proud my dad and grandfather are," Devon adds.
"Receiving a Barley Ring is a great reminder of all the good times that I had while I was at the AC," David smiles. "To receive it alongside two of my family members representing over 60 years of our family attending AC is really amazing."
Family farming
For over 150 years, the Bowlby family has proudly been farming on the same plot of land in Aylesford, NS. In 1866, Samuel Bowlby purchased the farm and began farming sheep and a variety of crops. Over the years, the farm has been home to carriage horses, sheep, apple orchards and crops. In the late 1990s David Bowlby and his wife purchased the farm from David Sr. and began the creation of the on-site farm market.
Today, Dempsey's Corner Orchard's U-Pick and Farm Market is a mixed operation offering hands on activities and farm education for their customers. The old livestock barn was renovated into the centrepiece of the farm and is now a retail outlet with restaurant, bakery and petting zoo.
"I think our farm is unique because we are open seven days a week during the growing season so that folks can have an experience like no other," David explains. "They can bottle feed a calf, gather eggs, dig potatoes, pick apples, cherries, pears, plums or peaches and enjoy the best of what Mother Nature has to offer."
Devon Bowlby is the sixth generation on the Bowlby farm. Set to graduate this May with a diploma in agricultural business management, Devon is ecstatic to have accepted a position at the Kentville Research Station. Although Devon won't be returning to the family farm, he is excited for what's in store for him in the future.
"I'm currently looking into furthering my studies and getting my degree in agricultural business," Devon explains proudly.
As for the Bowlby farm, David explains that it's time to move on. The family has recently finalized the sale of a farm to a couple moving from Ontario to Nova Scotia. Although the popular market will be under new ownership, David explains that things will continue as they have, at least for now.
"I'm sure the new owners have plans of their own," David says. "But they are planning on status quo for now and all staff here will continue to have employment that will be relied upon into the future. I have a full time job with Agriculture Canada at the Kentville Research facility where I am the farm manager so plans are to remain there for now, but opportunity is always knocking!"
An annual tradition
For the Bowlby family, the Barley Party was an exciting end to an era. Their shared passion for Dal AC was evident and will continue to be held in their memories with each glance at the shiny Barley Ring on their fingers.
Established in 2010, the Barley Party is the annual celebration for students who have purchased a Barley Ring- Dal AC's widely recognized graduation ring. Held in Jenkins Hall on campus on Friday evening, students attending the Barley Party enjoyed a delicious meal and one-by-one were called to the front of the room to accept their barley ring. Students were welcomed to the Agricultural Campus Alumni Association by Colette Wyllie, chair of the Alumni Association and were presented their rings by Campus Principal, Dr. David Gray.
"The Barley Ring symbolizes everything that the Agricultural Campus stands for – integrity, professionalism, hard work and a connection to the land," says Colette Wyllie, chair of the Faculty of Agriculture's Alumni Association. "It unifies our AC community across the globe. Barley Party has become a beloved tradition amongst graduating students and it's fantastic to see the uptake from relatives who are graduates from years prior. The event feels more and more special every year!"
Unveiled nine years ago, the Barley Ring is the official graduation ring of the Agricultural Campus. Since its launch in 2010, it has become a highly recognized symbol of the Agricultural Campus.  Now with over 1,100 rings worn by alumni around the world, the Barley Ring is a proud symbol of the Faculty of Agriculture and the Dalhousie Agricultural Campus. The textured design features a pattern of barley around the band of the rings and each ring is handmade by local jeweler, Donna Hiebert. This year, 80 Barley Rings were given out at the Barley Party.