African Wildlife Ecology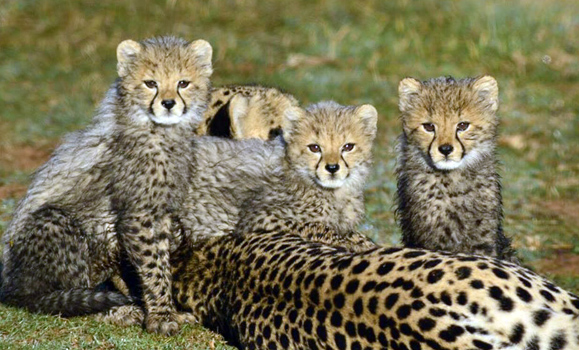 APPLICATIONS ARE NOW OPEN
DEADLINE EXTENDED TO 4PM JULY 18, 2022!
(Remember to check the pre-requisites listed at the top of the application to be sure you qualify & then follow the instructions provided) 
or
UPATE: NEW FUNDING AVAILABLE!
Depending on availability of funds and qualification into one of the eligible groups, you could be able to access between $3000 and $6000.
See the Funding Assistance section of this page for details on the new funding and information on other funding sources.
Contact Hannah.Pugh@Dal.ca to see if you qualify for this funding

Course Info - ANSC3007:
When: Runs summer term; ~May 30 to ~June 21, 2023

Where: Eastern Cape South Africa game reserves
Instructors:
Dr. Janine Gray, Dalhousie University, Faculty of Agriculture, Dept. of Animal Science and Aquaculture
TBA, Dalhousie University, Faculty of Agriculture
Dr. Dan Parker, Associate Professor, University of Upumalanga & Senior Research Associate, Rhodes University, Wildlife and Reserve Management Research Group

Run collaboratively by Rhodes University's Wildlife and Reserve Management Research Group, South Africa. A group of 13-15 students will visit Rhodes and the Eastern Cape for an intensive 2-4 week course on African Wildlife Ecology based at the Amakhala Game Reserve. The students will be given lectures on topics such as anthropology, ecology, animal behaviour, palaeontology, and the climate and history of the region. They will also conduct short individual research projects, and will be taken on fieldtrips to surrounding areas to experience various ecosystems (including Addo Elephant Park and Mountain Zebra National Park).

Publications:
Catch up on the AWE DalBlog for a day-to-day account of "Aggies in South Africa"
Andrew Greene and Janessa Henry, students in the AWE 2016 pilot, discuss their once in a lifetime experience on page 9 of the Summer 2016 Issue of Agricola News.

Dr. Dan Parker details what students can expect from the African Wildlife Ecology in course in the article "Learning You Can Hold in Your Hands."
For more information contact intdalac@dal.ca
Sample Course Itinerary
Amakhala, Woodbury Tented Camp, Eastern Cape, South Africa (10-14 days)
Day and night game drives to identify the different species active at those times
Palaentology of Amakhala and the Eastern Cape
Ecology and management of different animal and plant species (such as cheetah, lion, elephants, rhino, birds) on the reserve.
Wildlife diseases
Wildlife reserves and communities
Different monitoring techniques, such as camera traps, live rodent trapping, bird netting, angulate counts, vegetation sampling.
Potential rhinoceros capture and tagging procedure
Mountain Zebra National Park, Eastern Cape, South Africa (2 days)
Game drive
Cheetah tracking
Ecological and management differences between MZNP and Amakhala
Addo Elephant Park, Eastern Cape, South Africa (1-2 days)
Game drive
Elephant monitoring
Management of elephant on the reserve
Schedule of Payment (Faculty of Agriculture Students):
$1 000 Non-Refundable Deposit (Dec. 8th)
$2 100 1st Installment (Feb. 29)
$2 100 2nd Installment (March 25)
$5 200**

Ancillary cost (Estimated):
$3500- $4000 CAD
Included:  accommodations, meals, local transportation in South Africa
Excluded: course fees**, airfare, travel insurance, international health insurance, required vaccinations, personal purchases (souvenirs, alcoholic beverages)

**ANSC 3007 is eligible to count toward a general or ANSC elective for any B.Sc. (Agr) program 
Important Dates (Note these are subject to change)
July 18: Applications due

August 2 - 8: Selection Interviews
August 15: Selection decisions communicated to ALL applicants

September 23: Non-refundable deposit of $500 due

January - March, 2023: group meetings every 1-2 weeks, dates & times TBA

April 2023: in person pre-departure - date and time TBA
Schedule of Payment
August 29: non-refundable $1 000 CAD deposit due

January 9th: first installment due; amount TBA

February 27th: full balance due

Funding Assistance
New Funding Available: $3000 - $6000 for eligible students

The Faculty of Agriculture International office is running projects to encourage virtual and physical outbound mobility of students from 2022 to 2025. Due to these projects, there is additional funding available, as well as the other funds you can already apply for through the Dal International centre. This could help cover a significant part of the cost of the field course. To qualify for this funding you need to either be a Canadian citizen or a permanent resident of Canada. If you identify as one of the following groups and you self identify to the course coordinator or the International office there is also additional funding, these groups include Indigenous, Black African Nova Scotian (ANS) or students with a disability/requiring any additional learning support. There is also additional funding available to students in financial need (you may need to provide documentation of financial need).  
Contact:
Hannah.pugh@dal.ca, AC Internation for more information, or discussion on this funding
Janine.Gray@dal.ca for any other questions about the course.
Study/Work International Fund (SWIF)
ANSC 3007 is eligible to submit an application to the Study/Work International Fund (SWIF). SWIF was established by Dalhousie University as part of the Student Assistance Program, SWIF provides financial assistance to Dalhousie and King's students who want to take part in an international placement. There is a maximum award of $2,000 CAD per applicant. SWIF supports study, work, or practicum placements for which Dalhousie University will give a degree credit.

Visit Dalhousie's International Learning Experiences Funding page for further details and eligibility information on SWIF and other funding opportunities.
Or contact the Dalhousie International Centre at international.centre@dal.ca
A typical day during the AWE Course
The students can expect to be wowed by the sheer diversity of wildlife in South Africa, especially the larger mammals. We also have an amazing diversity of cultures and a rich political history which all culminates to set the scene for a highly dynamic and fascinating introduction to what it is like to conduct and be involved in wildlife research in Africa.

I would say that the student who will get the most out of this course is the student who is prepared to immerse her or himself fully into African natural history, and how the socio-economics and politics of South Africa colour the conservation landscape. Pre-trip reading is essential but so is active engagement with the issues and people on the ground in country. Work hard and you will reap the rich rewards.

A typical day in camp will start with a pre-dawn wake-up with just enough time to shower and get to the dining room for a 7AM breakfast. Breakfast is held as it is getting light, which makes for fantastic photo opportunities if the weather is good. During breakfast, faculty normally discuss the schedule for the day and it (and other meals) is a great opportunity for students to quiz both the South African faculty and our exceptionally experienced hosts at Amakhala. Trained field guides (dedicated to the group during the course) are also on hand and are always excited to discuss interesting and unusual wildlife encounters – they are a real treasure trove of information!

After breakfast, and depending on the schedule, it is out into the field to conduct group research. Generally, students are assigned to groups of about 3 or 4 to tackle a specific mini-research project during the course. These projects cover topics like small mammal diversity, bird diversity, antelope behaviour, camera trapping and habitat functioning, amongst others. Don't despair though if you don't get the project you "want" because all the groups rotate through the projects so that everyone gets an equal opportunity to get involved and exposed to the various techniques. Some of the projects involve driving out onto the "main reserve" area (in open-sided vehicles) with our qualified field guides to do project work amongst the wildlife, usually spotting a member (or two) of the BIG 5 along the way.

After project work, it's back to camp for lunch and often a lecture from a visiting researcher or graduate student (sometimes we might have another lecture in the evening too). If the weather allows, lunch can be al fresco on the main deck which has a wonderful view of the surrounding grasslands – keep your eyes peeled for the lions trying to sneak up on an unsuspecting wildebeest!

Afternoon schedules vary (depending on the weather, mostly), but often we will do more fieldwork for projects, head off on a fieldtrip to a distant part of the reserve, crunch some numbers from the data we have collected or have group discussions. Afternoons can also be a good time to do some personal journaling, especially a formal biological journal for the trip, taking note of the places visited, the species seen and other interesting activities.

Dinner is back in the main dining area and is always a highlight after a long day in the field. On some evenings we arrange for a night drive through the reserve to try and locate some of the nocturnal animals who skulk away during the day. If not, then there is often time to journal (if there isn't a lecture) or sit and discuss the ways of the natural world over a steaming cup of hot chocolate.