News
»
Go to news main
Cruise Report: Investigating the Biological Carbon Pump in the Northwest Atlantic
Posted by
Kitty Kam
on August 24, 2022 in
News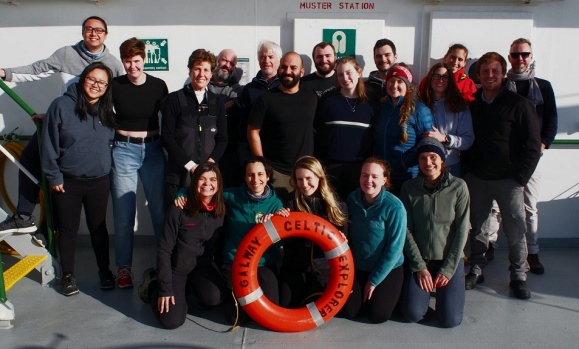 Date: May 10 – June 11, 2022
Location: Galway, Ireland ↔ Labrador Sea
        On May 10, R/V Celtic Explorer departed from Galway of Ireland to embark its transatlantic journey towards the Labrador Sea. This research expedition is part of the Ocean Frontier Institute (OFI) big research project "Northwest North Atlantic Biological Carbon Pump" (NWA-BCP; see OFI website and official website), with collaborations between oceanographers, biologists, geologists and social scientists.
        The motivation of this cruise focuses on quantifying biological carbon pump (BCP) and the underlying processes in the Northwest Atlantic, particularly in the Labrador Sea. Our goal is to understand the big picture of regional BCP and influencing factors on BCP efficiency. Since BCP is one of the important natural mechanisms to export atmospheric CO2 into the ocean, it is crucial to understand how its change can lead to future societal and economic impacts under climate change.
        CERC.OCEAN PhD student Kitty Kam joined this cruise to investigate seawater chemistry connecting to the BCP, including inorganic carbonate system, nutrients, and dissolved oxygen. Onboard R/V Celtic Explorer also includes scientists from other Dalhousie research groups, such as Stephanie Kienast's Marine Geochemistry Lab, Carolyn Buchwald's Marine Biogeochemistry Lab, Zoe Finkel's Marine Macroecology Lab, Erin Bertrand's Marine Microbial Lab and Julie Laroche's Marine Microbial Lab.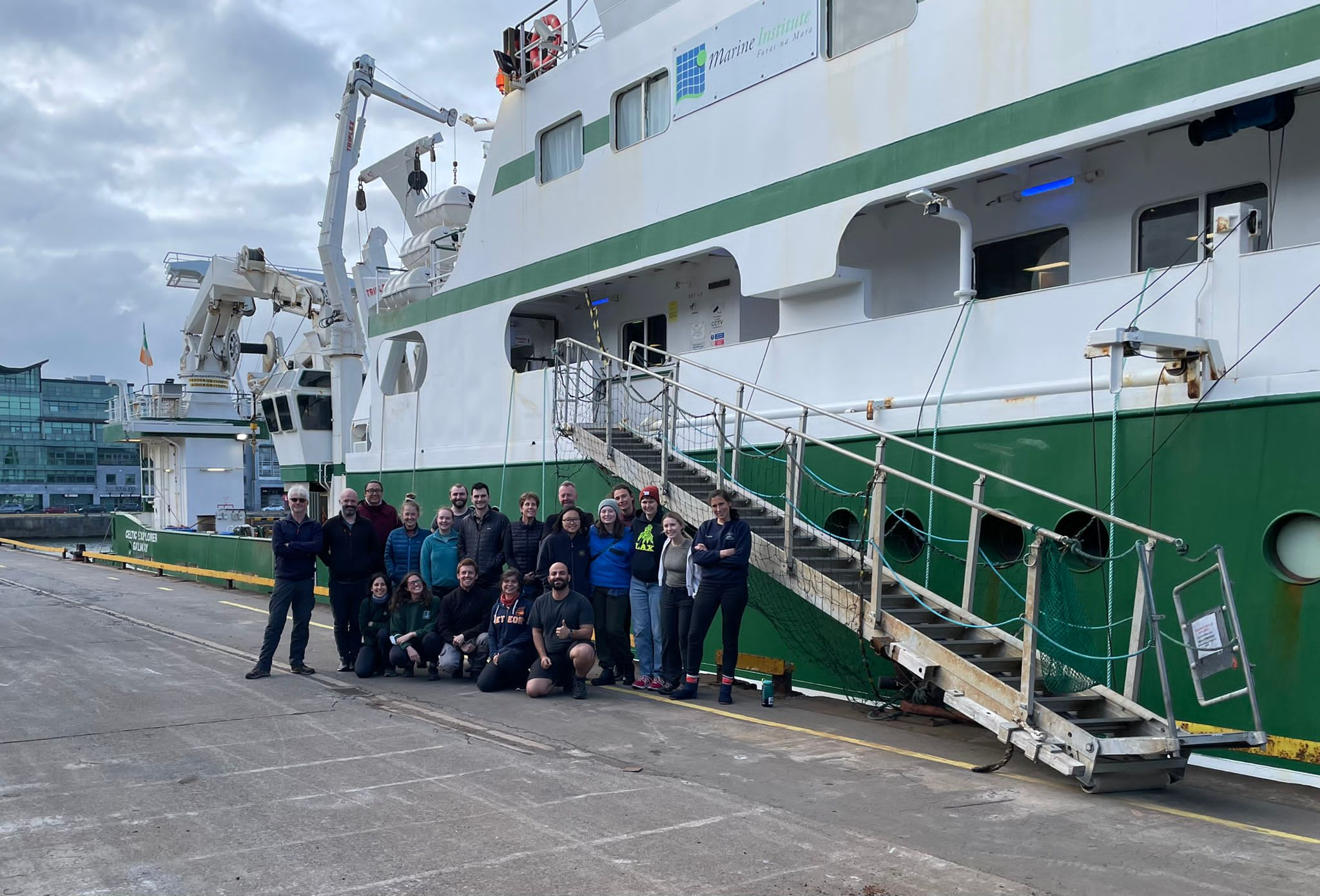 Group photo with R/V Celtic Explorer before our departure from Galway, Ireland.
(Photo credit: Loay Jabre)
What is the Biological Carbon Pump?
Through primary production, phytoplankton in the ocean grow by taking up dissolved CO2 from the atmosphere, and nutrients with the help of sunlight. They usually congregate near the surface of the ocean to have the best chance to grow.

In the spring, with abundant nutrients and increasing light in the water, they grow in large scale and remove significant amount of dissolved CO2 from surface ocean (also produced lots of oxygen at the same time!).
Most of them will be either eaten by bigger planktons and marine animals, or mixed/sunk down into the deeper part of the ocean as organic particles. When they sink to where no sunlight can reach, respiration process will dominate which they mostly release the nutrients and carbon back into the ocean without much of growth.
The entire system creates a downward pump of CO2 from atmosphere into the deep ocean through the biological production and export of organic particles.
        Carbon sequestration by BCP involves many complicated and highly variable processes, therefore it is being studied to untangle the complexity of the system. The uniqueness of the Labrador Sea is in its deep-water ventilation that encourages carbon export of smaller particles and dissolved organic matters, and nutrient upwelling for intense spring blooms in the open ocean.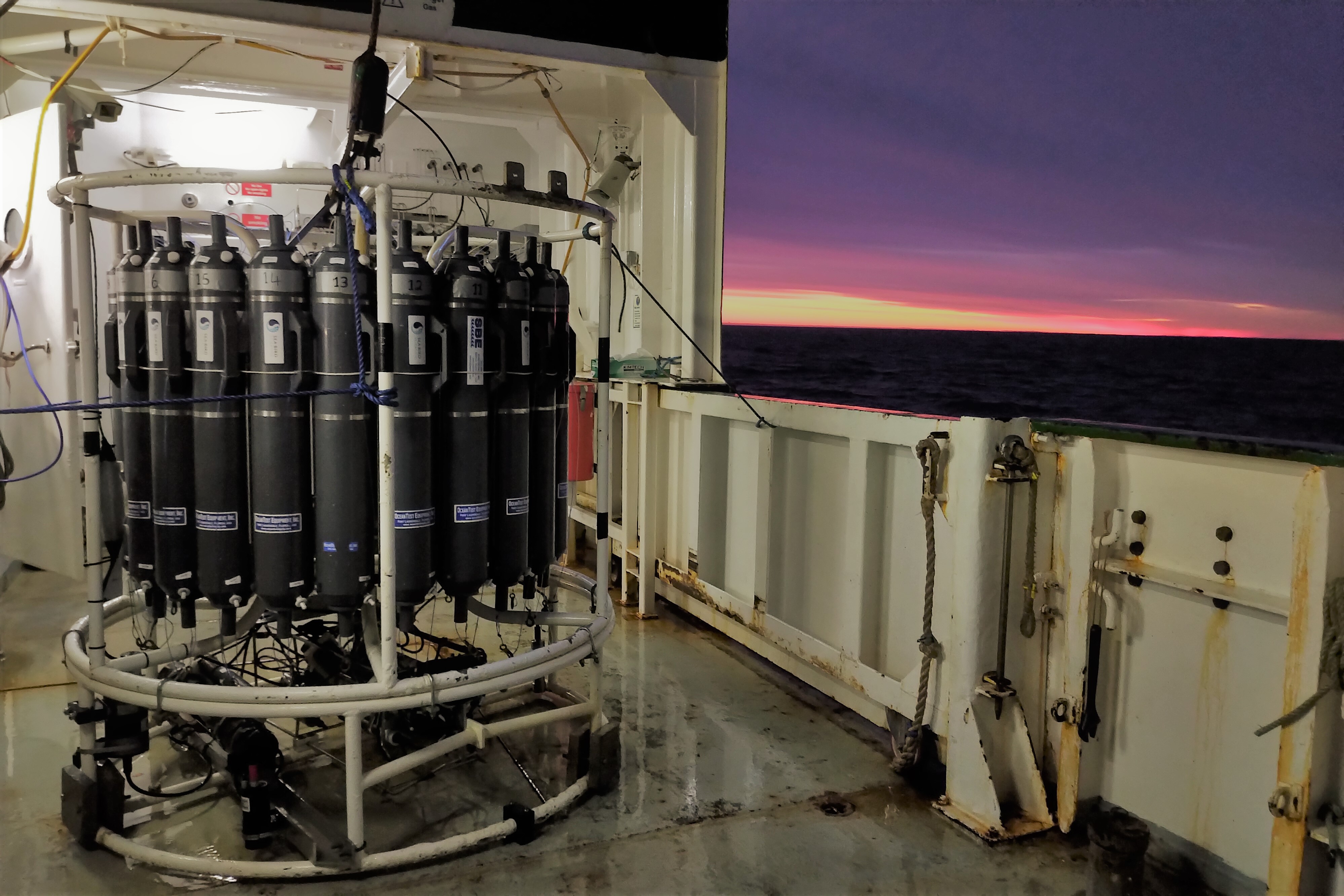 Early morning CTD station in the Labrador Sea.
Seawater Sampling Summary
        1500 seawater samples are collected during the cruise, including 650 of nutrient samples, 400 of inorganic carbonate samples (pH, Total Alkalinity, DIC-C13) and 56 of dissolved oxygen samples from CTD (Conductivity, Temperature, Depth) rosette. With a flow-through underway system installed by Marine institute, we were able to take the opportunity to collect additional 400 inorganic carbonate samples (pCO2, TA, DIC-C13) from the surface ocean (at the depth of 3 m) while the vessel was steaming. These samples will be helpful to quantify air-sea CO2 fluxes and compare with the underway pCO2 sensor data. Moreover, all dissolved oxygen samples were being analysed onboard using a Winkler titrator, where they will be used for BCP studies and sensor calibration for CTD and recovered gliders.
Read about what other research groups have worked on this cruise!
Cruise reflection

        It has been 3 years since my last cruise to the Labrador Sea. For this cruise, I was responsible for seawater sampling from CTD and underway system, dissolved oxygen analysis and CTD watch. Other than battling with seasickness and the rough sea, I enjoyed every moment on this cruise. I feel incredibly lucky to be able to work with a wonderful team despite our compacted sampling schedule with unpredictable weather and sea condition.

        To piece the puzzles together, we were able to examine many aspects of BCP with the astonishing diversity of science being accomplished on this cruise, including studies of seawater chemistry, macroscopic and microscopic biology, dissolved and particulate organic matter (such as marine snow), sediments and isotopes on top of many incubation experiments (biorates and two bioassays).
        "Great science can be achieved when everyone is working towards the same goal" would be the best way to conclude this cruise. I shall miss my time spent on the sea with my CE22009 family, the daily routine of CTD sampling and laboratory work, and watching many sunrises and sunsets on the beautiful horizon of the Labrador Sea. I would like to thank the ship's crew (particularly Tom and Martin), the NWA-BCP science team, the Marine Institute chemistry group (for kindly lending their Winkler titrator), the Marine Institute and the OFI.