News
»
Go to news main
M135: A Seafloor Tracer Release Experiment in the Peruvian Shelf Oxygen Minimum Zone
Posted by
Chris L'Esperance
on April 25, 2017 in
News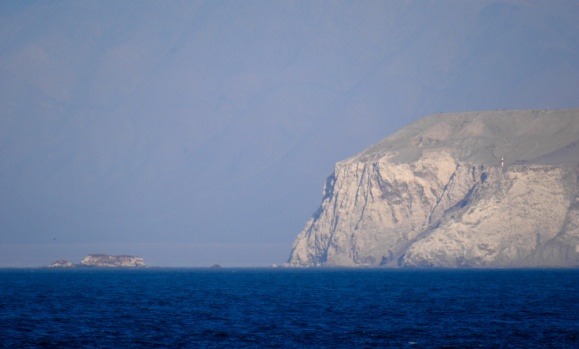 CERC PhD candidate, Chris L'Esperance participated in a cruise onboard R/V Meteor in the Southeastern tropical Pacific over the months of March and April, 2017. Meteor's 135th expedition, M135, is the first of three cruises M135-M138 taking place primarily off the coast of Peru, within the Humboldt Current System. This research is associated with the DFG (German Research Foundation) and Helmholtz-funded project, SFB 754; a collection of multidisciplinary sub-projects sharing a common theme of climate-biogeochemistry interactions in the Tropical Ocean. CERC Chairholder Doug Wallace was the initial Speaker of SFB 754 when he was in Kiel prior to returning to Dalhousie.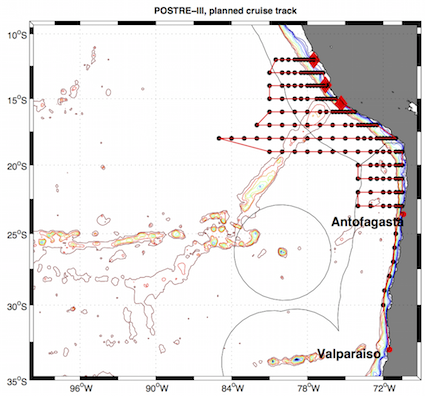 M135 Cruise Track from Valparaiso, Chile, to Lima, Peru
The team carried out hydrography, microstructure, geophysics, surveys for transient tracers and trace metals among numerous other activities.  A focal point of the cruise was a survey for the inert, deliberate tracer SF5CF3 which was released just above the seafloor at three sites on the Peruvian Continental Shelf, one and a half years prior.  The majority of the observations made by the 40 strong team straddled the southern boundary of the Peruvian shelf Oxygen Minimum Zone (OMZ) region.  The initial tracer release, called POSTRE, and subsequent mapping/survey is aimed at quantifying benthic-pelagic exchanges in the Peruvian OMZ.  An additional goal of the work is to constrain water mass ages of the OMZ with transient tracers.  Observations of tracer concentration will be compared to simulations of tracer dispersion facilitated by several different numerical models.  Collaborating researchers will be able to comment on the strengths and weaknesses of the numerical models in representing vertical transport and mixing or the process of upwelling. Chris took the opportunity to test a newly designed, underway gas chromatography system which will be used to support future tracer experiments involving autonomous vehicles.
R/V Meteor departed Valparaiso, Chile, steaming Northward along the coast until 17S where the vessel began East-West transects covering the narrow shelf and extending several hundred kilometers West of the shelf break into deep water.  The cruise ended in Lima, Peru.