News
»
Go to news main
Know your neighbour: Matthew Guy
Posted by
Tanis Trainor
on April 30, 2018 in
Community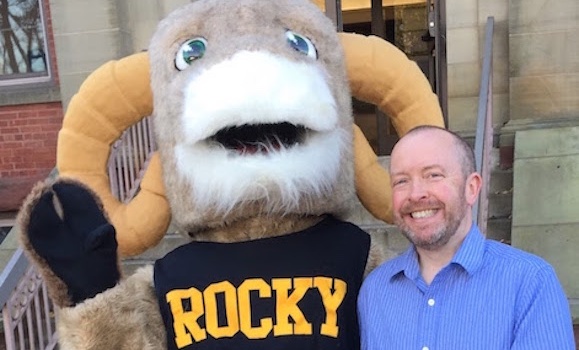 Matthew Guy jumped into his position at Dalhousie head-first when his first day of work was just before orientation in September 2016. Matthew now oversees orientation, which he refers to as his favourite time of year, and the Student Success Centre on the Dalhousie Agricultural Campus in Truro as the Director, Student Success. 
Previously, Matthew worked at the University of Leeds in the United Kingdon (UK) for 15 years and then moved to Canada where he spent nine years working at Acadia University. 
What are you passionate about?
I love working with students. I particularly enjoy working with student leaders and hearing how we can do things better. I am also inspired by how we can work with students to overcome hurdles and resolve difficulties. 
What is the most important thing you have learned while working at Dalhousie?
People love to help. If I need to know something or I need an opinion, I will always find a helpful person to assist. 
What was your biggest challenge this past year?
Achieving everything I want to achieve in the time I want to achieve it in. We have had some projects running simultaneously with a lot of moving parts. Sometimes you have to prioritize and realize that making positive change is a marathon not a sprint!
What are you passionate about personally? What do you really enjoy? What can't you stop talking about?
I am passionate about politics, people and social justice. I also love animals, nature, walking, mindfulness and how technology can make our lives better. I asked a colleague what I can't stop talking about and apparently it's my Fitbit step goals and how close (or not) I am to my target at any particular time.    
Where can we find you when you're not working? 
My happy place is a Sunday morning listening to CBC radio, drinking coffee, and with a dog flopped on my lap (we have two black Labradors). Also, a rainy or snowy afternoon watching a movie with the kids (hot chocolates in hand). A lunch date or a walk with my husband is also a favourite. I am a member of the executive of the Nova Scotia New Democratic Party, so many weekends will also involve a meeting somewhere around Nova Scotia. 
Tell us about someone who has had a large influence on you and your work at Dalhousie.
So many people have had significant influences on me and how I do my work. Firstly, the two Assistant Vice Provosts (AVPs) that I have worked for have been significant influences and both have amazing skills and experience that have helped me immensely in my work. Also, my fellow Directors in Student Affairs help me so much in my work on a regular basis. On our smaller campus, my role has a broad scope and the expertise of other directors (who have significant specialist knowledge) has been invaluable. My team at the Agricultural Campus has also been a big influence with their knowledge of our students and, in many cases, their long service supporting students at the AC. 
What has surprised you most about working at Dalhousie?
That is a really tough question. I am not sure anything major has surprised me. Perhaps my ability to be surprised has been dented by 25 years working with students in residence! 
Hidden talent?
So well hidden I have yet to find them! 
How would (someone) describe you?
I hope people would describe me as kind and considerate, but some may also say short and British.
What problems do you consistently solve?
I think I am pretty good at coming up with novel ways to approach and solve problems. I do find that when I am being presented with a problem, I can usually come up with a couple of possibilities. Again, the residence background helps! You learn to make quick decisions and resolve problems with often limited knowledge in situations where there is water flooding a residence at 2am! My Kolbe A type (personality test) is a "Quick start", which was not a surprise to me. 
What does the DPMG mean to you?
Great colleagues! I do like getting together with our small group of DPMG staff on our campus. They are a fine bunch of professionals who make a significant contribution to making the Agricultural Campus and Dalhousie a better place to work and study.