News
»
Go to news main
Know your neighbour: Natalie Vautour
Posted by
DPMG Communications team
on February 1, 2018 in
News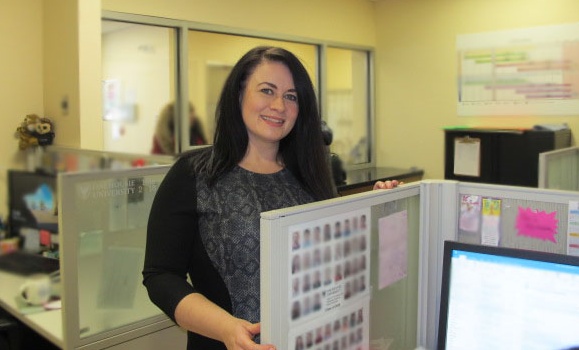 Natalie started at Dalhousie as a PreClerkship Coordinator in July of 2010, just 2 months prior to the first class starting at Dalhousie Medicine New Brunswick (DMNB). Her role was to schedule and organize the curriculum of Med 1 and Med 2 students, in partnership with the PreClerkship Coordinator in the Halifax Undergraduate Medical Education (UGME) office.
In 2012, she took on the role of Operations Manager, where she now operationalizes the curriculum for Med 1 to Med 4 students. 
What are you passionate about in your industry/specialization?
The student's success is my passion. Keeping their best interests at the heart of everything I do is the guide I use to ensure I am moving things in the right direction. 
What is the most important thing you have learned while working at Dalhousie?
The value of collaboration. It's been inspiring to see how everyones input is both needed and valued at Dalhousie. 
What problems do you consistently solve for your clients/students/coworkers?
My role requires a large amount of problem solving. The problems that come my way are often due to conflicting priorities. I often talk my staff, or students through ways to find compromise. Helping others find the path to ensure objectives are being met, the fewest amount of people are negatively impacted, and that fits within our structure—finding these solutions can actually be a lot of fun.  
What are you passionate about personally? What do you really enjoy? What can't you stop talking about?
I am passionate about finding my purpose. I love reading memoirs and biographies of people who have overcome obstacles and found a new perspective on life. I love pushing myself outside my comfort zone and tapping in to the more primal side of life. I retired from roller derby a few months ago and have replaced it with Crossfit in order to feed my competitive side and keep up my physical activity. I have found that doing a more extreme physical activity is a great way to see your true self. 
Where can we find you when you're not working? 
My favourite thing to do is to spend time with my husband. We love to spend time with our 3 dogs and dream of vacationing together. Any time we can get away to a beach is when we are at our happiest. Our other favourite thing to do is FaceTime with our daughter every Sunday night for family time since she is away at college. 
Tell me about someone who has had a large influence on you and your work at Dalhousie.
Pamela Bourque, Chief Operating Officer of DMNB has had a great impact on me during my time at Dalhousie. She is a model example of a calm and knowledgeable leader. From Pam, I have learned how to gracefully provide guidance and direction to staff while maintaining their integrity and empowering them. She also adds the perfect amount of humour to everything she does. 
What has surprised you most about working at Dalhousie?
I was most surprised by how much people truly care about our students. Each one of us is invested in giving them the best education and experience possible. 
How would (someone) describe you?
I am always surprised to hear how others describe me actually. I hope they see me as someone who will listen to them sincerely; who has integrity in all that I do; who loves to laugh, and who has a caring heart.
What does the DPMG mean to you?
To me DPMG is a community of people who are there to support and encourage one another. The DPMG as a group is there to promote communication and to unify us together.