Charcy Britten‑Boudreau
MPA '17
Current location
Halifax, NS
Degrees 
Master of Public Administration (Dalhousie University)
Bachelor of Management 
Current employment
Change Manager, Department of Community Services (Government of Nova Scotia)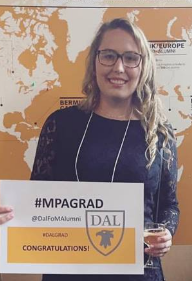 Background & education:
I've been interested in the public service for most of my life, and started on my path to the MPA by learning the importance of a strong government from my mother, while passing out flyers and knocking on doors as a young girl with my father, a local politician. Coming from a small town in Cape Breton, I learned that small changes can have big impacts on communities around our province.
How did you get to your current position?
I have always been interested in change management as an approach to making the public service a better place. After graduation, I became the first Management Trainee with Service Nova Scotia, which gave me the opportunity to learn about the various areas of the department while developing my management skills. Reporting directly to the CEO, I have been responsible for the development and delivery of several complex projects and initiatives. This sparked my interest in change management or, more specifically, the people side of change.
After my trainee position, I was the successful candidate for the Change Manager role at the Department of Community Services (DCS). My role focuses on the people side of change, including changes to roles, business processes and systems. My primary focus is building, implementing and the ongoing management of an enterprise change management program that minimizes employee and stakeholder resistance and maximizes their engagement.
What skills did Dal help you develop?
Diverse classes, combined with the certificate in professional development, allowed me to consider my future from a variety of perspectives. I learned valuable skills related to time management, analytical/critical thinking and effective research methods, as well as valuable lessons on relationship building. Additionally, the MPA program allowed me to explore all three levels of government and the competencies required to be successful as a public servant.
Above all else, I was the Chair of the 17th annual Atlantic Conference on Public Administration, which allowed me to improve my leadership and networking skills. As the largest such conference east of Montreal, it allowed me to successfully oversee a committee of 8 individuals to organize an event for approximately 200 delegates.
What's your next big career goal?
My next goal would be to move to a more senior role in providing change support across the Nova Scotia Government to gain further valuable experience.
How was your experience in the MPA internship program?
The internship was a pivotal point in my MPA experience. I completed my internship with the Department of Labour and Advanced Education in the Safety Branch. This pushed me to practice skills and competencies I had learned in the first year of the program and allowed me to enter the second year with crucial knowledge to help guide my academic experience. Getting the "real-world" experience helped me focus on what I wanted my career to look like after graduation.  
Any advice for future MPA students?
Don't be afraid to get involved inside or outside the SPA. My most valuable experiences happened during my time with ACPA, IPAC and other initiatives with my classmates – outside the classroom. These experiences help you be competitive in the job market after graduation, regardless of whether you're looking to go public or private!